Musandam Dibba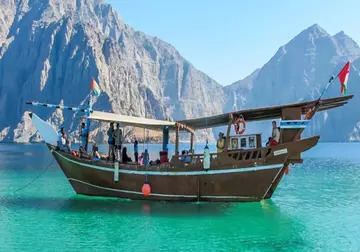 Musandam Khasab Tour Includes
| | |
| --- | --- |
| Khasab Port | Reach the Khasab Port and transfer to our Dhow. |
| Musandam | Leave the Khasab Port for the fjords of Musandam on an Omani Dhow. |
| Khor Shem | Dhow cruise is on Khor Shem, the 17km long fjord with crystal clear water. |
| Scenic Beauty | The scenic beauty of the mountain range of Hajr is simply gorgeous. |
| Dolphins | There would be a chance encounter with frolicking dolphins during the dhow cruise on Khor Shem. |
| Nadafi | There are many villages located on the islands of Khasab. It is the first such village with only 50 inhabitants. |
| Qanaha | Visit the small fishing village where stone houses blend with the cliff on which they are located, thus providing them with the first line of defense in the olden days. |
| Maqlab | The smallest village with only 10 houses where the inhabitants earn their livelihood by cattle herding and fishing. |
| Telegraph Island | Jazirat al Maqlab – Here, the British laid the first telegraph cable. Best for diving and watching butterflyfish here. |
| Snorkeling | The Dhow is anchored at Telegraph Island for 1-1/2 hours for Snorkelling and diving. |
| Corals | Musandam Khasab fjords sea bed is lined with corals inhabited by groupers, butterflyfish, and wide other colorful varieties of fish. |
| Lunch | A buffet lunch shall be served aboard the Dhow during the cruise. |
| Sham | Visit another village with around 50 inhabitants |
| Seebi Island | This village's last anchoring spot is remote and famous for bird nesting. Dive in the water and snorkel to watch the beautiful marine life. |
| Drop back | The trip includes returning to the port for the journey back to your destination. |
Musandam Dibba is a little gem in the Sultanate of Oman's Persian Gulf. The trip includes a magnificent road trip, a day-long Dhow cruise, sumptuous lunch on board, sport fishing, snorkeling, banana boat rides, and dolphin sitting. A trendy tourist destination for tourists flocking to Dubai, a special permit is required to go to Oman Dibba and come back. We provide complete assistance for getting the permit and making this trip memorable.
Musandam Dibba Tour Experience
The trip begins early in the morning when our luxury bus picks you up. You will be informed of the pick-up point and the exact pick-up time. While the sun rays are just warming up, your bus will be racing to Ras Al Khaimah, and the 6-lane expressway will give way to a narrower road with wilderness on either side. The change in the landscape would get your attention to the mountains of Hajr.
The Friday Market – An Old-World Charm
A word about the Friday Market that is an exceptional Bazar while approaching Ras al Khaimah. The Friday market is famous for beautiful carpets, local artisans' created potteries, and organically grown fruits and vegetables. We will stop there so you can roam around, have tea/ coffee, and even buy some stuff for keepsakes.
The Hajr Mountain – Close Encounter with the Oldest Mountain Range in the Middle East
The mountain of Hajr is a range of calcified rocks with many uniquely shaped caves. The road-hugging this mountain ranges negotiates many hairpins bends to keep you gripping your seat. Very soon, the Persian sea appears on the other side. The blue waters of the Gulf run along on one side, and the imposing Hajr mountain range on the other side creates a mesmerizing view. Our tour guide-cum- bus driver shall stop buses at vantage points so you can take plenty of selfies.
Musandam Dibba Traditional Wooden Dhow Cruise – Never a Dull Moment
Your road trip ends when you reach the Dibba coast, where a beautiful and well-decorated Dhow awaits you. The Dhow is enormous and has two decks. There are plenty of pillows and rugs for you to chill with a tasty beverage of your choice. The welcome drink lifts your spirits, and you are ready to experience all the activities, including banana boat rides, snorkeling, and handline fishing. Worry not, as all the gear will be available onboard, and there will be guides to help you keep safe. The lunch on board will be a buffet with Arabic, continental, and Asian spread. The multi-course buffet will include a wide variety of fruits grown locally. The beverages shall be available throughout the trip. The cruise shall have a special stop on a beach where you can get down and soak in the sun.
The best part of the cruise is the dolphin safari. Dolphins are considered the most intelligent mammals after humans. These dolphins love to swim along with the Dhow and show off. You will never find so many dolphins too close to you in the Gulf. Many tourists come to Dibba, Oman, only to experience the dolphins.
After a fantastic date with the sea beach, dolphins, and other colorful fish, you will be dropped at the waiting bus. Your bus returns to your destination and leaves you with unforgettable memories of the day
Nuts & Bolts
Cruising on a traditional Omani Dhow
Handline fishing
Swimming, snorkeling, and diving
Banana boat rides
Buffet lunch aboard dhow during the cruise
Complimentary refreshments of juices, tea, and Arabic coffee
Complimentary snorkeling, diving, and fishing gear onboard
Pickup and drop-off in Dubai or Sharjah
Vital Information
Days of Operation Daily
Duration Full day
Age Limit No age limit
Location Musandam Dibba
Timing Pickup: 7:30 to 8 AM | Drop-off: 6 to 7:00 PM
Dress code Smart casual clothes in summer, light jacket during winter
You Need to Know
You will receive confirmation of your trip at the time of the booking.
An original passport is required when going on a Musandam Dibba tour.
Our vehicles are insured and well-equipped with safety features, with certified and highly experienced drivers at the wheel.
Our Dhows are fully insured, equipped with safety features, and properly maintained with only the best and most amiable captain and service crew onboard.
Littering is punishable.
Dress Code
Smart casual. Warmer clothes during winter.
Cancellation
We reserve the right to cancel or postpone your tour for reasons beyond our control, such as severe weather conditions, equipment malfunction, government policies, or force majeure. We will offer you a refund or work with you to reschedule your tour later. If you cancel within 24 hours of your scheduled trip, or if you and your guests do not arrive at the designated time, you will be charged the total cost of the activity.
Musandam Dibba
Duration: Full Day
Availability Daily
Timing: Pickup: 7:30 to 8 AM | Drop-off: 6 to 7:00 PM
Location Musandam Dibba
Adult

250 AED

Child

200 AED