Villages have remained an integral part of human civilization since their beginning. Their calm, relaxed, and pollutant-free atmosphere offers a lot to the people. Moreover, the village life is ultra-simple, and the people are friendly and welcoming. Thus, it can be said that villages offer a perfect chance for city-dwellers to unwind, get rid of all the stress and enjoy nature to its fullest. When it comes to the UAE, the picture that most of us draw in our minds is of an ultra-modern country with lavish shopping malls, refreshing water parks, and many tourists. Although this might be somewhat true, some parts of UAE still offer that calm vibe of a village, and one such place worth mentioning is Hatta Village having majestic Hatta Mountains.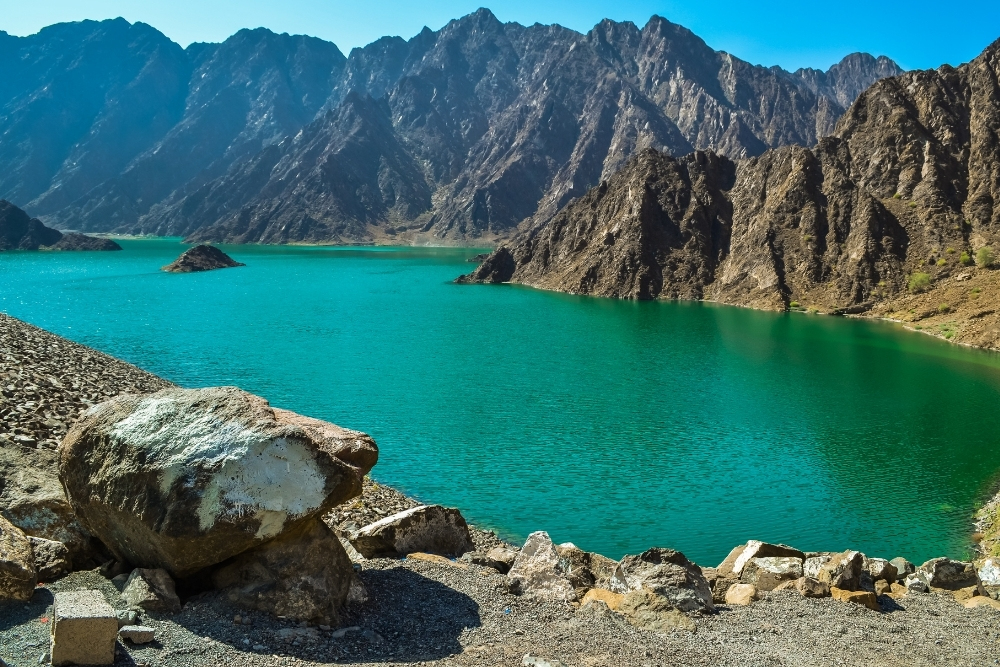 Where is Hatta Village Located?
Located around 130 kilometers southeast of central Dubai, Hatta Village has been amongst the most popular tourist destinations in UAE. Its high-rising cliffs, lush green pastures, and valleys provide a perfect combination to offer a fantastic contrast to the vibrant life of Dubai itself. Previously known as Al-Hajerin, Hatta Village used to have falaj. These ancient irrigation systems made Hatta what it looks like today, i.e., fertile land with a favorable climate. You can look at these Falajs by walking to a nearby palm tree farm known as the Al Sharia site. The falaj extends up to some kilometers under the ground before emerging above the surface.
Roaming around the Hatta Heritage Village
The Hatta Heritage Village was opened in 2001 for tourists after its restoration. Its roots date back to the third century BCE. Today, in the 21st century, it offers the same vibes and environment as it used to be back then. The carefully restored stone houses and water walls situated among two watch towers work as a stimulus to take people back in time. The village also offers a visit to the ancient majlis, an equivalent of today's living room. You can also look at the awing collection of old photos that provide a detailed insight into the traditional life in Hatta Village. Furthermore, a basket-weaving area and a museum are also open for tourists.
Getting to Know the Ancient Lifestyle
Hatta Village offers a perfect opportunity to view the ancient lifestyle from near. Once there, you will be able to witness how our ancestors used to carry on with their lives using farming. In fact, Hatta Village villagers depend on palm trees and date trees going there. These trees do not cost much and are adaptable to Dubai's warm and arid desert climate.
Residents of Hatta Village do not consume these trees and their fruits for eating only, as they have found different applications for using them. For example, dates are grown and sold for local consumption, while leaves of the palm trees are converted into fans, carpets, and mats to be sold to tourists. Similarly, tree trunks and barks are used in building tents and houses. All of these measures help boost the local economy.
An amazing fact about farming in Hatta Village is that it has over 550 farms spread over 140 square kilometers. This surprises many since Dubai's climate does not offer an environment suitable for agriculture. Yet, they have still managed to turn Hatta Village into a farming center.
The Hatta Fort
Before being known as a farming center, Hatta used to have forts and citadels, just like any typical Middle Eastern village at that time. Today, these forts are still present, standing spick and span. Hatta Fort is one such tourist attraction, built back in 1896. Back then, it was used as a residential and defense facility. Restored in 1995, the fort now serves as one o the major tourist attraction.
The building of Hatta Fort is made of mud bricks and mountain stone, while its roof is made up of mud and palm trunks and fronds. There, one of the watchtowers of the fort can be seen from far away, as it stands 11 meters tall. Additionally, two round watchtowers, situated 2.5 meters above the ground, have a small door and a staircase leading tourists to their roof.
Hatta Wadi Hub
Hatta Wadi Hub is an activity center providing opportunities to adventure seekers visiting Hatta. At Hatta Wadi, you can rent a bike and trail for 52 kilometers straight in the rugged mountain trails of the Al-Hajar mountains. Hatta Wadi also offers archery, ax throwing, and zorbing activities, where you have to roll down the hill while being inside a giant transparent ball. The activity center also offers a 12-meter high slide that allows you to splash down in the calm, cool water below.
If you are considering visiting Hatta Wadi anytime soon, you should consider visiting this fantastic place between October and April. This is because, during these months, the weather stays pleasant. Also, the Hub is usually open during these months only.
How to Reach Hatta Wadi Hub?
You can reach Hatta Wadi Hub in three different ways:
By taking a bus: If you are looking for a cheaper option, try taking a bus from Sabkhka Bust Station number 1 to Hatta Wadi. You can also try traveling by RTA buses.
By taxi: Taxis offer a comfortable riding option to Hatta. However, they can be costly, depending on where you are traveling from
By car: Cars offer the shortest traveling distance to Hatta wadi, as you can there by traveling from E44 or E611 to E102
Important Points to Remember while Travelling to Hatta Wadi
There are some important points that you must remember while traveling to Hatta Wadi. These points are:
Wear comfortable clothes that you can enjoy while being at Hatta Wadi. Don't forget to apply sunscreen and your sunglasses. Moreover, you should have your swimming dress with you if you want to do a dive or two in the turquoise waters.
Take a trail map with you if you plan to hike on the mountainous terrains. Select a trail according to your expertise and equip yourself with all the suitable equipment for trailing and trekking. As a safety measure, you should also inform your relatives and friends about your trip.
If you have only one day to visit Hatta, make a bucket list of all of your activities so that you can utilize your day to its fullest
If you are visiting Hatta from neighboring regions, such as Oman, you should have all the necessary documents, i.e., passport, visa, license, insurance papers, etc.
You are allowed to bring your food and drinks to Hatta Wadi. Open barbecue areas are available to cook if you plan to stay overnight.
Well-behaved pets are allowed at Hatta Wadi. However, ensure to get them a life-vest before taking them on the Hatta kayaking activity.
Activities to Do At Hatta Wadi Hub
Hatta Wadi Hub offers a variety of different activities, and they are listed below:
Horse-riding
Hiking
Mountain biking
Paragliding
Zorbing
Gel ball
Ax throwing
Tube sliding
Plunging]
Archery
Zipline
Cannon
Netwalking
Wall climbing
Manu of these activities is mentioned below in detail.
The Hatta Lake
The Hatta Lake, also known as the Hatta Green Lake, was formed due to the construction of the Hatta Dam. The green turquoise water of the lake is a treat to the eyes, and the lake offers numerous adventures to visitors. Located at a time of 90 minutes from Dubai, Hatta lake is in the vicinity of Hatta Fort Hotel and Hatta Wadi Hub. Surrounding the lake are the rugged peaks of the Hajar mountain range.
Kayaking at the Hatta Lake
Aside from enjoying the scenic beauty of Hatta Lake, Hatta kayaking is one of the best activities to participate in while visiting the lake. It is recommended for you to try out the mysterious kayaking adventure on the turquoise waters of Hatta lake, with earthy and mountainous terrain in the surroundings.
Hatta kayaking offers adventure in many forms. You can choose your ride from a multitude of options i.e.
In Hatta kayaking, you can get kayaks for an unlimited time for one day.
Single water bikes
Double water bikes
Triple water bikes
Water bikes are also available for an unlimited time for one day.
Aside from kayaks and water bikes in the Hatta kayaking activity, you can also enjoy rides on pedal boats and electric boats. Pedal boats are available for one hour. In contrast to it, you can enjoy rides on three different types of electric boats i.e.
Donut boat: Available for one hour
Tour boat with driver: Available for 25 minutes, and
VIP-boat with driver: Available for 25 minutes
The Hatta Dam
Hatta Dam is a water reservoir located in the Al-Hajar mountains. The purpose of building Hatta Dam is to store the rainwater from the hills. It is located 70 miles away from the city. Hatta Dam is 20 meters deep, and the lake that resulted from it allows a site of attraction to tourists.
Hatta Mountains Tour
An important fact to be known about Hatta is that it is a mountain village located high in the Hajar mountains. Its alpine terrain is conserved in the form of the Hatta mountain conservation area that protects the Arabian Tahr, a native but endangered goat species. Hatta mountain provides various perfect opportunities to adventure seekers in the form of biking and kayaking.
Hatta Mountains Bike Trail Center
Hatta mountain Dubai offers the perfect biking trail for mountain bikers. All in all, almost 50 kilometers of biking trails spread across the mountainous area, allowing bikers to ride over various terrains. A good thing about these trails is that they have been designated with color codes. If you are an amateur rider with little or no experience, you should ride on linings trails with green trails. However, if you are an expert, the black trails await you to venture upon.
Trails are accessible 24/7 and offer free parking. What's more exciting is that riding is free if you bring your own bike. If you do not own one, you can get it from Hatta Wadi Hub. While trailing the mountain, do not forget to enjoy the beautiful mountainous surroundings and eye-pleasing grasslands.
Hatta mountains drive in the prestigious Hatta mountains UAE is the feast you will never forget if you want to spend a starry night in the mountains, head for the Hatta Trail Campsite to set up your camp. The camping site offers complete facilities to every rider.
Hatta Mountains Sign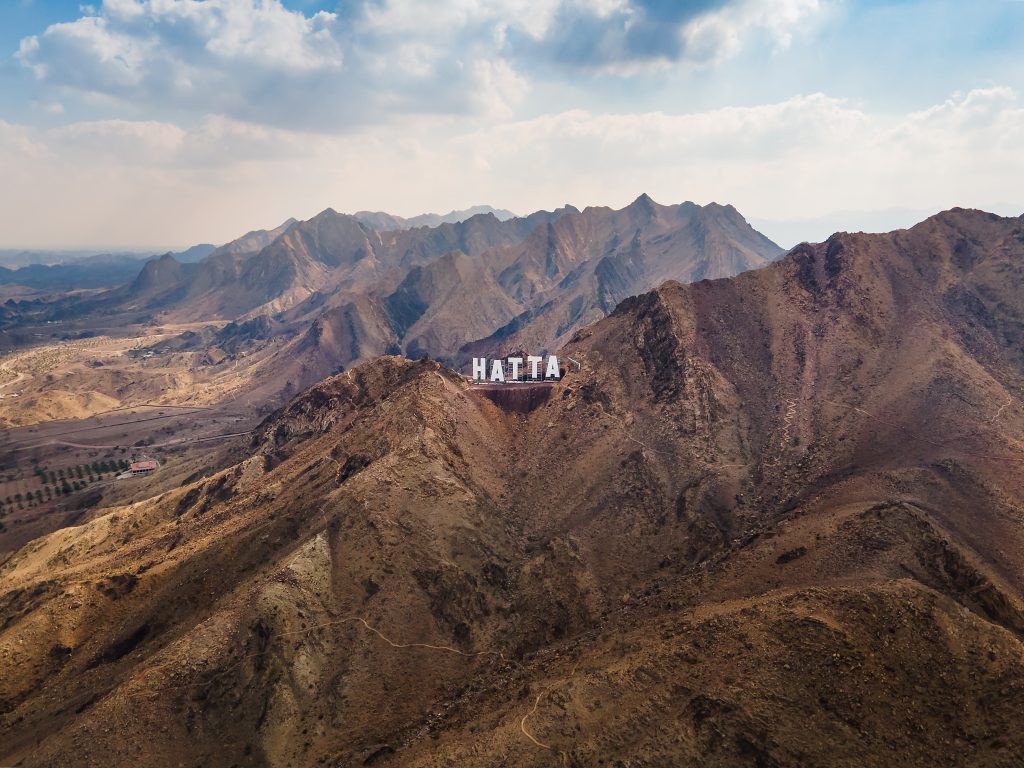 Have you ever seen the Hollywood sign sitting high in the mountains of Los Angeles? If yes, perhaps you would like to revive your cherished memories by visiting the Hatta Sign in the Hatta Mountain Safari. This sign, saying HATTA, is located high in the Hajar Mountains and looks spectacular against the background of the black night sky. Each of its letters stands 60-meter tall, thus making it visible from several spots around the village. The Hatta mountain sign can only be accessed by foot, and you can begin trekking to this sign from Hatta Wadi Hub. The overall trekking journey takes around 30 minutes.
The Hatta Hill Park
If you are about to visit Hatta and are confused about what travel sites to choose, then don't worry because we have covered you with Hatta Hill Park. The park was built in 2004 and is considered the top spot for arranging barbecues and enjoying a picnic by the people who visit the village. There are plenty of opportunities for children since they can enjoy their time by running and engaging themselves in many sports activities. The park presents a tower at its highest point, offering numerous vantage points of Hatta heritage village and The Hatta mountain range.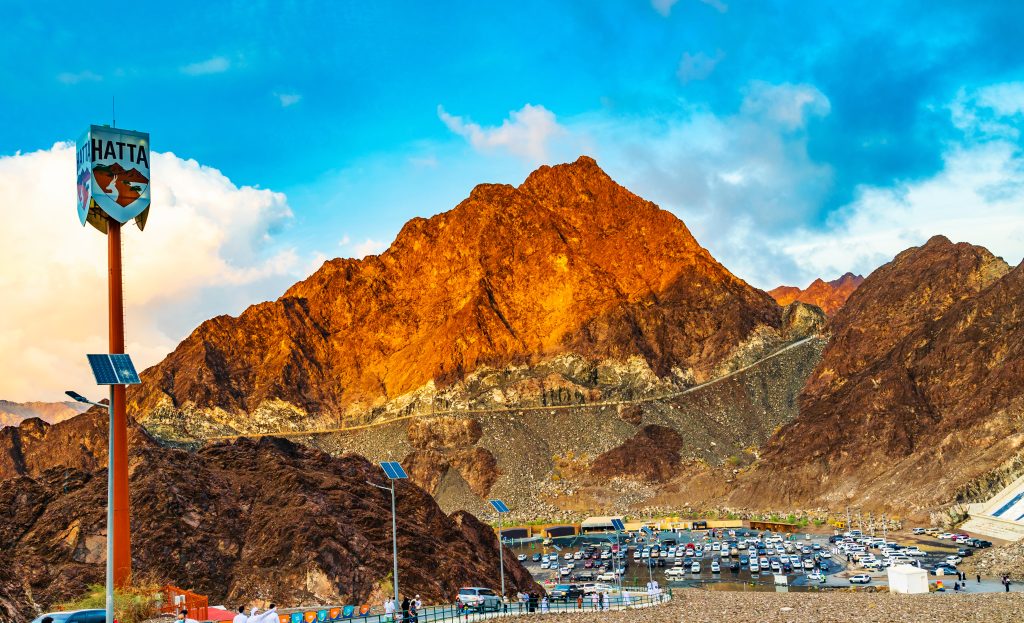 Eating Spots at Hatta Mountains
After all, that adventures, trailing, and kayaking, you must be hungry to your core! And to take care of that, Hatta offers a variety of delicious cuisines to treat your taste buds. Below, we mention some of the best eating spots in the Hatta heritage village.
Café Gazebo
Café Gazebo is situated above the pool of Hatta Fort Hotel and offers a spectacular view of the nearby mountains while you eat. The place is best to get a decent breakfast or lunch. For breakfast, you will be offered fresh honey from the nearby Hatta Honeybee farm. The lunch menu offers a complete variety of pasta, soups, curries, sandwiches, and other national and international treats.
Jeema
Jeema is one of the most expensive restaurants in the Hatta village. It is located inside the Hatta Fort Hotel and offers a variety of dishes on its menu, including the seafood platter, curries, steaks, and much more.
Al Hajarain
If you look forward to providing your taste buds with authentic Emirati taste, head for Al Najarian. The restaurant offers a variety of Emirati cuisine, such as Pulav, fattoush, Machboos, and Biryani. It is a perfect restaurant that emphasizes strongly using local ingredients in its dishes. The restaurant is located inside the Hatta village and offers an international menu for those who prefer it.
Bottom Bracket
Bottom Bracket is your go-to place if you want to load up on extra energy while visiting Hatta. You can choose from various healthy options ranging from smoothies, salads, acai bowls, light wraps, and many more.
The Barbecue Department
This place offers a mouth-watering and juicy grilled burger experience, then don't forget to visit The Barbecue Department. The restaurant has its own special techniques to provide visitors with authentic grilled burgers. Moreover, it also offers BBQ boxes filled with an assortment of different meat items that can feed up to 8 people. You can keep this box in a bag provided by the restaurant and enjoy it if you plan to spend the night there.
Hatta Mountains: Takeaway
Today, people constantly keep looking for places where they can unwind themselves from the digital age. If you are among those, then Hatta heritage village is the perfect option to avail yourself of. Its ancient vibes offer a feeling of ultimate freshness to every single visitor who comes to enjoy its natural beauty and fresh, crisp air. With its mesmerizing natural scenery, Hatta promises to offer a lot to the people visiting it.
At Hatta, you can have fun in a variety of ways. From cool, calming, and relaxi9ng experiences at Hatta Dam to adventurous and adrenaline-pumped ventures on trails and paragliders, your visit to Hatta will be a complete package.