Dubai has always been a dream of many peoples for the lifestyle it provides to its locals and international tourists visiting it. The vast skyscrapers, new modern technology parks, lavish restaurants, and fully facilitated hotels for the visitors make this state an eye-catching one compared to others. Dubai Marina is also one of those projects that provide its guests with a handful of facilities in one place they never dreamed of.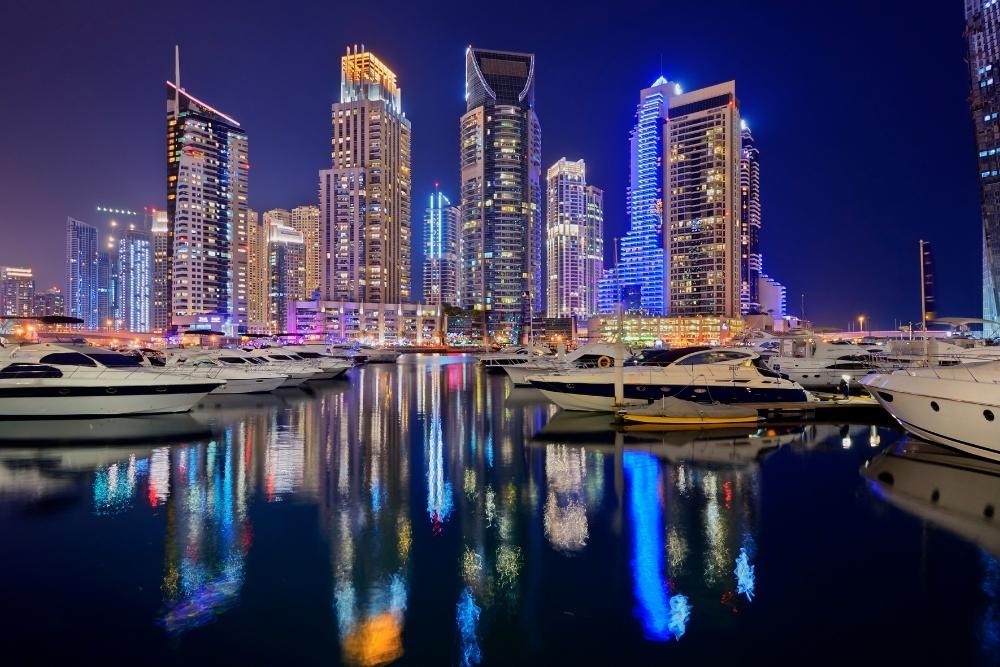 History:
Dubai Marina is a district in Dubai. This district is an artificial canal city whose development is done in different phases. The professionals brought the waters of the Persian Gulf to where this artificial Marina was to be created. This new waterfront is a foundation point for Dubai Marina City.
Dubai Marina is a complete man-made project in this city that has been developed by one of the most popular development firms, Emaar Properties. Once completed, this Marina is claimed to be the most prominent Marina in the world, beating the current largest man-made Marina, Marina del Rey, in California, United States of America.
Dubai Marina District has apartments, hotels and restaurants, shopping malls, parks, and other different facilities all available in one place.
Dubai Marina Apartments:
Dubai Marina apartments have more than 200 luxurious residential blocks. It includes apartments as well as different villas too. These buildings show different impressive views and magical moments of this Marina. All these apartments and luxurious villas are well-furnished for the residents here. These apartment buildings show state-of-the-art facilities. Also, the apartment hosts different events and celebrations throughout the year. These apartments are surrounded by lavish shopping malls, grand hotels, and restaurants that provide live joy for residents.
Barcelo Residences Dubai Marina:
Barcelo Residences Dubai Marina is a modern, luxurious, comfortable, and peaceful holiday apartment in Dubai. This apartment is located in Palm Jumeirah, Dubai. Beautiful shops, restaurants, and other leisure areas surround these apartments. The lifestyle here attracts the public the most.
This residence is a fantastic destination to spend the days with your loved one and entertain yourself with pure joy and pleasure. The outdoor space is fully equipped with hot tubs and swimming pools too. Fitness studios make this place the best among others.
This 253-rooms apartment is just a few distances from Palm Jumeirah, The Walk, and The Beach. Also, the residents here can explore the attractions of this modern city, such as Burj Al Arab, Ski Dubai, and Burj Al Khalifa.
Dubai Marina Hotels:
Hotels in Dubai Marina are luxurious places for visitors to rest and enjoy the beauty of this district. Dubai Marina carries a variety of hotels which include various 5-star hotels.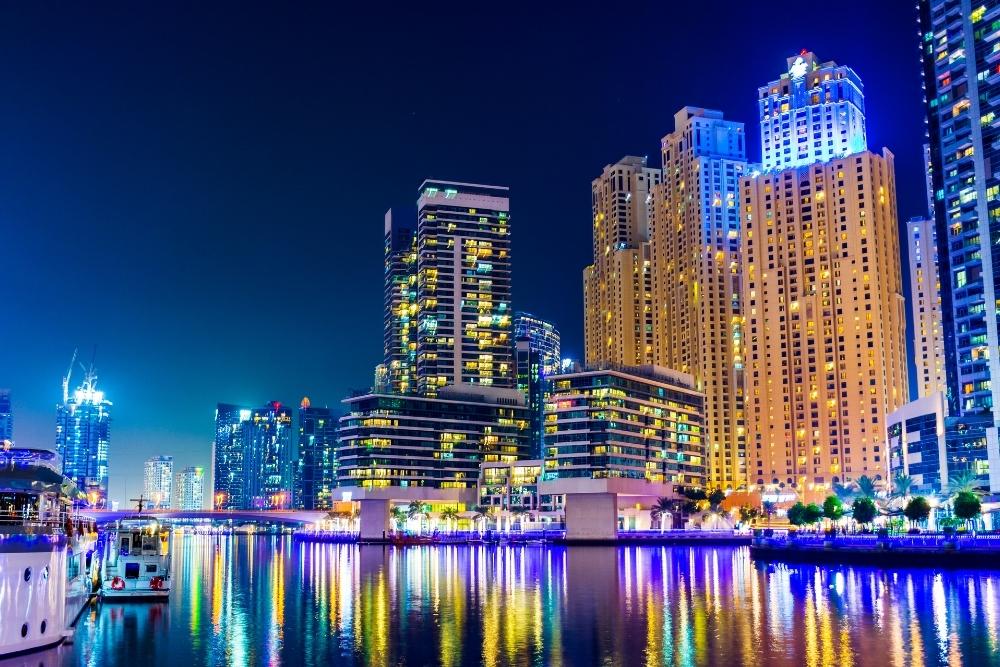 Some of them include the following:
Address Dubai Marina:
The Address Dubai Marina is the top among all the five-star hotels here. It is called the cream of the collection. This hotel is well-known for the luxurious facilities it provides to the guests. This hotel is constructed near the famous Jumeirah Beach. Attendees here enjoy a live view of the sea. This hotel also has a great gym with well-known professionals and experts to guide an ideal workout and infinity pools to relax. The shopping malls, parks, other hotels, restaurants, beaches, and the sea the whole city is easily accessible from the Address Dubai Marina.
La Verda Suites & Villa:
This provides a unique experience in the way that it offers large properties. Visitors can come and enjoy the deluxe penthouses and beautiful villas. La Verda Suites & Villa also offers 24-hours butler services. The professional childcare facilities and activities for the children make it a highlight option for people with small children.
Grosvenor House:
Next on the list of luxury hotels is Grosvenor House. This hotel provides a beautiful, luxurious, comfortable environment with private beaches and terrace swimming pools. This hotel offers a place to live for 750 guests at a time.
Wyndham Dubai Marina:
Wyndham Dubai Marina is located in New Dubai. This hotel offers various experiences of seeing Dubai Marina and feeling it closely like never before. Also, it provides scenic views of the Arabian Sea too. Providing top-level comfort with a fitness center and spa, this hotel is a wonder for its residents.
Intercontinental Dubai Marina:
Intercontinental hotel is within walking distance from Jumeirah Beach, Dubai Tram, and Marina Dubai Mall. This five-star hotel is best known for its design, creativity, and art. With beautiful interiors with fascinating exterior views, mouthwatering dishes, and the facilities of a health club and spa, it is one of the best hotels.
Stella Di Mare Dubai Marina Hotel:
Located next to the Jumeirah Beach Residence (JBR), Stella Di Mare Dubai Marina Hotel win the hearts of everybody with the dozens of different facilities it offers. This hotel provides the experience of famous beach strips and offers outstanding Food & Beverages to its public.
Rove Dubai Marina:
Rove Dubai Marina being near the Dubai Marina Mall and Promenade, Dubai Tram, and Bluewaters Island, are prioritized by the explorers. People here can enjoy this best place's facilities and reach out any time to explore the beautiful city.
Crowne Plaza Dubai Marina:
Crowne Plaza Dubai Marina is located just next to the Dubai Marina Mall. Different cafés and restaurants nearby increase the worth of this place. This ideal hotel has 273 rooms with the best facilities to make guests love this place.
Millennium Place Marina:
The beautiful 4-star hotel is never less regarding the services and offers. This place can carry 458 guests in an aesthetic environment, with stunning views and 24-hour assistance at the doorstep.
The Ritz-Carlton Dubai Marina:
Ritz-Carlton is at a five-minute walking distance from the JBR. This place is a luxury, 5-star hotel that welcomes guests. This hotel also gives opportunities for a private beach, spa, treatment rooms, hot-water swimming pools, and the best dining.
Dubai Marina Restaurants:
Marina in Dubai is occupied by many restaurants, ready to serve the people the best dishes. Whether Italian, Arabic, or Asian, every restaurant here provides delicious food to the foodies. From juices in breakfast to mouthwatering dinners with a variety of coffees and desserts, every restaurant is naming itself in the list of popular.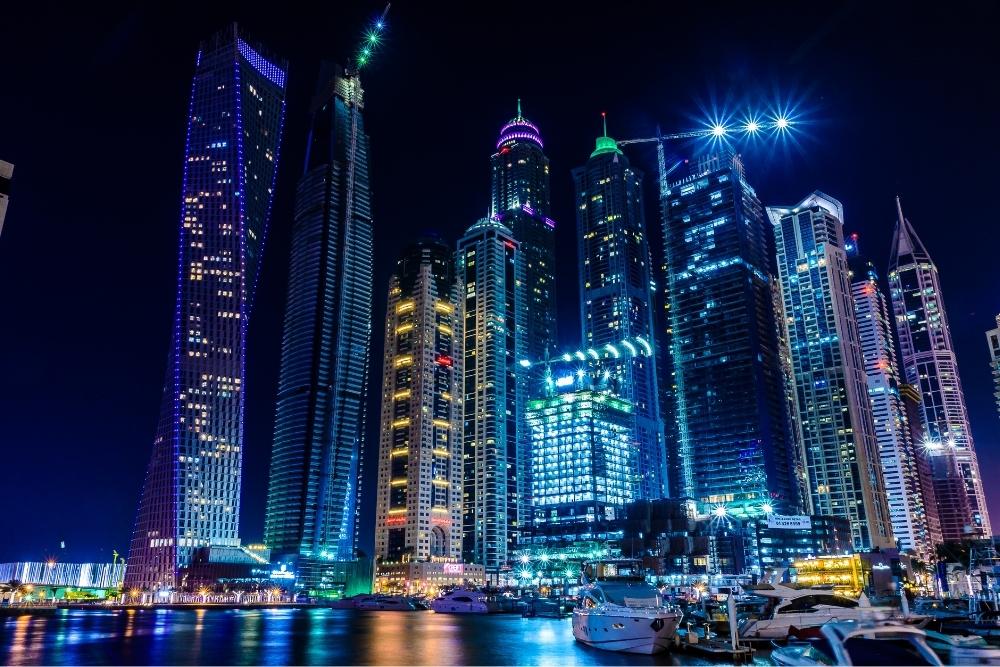 Some of the restaurants in Marina Dubai are:
Massimo's Italian Restaurant:
Situated at Park Island waterfront in the Dubai Marina, this restaurant specializes in pizzas, pasta, subs, seafood dishes, and chicken dishes.
Angelo Naturalmente Italiano:
The Italian restaurant Angelo offers a dine-in destination and the best drive-through options. Angelo Naturalmente Italiano offers Italian dishes with fantastic stuff and fluff. The Shisha (Hookah) after dinner increases the visit to this restaurant.
Thyme:
Thyme is the best point if you want to see your food being a live cook in front of you. It is located right along "The Walk" and serves freshly baked and grilled food to those enjoying it.
Buddha Bar:
If you are looking for Asian food? Buddha Bar is the right place to visit. This restaurant is located in Grosvenor House in Dubai, ready to serve you the best Asian dishes and satisfy your cravings with them.
BiCE Ristorante:
BiCE Ristorante is specially made to serve its visitors traditional foods as well as everyday foods too. This restaurant makes sure to satisfy the visitors in whatever pattern they like.
Amaseena:
Amaseena in Ritz-Carlton promises to make the dinner more memorable than delicious. Enjoying the scenery while eating dinner is what people love about this place. Amaseena also provides private tent dining, all decorated with aesthetics that attract food lovers the most.
Dubai Marina Mall:
The 4-level building adds too much beauty to the Marina in Dubai. This shopping mall covers around 390,000 square foot areas. This shopping mall covers approximately 130+ outlets of different brands that include basic lifestyle necessities to the luxurious item you want. This shopping mall covers fashion, glamour, art, supermarkets, and restaurants. The kid's playground and 6-screen Reel Cinema add shopping with joy.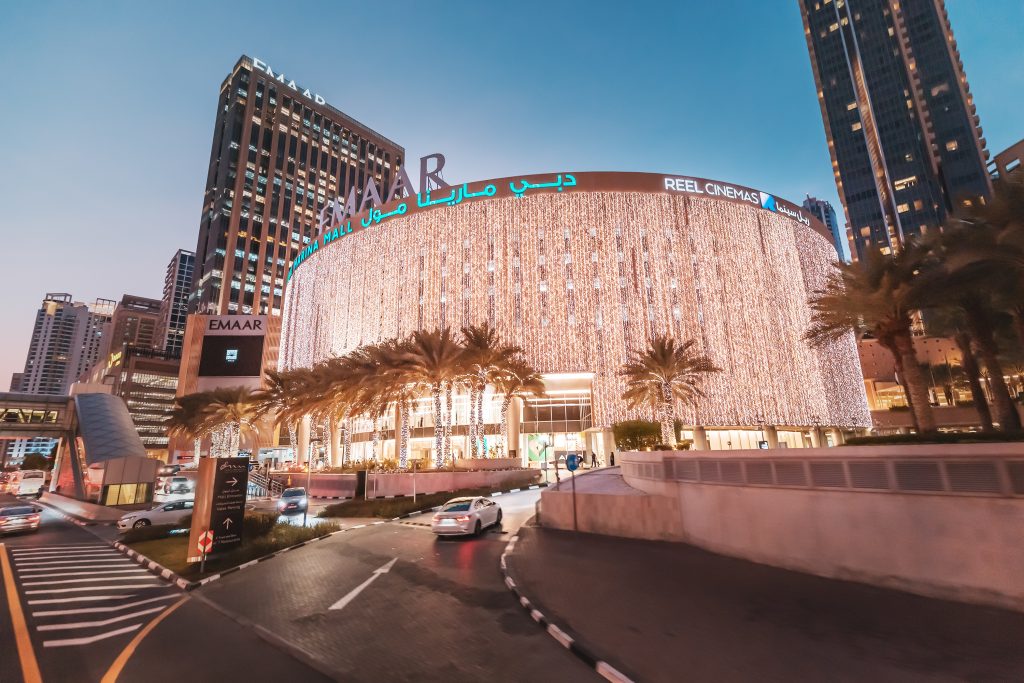 Dubai Marina Walk:
Dubai Marina is famous for its shopping destinations, restaurants, and hotels, but one thing that makes it a highlight for visitors is the Dubai Marina Walk. The seven-kilometer walk path with waterfront and palm trees lined up gives this place a treat to watch. Not only the walk, but shopping, mingling, and seeing yachts in the water make it a memorable walk.
Looking at the walkway and seeing the bunch of restaurants all lined up at the border. This walkway is a fascinating destination point with many other opportunities to avail while walking, such as dining, shopping, jogging, and cycling.
Conclusion:
Dubai Marina is a great place for anything you are looking for. Whether it's residence, shopping, entertainment, dine-in, or just the relaxed environment you want, Dubai Marina is the best place to visit and enjoy.