Dubai is not all about tall buildings and busy streets. Away from all the hustle and bustle of the city and modernity, there are tranquil deserts. Although desert may look like a dull and uninspiring place at first sight, that's not really the case. Desert is full of life. Both literally and figuratively. It is also the place for some adventurous sports. That might come as a surprise to you if you haven't been to any desert before.

So what are the adventurous sports in the desert? There are many, in fact. Like dune buggy riding, camel safari, quad biking, fat tire biking, off-roading, desert rallies, and more. But for this discussion, we are going to focus on sandboarding (or sand skiing).

What is Sandboarding

You might have seen snowboarding. It is done in the snowy slopes of the temperate and polar regions. Sandboarding is an adaptation of this sport to the desert sands. Instead of the snow, sandboarding is done on, as the name suggests, the sand. Though sandboarding is possible on any loose sand, it is best done in the desert. Deserts have the perfect terrain for sandboarding with varying heights and slopes.

Tall and steep dunes are the best for sandboarding. So look for them. Stand on top of the dune and strap on the board to your feet and slide down to the bottom. Carving the sand is different than carving the snow. If you are an expert, you can do some backflips in the air. 
Click here to read about all the things you can do in Dubai.
Sandboard vs. snowboard

Although similar, sandboards are a little different from snowboards. Sand is a lot more abrasive than snow. Therefore, the board has to be tougher. That also means the sandboards are a tad bit heavier than the latter.

Best locations to sandboard in the UAE

Lahbab desert

A desert in Dubai known for its red and tall dunes. Most of the dunes here range from 10 to 30 meters. But there are a few that are about 100 meters tall. Lahbab desert is just 40 minutes drive away from Dubai city on the Dubai-Hatta road.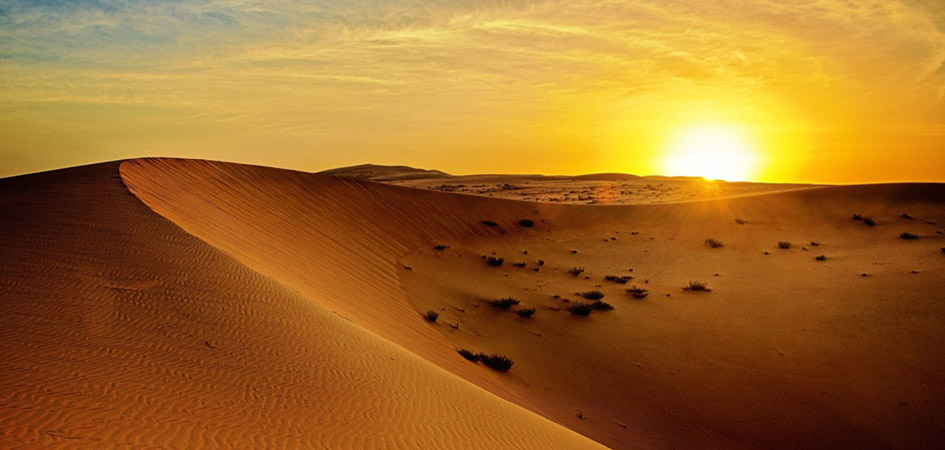 Al Faya desert

A desert in sharjah with red sand. You will find a cluster of tall dunes in the center of this desert where 4x4s, dune buggies, and sandboarders flock. This area will be a little packed in the winter. So, getting a convenient spot to sandboard is a bit tricky, to say the least.

Liwa Oasis

Located in Abu Dhabi, Liwa Oasis is famous for a particularly massive Moreeb dune. This is the single largest dune in the world, standing 300 meters tall and 1.6 kilometers long. Though the dune is in the middle of the desert, there is a road that will take you right to the bottom of the dune. But you would rather have 4×4 to your aid. Although skiing down the slope will be fun, walking back to the top won't be. One advantage of Moreeb dune is that it is vast. You will always find a place to put your skills to work.

Al Badayer

The tallest dune in Badayer is called the Big Red because it is ruby red in color, also it's big. And that is the sweet spot for the adventure. This dune is easy for amateurs to sandboard. Badayer is also close to Dubai. It only takes 45 minutes drive from Dubai to get there.

There will be a lot of adventure lovers here on the weekends and during the colder weather, thanks to its proximity to the city.

Fossil Rocks

Scientific evidence points to the fact that all of the Arabian desert was once under the sea. Geologists call this sea as Tethys. That's how we can explain the presence of marine fossils in the middle of the desert. Jebel Maleihah, which is also called the Fossil Rock, is located on the outskirts of Sharjah, near Mleiha archeological center. Fossil remains of marine animals that existed millions of years ago can be found here. Another thing the fossil rock famous for is sandboarding and dune bashing.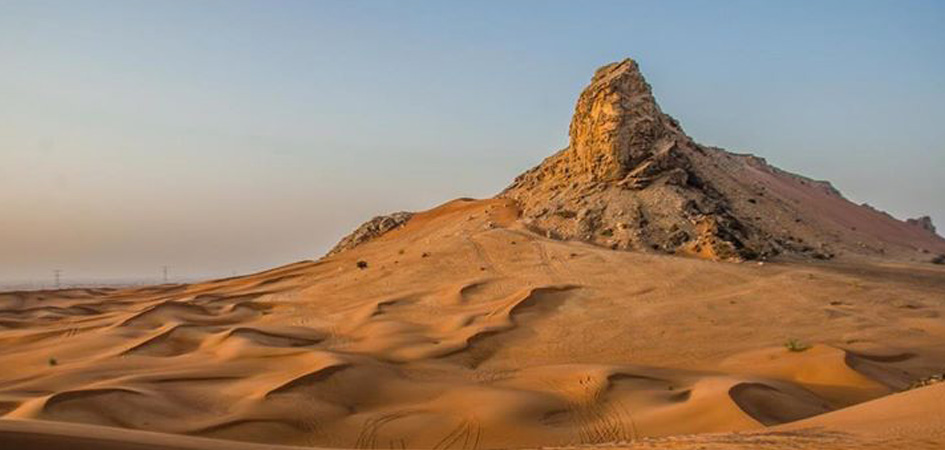 Sweihan desert

This desert in Abu Dhabi is also called 'Little Liwa'. Sweihan is conveniently located equal distance away from Dubai, Abu Dhabi, and Al Ain cities. The sand here is soft, and the dunes are big. Therefore you need to be an experienced offroader to drive in Sweihan not to get stuck in the sand.

Different types of sandboards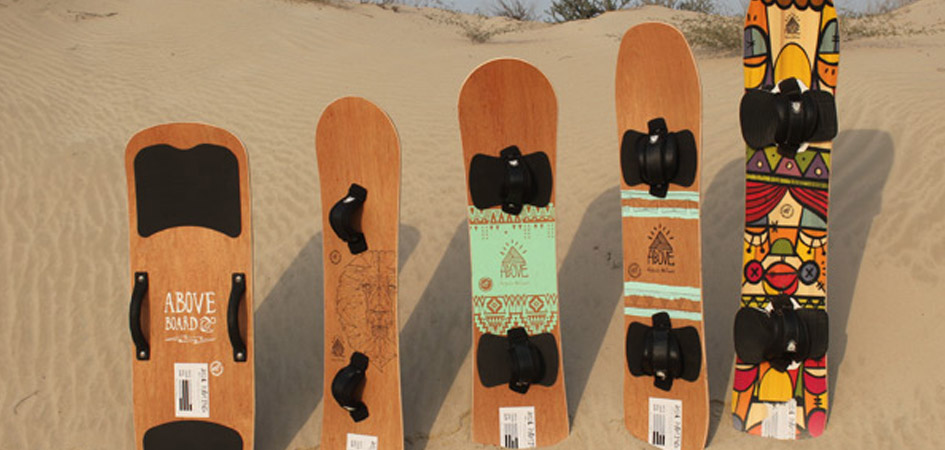 Bumsled

A bumsled is a large board on which you can sit, lay or sandboard with your buddy. You can double up on this board comfortably. Bumsled is great for sandboarding with family. You can make kids, who aren't old enough to go on their own, sit with you and give them sandboarding fun.

Freeride boards

They are for stand up sandboarding. Among freeride boards, there are two varieties:

Basic

These are flat boards with velcro straps to secure your feet or shoes. They are medium performance and cost around 700 AED.

Professional

These are high performance boards made for speed and endurance. Instead of velcro straps, they have inserts to place snowboard bindings or skiing shoes. These can cost around 1500 AED.

Board Wax

The sand is abrasive and puts a great amount of friction on the board. Board wax helps to smooth out the bottom surface of the board. Professional sandboarders who aim for maximum speed should use a board wax.

Types of sandboarding

Stand up boarding

This is the most common type of sandboarding. You strap your feet onto the board and slide down the dune, standing upright. This allows you to carve up the sand and make turns and do flips if you are an expert.

There are different types of boards optimized for speed, control, and balance for stand up boarding. You can choose any depending on your skill level and want.

Tow boarding

This one is only for the professional and the really adventurous. You can hold onto a rope that is connected to a dune buggy or a 4×4. This allows you to climb up and down the dunes at great speed. You can perform amazing tricks with this. This is a bit risky and you must not try it without proper training.

Sitdown boarding

For the really novice ones and children. In this, you sit on the board and slide down the dune. The advantage of it is that you don't need to balance. Also, you can take young children with you on the board.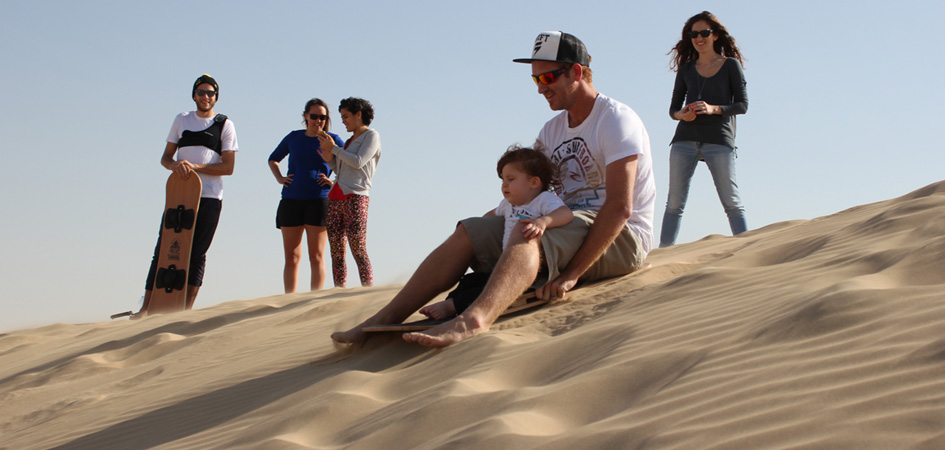 Sandboarding in Desert Safari

Desert safari tours offer sandboarding in their package. Other attractions in the desert safari trip include adventurous activities like dune bashing, quad biking, camel safari, and the Bedouin camp experience.

You will get to experience sandboarding during the breaks between the dune bashing drive. If you want an extended sandboarding experience, then choose the morning desert safari. The morning safari is tailored for the adventurous minds. There is no camp experience, though.

The advantage of a safari tour is that you don't need to have your own board. Boards can be quite expensive. Also, you don't have to lug the 7 pound board to the desert.

What to wear for a sandboarding trip

Sand can get everywhere when you sandboard. You might fall in the sand. So, keep your best clothes for some other day. For a sandboarding trip, you should rather wear something very casual and comfortable. Something you don't mind getting soiled.

High top shoes are better than low top ones. Desert sand does not give much traction when you walk. If you wear low top shoes in the desert, you are sure to get a few pounds of sand inside your shoes, making it even more difficult to walk. And you will have to remove your shoes and get rid of the sand from time to time.

Wearing open-toe shoes will prevent the sand from accumulating inside the shoes. But no sandals. You cannot walk with sandals on the sand. Also, strapping your feet to the sandboard will be more comfortable if you have your shoes on.

Why you should go for sandboarding

There are many reasons for you to try out sandboarding:

An easy and fun sport
Sandboarding does not require a lot of skill or training. Anyone can do it without any safety concerns. Falling on the sand is softer than falling on the snow. And unlike dune bashing, you don't need a four-wheel-drive for sandboarding.

Economical

A sport you can try at very little cost. Yes, the sandboard can be expensive if you are to buy one. But you can easily find a place in Dubai from where you can rent a board for a few bucks.

A great solo sport

You do not need a large group of people for sandboarding. You and a few of your friends can just decide and go to the desert with a board and do it. You can try this sport even if you are alone. So, it is one of the best activities for solo travelers.