Dubai is one of the favorite spots for the tourists across the globe. Tourists flock to the city every year to explore its beauty. Dubai offers anything and everything under the sky ranging from the marvelous buildings, shopping malls, parks, beaches, toothsome food and adventure sports. But, can you imagine Dubai as a vast desert-land without any of these dazzling views?
A trip to the deserts will let you perceive the natural landscape of Dubai and appreciate the master brains who transformed a desert to a magnificent city which left no stone unturned.
Once you have reached Dubai, the land of deserts, a desert safari is a must. See how amazing the long stretch of golden sand looks. There are a lot of exciting adventurous activities that you can do in the deserts. You just can't miss the roller coaster ride across sands, that is, dune bashing.
Dune bashing is a crazy activity in which the car will drive over the dunes at varying speeds. It is a thrilling and adrenaline-pumping sport. No trip is complete without the wild experience of sailing through heaps of sand and flying up into the air as you bash against the golden dunes.
You will never forget your emotions as you set off from atop a dune and lash through the steep, unstable, spine-chilling slides of sands.
Safety first
You will certainly be stunned by the skills of the driver as your heart misses a beat and you sway between fright and excitement every second. Crashing over dunes and wheels spinning out of high-speed dips on shifting sands will compel you to hold on to your life! However, you should ensure your safety while going for a desert safari. It can be dangerous if you are going with an unprofessional driver.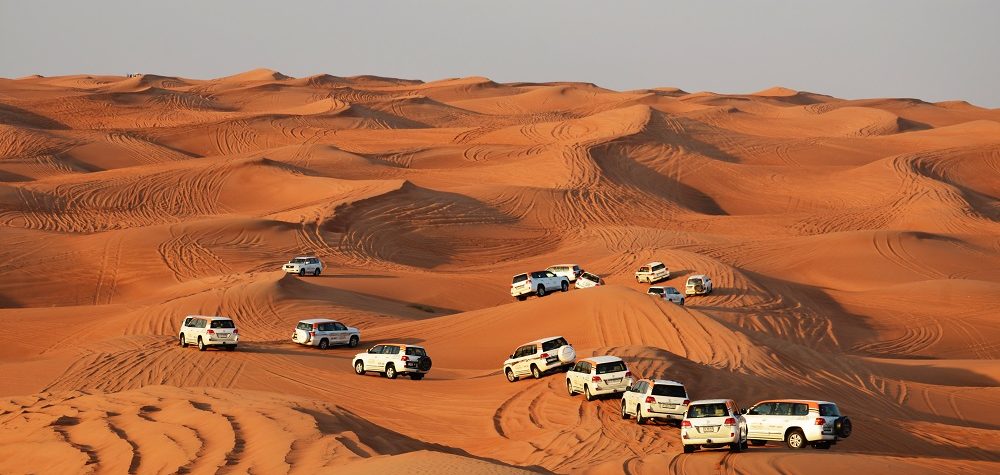 You should also follow the general rules which includes securing the seat belt. SUVs are usually used for the desert safaris. The cars will be equipped with protective gear for ensuring safety and the tire pressure will be reduce to enable the maximum gliding movement over the dunes. Booking desert safari with a trustable tour company will get all these things settled.
Things to remember
Fasten your seat belt before the ride
Ensure that your children's belts are securely tightened
Do go only with professionally trained drivers as it requires skill to maneuver through soft sand at high speed
Wear simple clothes and comfortable shoes
Do not have a heavy meal before the ride
Stop the ride if you feel nauseous, dizzy or frightened
Dune bashing is not recommended for young children and those with back pain
Desert safari is a cool experience which will make you catch your breath at moments. If you love the eerie rides in the adventure parks, desert safari is your cup of tea. Buckle up, give whoops of delight and enjoy the thrilling ride in the wild