While driving past Zabeel Park, you will see a giant structure soaring 150 feet into the sky with a beautiful golden exterior, looking like a huge frame. This is Dubai Frame, a landmark structure that took almost 5 years to build and opened its door to visitors on January 1, 2018. The exterior of the Dubai Frame has an intricate Expo 2020 logo that adorns it throughout. One would feel that the golden rings of Dubai Expo 2020 are draping the entire Aluminum and Glass structure.
The location chosen to make this structure is also very unique. When Dubai Municipality wanted to build a structure, it invited designers to make something that would stand out. Design expert Fernando Doris proposed a structure that encapsulates all that Dubai has ever built from one place. That is how the idea of a frame came to him. His design was accepted and given go-ahead by Dubai Municipality for construction. The Dubai Frame has two side towers which are 93 meters apart, connected with a bridge. Initially, it was planned to construct a completely transparent glass bridge, however, later the designers felt that there would be many who have a "fear of heights", hence won't be able to enjoy the Dubai Frame. So, only the glass is added partially to the bridge that connects the two towers.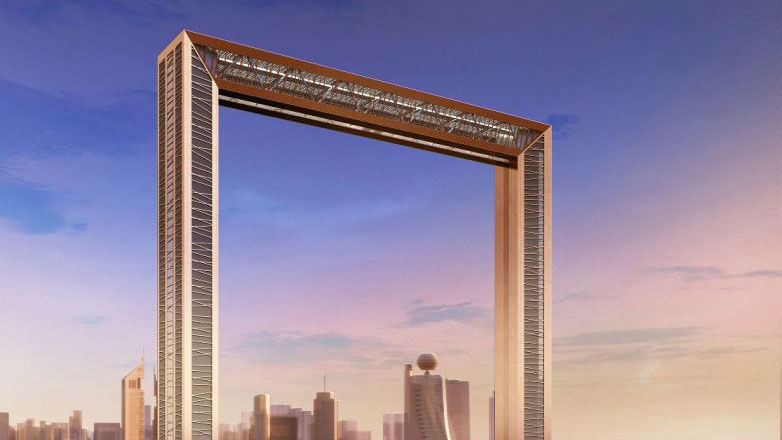 In the night the whole frame is draped with changing lights. The shimmering gold exteriors with a backdrop of changing lights are a sight to behold.
The site of Dubai Frame in Zabeel Park, one of the largest parks in the Middle East. There is no tall tower anywhere close by. This makes Dubai Frame the tallest structure and affords an unobstructed view of Dubai. The Guardian describes The Dubai Frame as the largest manmade frame in the world.
The best time to come to Dubai Frame is around sunset time. This means that you will be able to see Dubai in the daylight, sunset, and in the full glory of neons. Avoid going there when there is too much fog or dust as you won't get the right view. Dubai Frame also serves as an edutainment. It is educational and motivating to understand the vision of its rulers that is backed up by firm action. It is educational to see how a huge plain desert is converted into one of the world's most livable oasis with everything modern life requires. The contrasting view of Dubai from the Dubai Frame is not conflicting but "transforming". The "Old" Dubai is the "Heritage" Dubai and the "new Dubai" view is "Young-hip-happening" Dubai.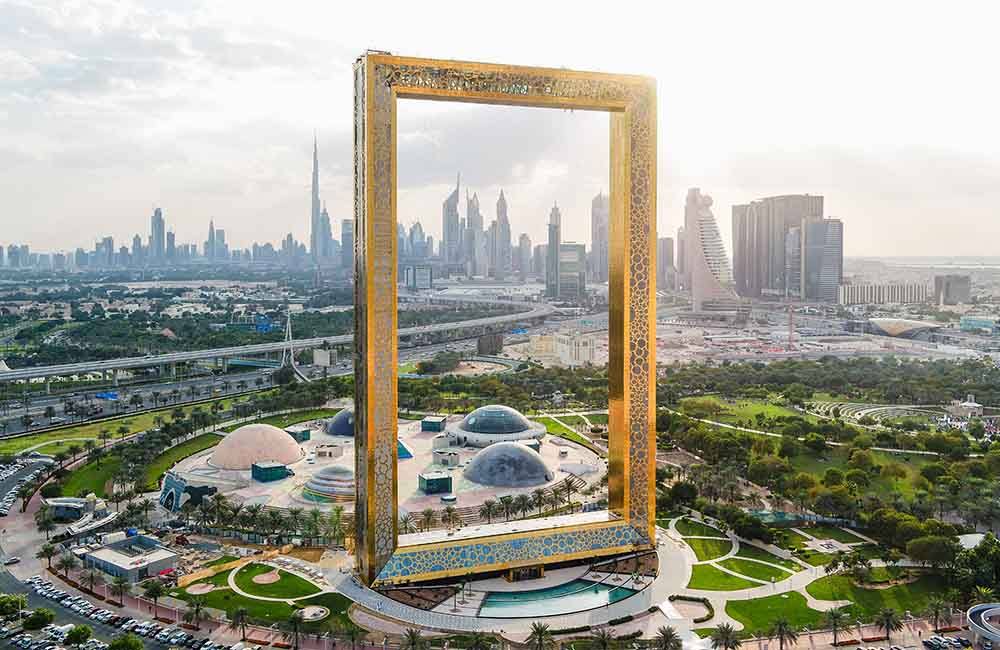 The Frame Dubai was conceived to be a tourist destination and it has lived up to the vision of the Dubai Municipality. Every day hundreds of visitors make a beeline to see 2 different Dubai views at a time. Each hour, only 200 visitors are allowed on the main bridge, to ensure that as many visitors can enjoy the beauty of the Dubai Frame as possible.
Here is some awe-inspiring data for you;
· More than 9.900 cubic meters of reinforced concrete is used to make the Dubai Frame
· 2000 tons of steel has been used to complete the structure of the Dubai Frame
· There are 48 floors in Dubai Frame
· 2900 square yards of glass has been used
· The ratio of The Dubai Frame sides is 1:1.618, called the golden ratio which is considered by the architect as the Golden Ration
Experiences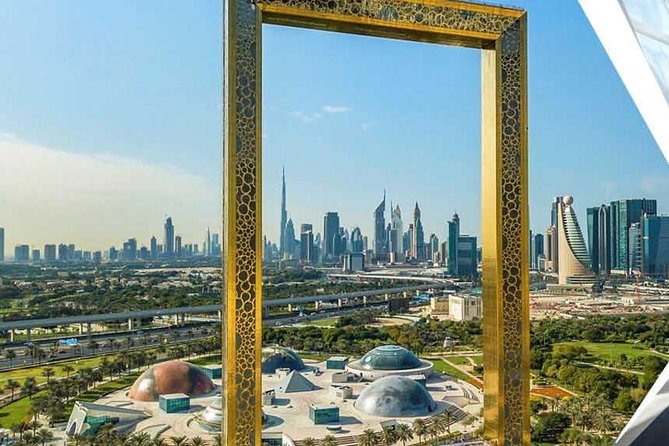 After buying your ticket, you may have to wait for 15 minutes and that is when you would be welcomed with Arabic music and a huge object high above that is like a huge snake that slowly moves in all dimensions to give a unique character to the roof of the mezzanine. In the foyer outside there are water fountains. Your actual will start from the Mezzanine deck which has a museum showcasing Dubai of yore including various items that were used in the past. The whole experience is immersive as the entire museum is multi-dimensional. There are objects, there is an audiovisual film and there are nice frames capturing some landmark dates like 1971 being the year when the current Dubai Airport Terminal – 1 was launched. Similarly, there are frames on pearl diving, Dubai Plan 1960, and the oldest Singer Sewing machine. This includes projections of Dubai Old Souk and mist effects. What you should not miss is various quotes from His Highness Sheikh Mohammed bin Rashid Al Maktoum that are displayed on the wall and they change from English to Arabic and back after every 1 minute. As one quote reads, "Competition always makes you stronger and better. It is the only feared by the weak" This deck is full of valuable knowledge and appreciation, A lot about Dubai Frame is also projected on the walls. It is good to see the use of modern technology put to such good use. Dubai Municipality follows the vision of its main patron, Sheik Mohammed Bin Rashid Maktoum in adapting cutting-edge technologies, and digitizing information for effective delivery of communication and ideas, as is seen in the Dubai Frame.
If you want to see a 360-degree panoramic view of Dubai, plan to come to the Dubai Frame today!
Sky Deck
The upper deck is where the action is. You take the elevator which is a "capsule" lift giving you a full view of the surrounding greenery of Zabeel Park. When you reach the sky deck, you suddenly come across the Present Dubai. A Dubai that is defined by Burj Khalifa, the tallest manmade structure, the Palm islands, The iconic Sheikh Zayed Road, The Dubai Metro, its wide and clean roads, the flower beds along the roads, huge and majestic towers. Not forgetting, the idyllic Deira Creek, Old souks, the wooden dhows (both commercial and passenger), the Abra, and who can forget the famed Karamu, home to thousands of expats! Dubai's present is changing rapidly and is at the cusp. The two Dubai views are on the two sides of the frame. You turn and you will see the old Dubai of Karamu, Deira, and Bur Dubai. Turn south and you will see the new Dubai view consisting of Burj Khalifa, Down Town, Financial Center, and much more!
The sky deck floor has a glass patch from where you can see down and see the complete Dubai Frame lower area. Often time, you will experience a faint sound of "crack" on the glass. You need not worry, it is just made to give you a bit of a scare.
If all the waiting and viewing made you hungry then the sky deck has a nice chocolate-cum-coffee bar where you can buy your coffee and sandwich to spend some more time viewing the two different worlds of Dubai. The coffee and chocolates are a bit pricey. You may also buy a souvenir from the same "open" kiosk. There is also a triangle-like writing pad where you can write your name and it is then automatically projected on a huge screen.
The Future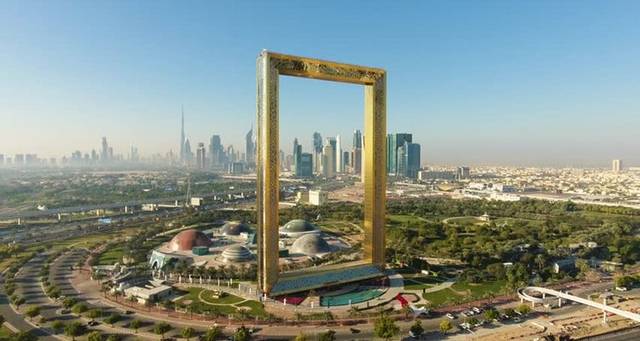 The future of Dubai is showcased in the adjoining room of Sky Deck. This consists of projections of what is the future going to look like. It is dark and very abstract. You will see hovercrafts, robots, and buildings draped in webs. The rulers and the government are trying to make the current generation ready for the future that would be a different world altogether. This is a MUST watch too. The journey to the future is depicted as a time travel. You will actually feel that you have come to a different place altogether and everything is seeming far removed from current realities. But that is where Dubai is heading to. Its rulers are determined to put Dubai first to reach a future that many others have not even visualized yet.
Timings
All days 9 am to 9 pm
However, the Dubai Frame timing changes on holidays and Ramadan
Tickets
Adult ticket is Aed 50/= per person
Children (3 to 12) Aed 20/= per person
For infants below 3 years, entry is free.
People with determination and two accompanying visitors are allowed free.
Location and Reaching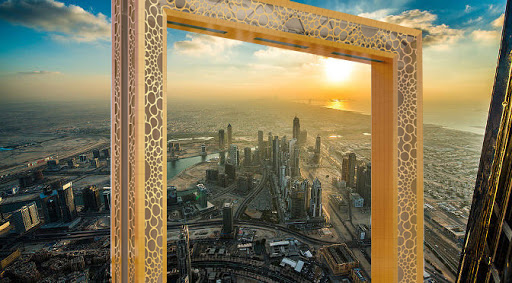 To reach Dubai Frame is very easy. Board Dubai Metro – Redline and get down at ADCB station. From there it is actually a walking distance. However, you can hire a cab and it will take you there within 5 minutes.
You can also take the Number 5 bus that would drop you in any of the bus stands from where you can walk up to Dubai Frame. There is a nice sky bridge from Karama to Zabeel Park. A walk across this bridge will directly lead to Gate number 4, where Dubai Frame is located.
During summer, this walk may be very difficult and it is advisable to hire a cab and reach the Dubai Frame.
Few Important Things to remember
· Cameras are not allowed inside the "Dubai 50 years
· No pets allowed
· No outside food or beverages allowed
· No Smoking
· No jumping on the glass base
· Clothing MUST be respectful