Dolphins are the ideal friends to humans amongst all marine mammals. They are playful, naughty, and intelligent. They can be trained just like any other pets but are more intelligent than even dogs. A day out with them will give you more information and education about these beautiful creatures. This is the aim of Dolphin Bay at Atlantis in its aqua park known as the Aquaventure. Many other things to do in Dubai are for tourists from all over the world.
Aquaventure is a vast water park located at Atlantis Palm Jumeirah. Dubai has many water parks, including the world-famous Wild Wadi. However, in terms of size and activities, Aquaventure leads the way. Spread over a massive 42 acres of land having its beach, Aquaventure is your ideal getaway on a hot and sunny day.
And, it has Dolphins Bay, where the very cute Bottlenose Dolphins ply their trade. The Bottlenose Dolphins have been very popular worldwide as they are easy to train, pretty to look at, and very easy to keep in captivity. They love humans, and as long as they are well-fed, they are pleased.
The Dolphins Bay in Aquaventure has two critical games for you which engage dolphin interaction with you;
Dolphin Trek
Dolphin Snorkel
Dolphin Trek – Experience
You would have heard about Lion Safari, African Safari, and Elephant Safari. All these safaris are land-based and connected with land animals. Safari is created to know these wild beasts from the closest range. Generally, you are in a protected vehicle and driven through jungles and witness the dangerous yet majestic animals.
Aquaventure has, for the first time, taken you for an underwater safari. Unlike land desert safari, water safari, created by Aquaventure, is for watching and interacting with the dolphins. This is what they call Dolphin Trek. Once you buy your ticket, you will be given a suit and a helmet that allows you to dive and float underwater. There will be a brief training and guidance session with the masters of dolphins. This session is insightful and entertaining. You are also told about many hand movements that are like sign language. After the briefings, you are taken inside the vast bay, which is nothing a manmade pool where you will find numerous bottlenose dolphins. They are well trained, plus you have the dolphin guide with you. Your interaction with dolphins starts here. You can hold them, hug them and pet them. The Dolphins Trek familiarizes you with the charismatic dolphins. Once you have this experience, you will forever cherish the experience. There are underwater cameras that take your pictures and videos that you would be able to collect once you are out of water. The underwater experience does not require you to be a swimmer or diver. This is because you have a suit that keeps you afloat and the helmet provided to you allows you to breathe normally. The helmet is unique and will enable you to get very close to the dolphins.
Anyone above eight years can enjoy the experience of Dolphins Trek. You get to stay 30 minutes inside the water, playing with the dolphins.
Dolphins – Snorkeling

Snorkeling means going still deeper and closer to the surface of the water. They limit it to only 15 per group, and the underwater snorkeling allows you to swim deeper with the bottlenose dolphins. The dolphins are always around you while you are snorkeling. They are watching you, coming closer, and even giving you a small peck. The most favorite place for snorkeling is Musandam Dibba.
Both Dolphin Trek and Dolphins Snorkel have a pre-swim briefing. The other rules are;
You must be there at least 1 hour before your experience
Your wet suit and helmet are provided, along with the cost
30 minutes changing time
15 minutes of orientation time with the experts
30 minutes of experience inside the water
Soft drinks and water provided to you free of cast
Towels and lockers are provided during the interaction day
Children below eight years not allowed
Dolphin Encounter – Experience
If you are not too comfortable going underwater in a wet suit, do not worry. You can have another experience with the dolphins in shallow water. Here, dolphins pretty adept in deep waters and surface waters would perform various trained routines, dances, and play games. If you are willing, you can join the trainers for closer interaction and a selfie. There are no age criteria for dolphin shallow water experience.
Royal Swim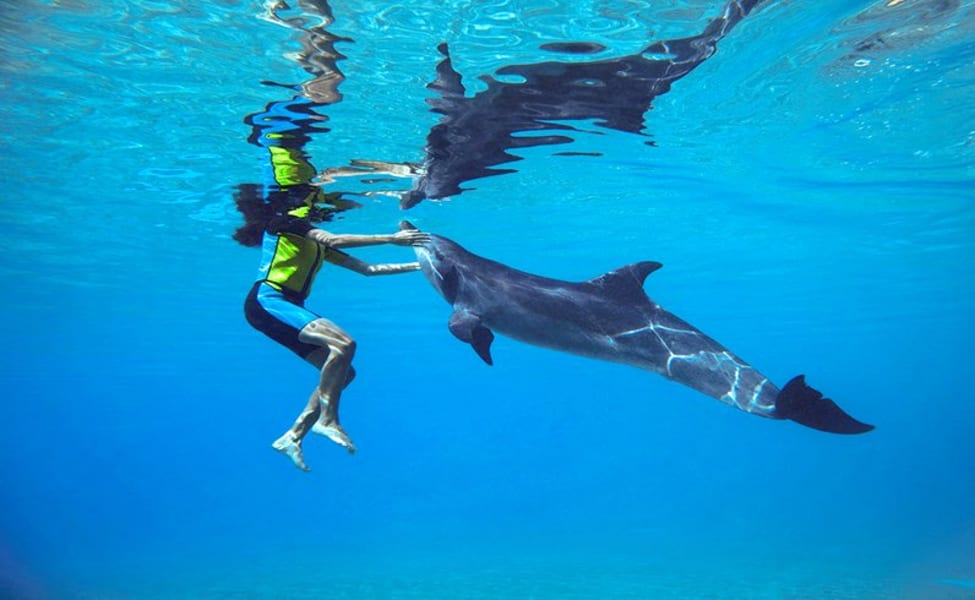 This is one memorable and adrenalin-pumping activity. For this, however, you must have expertise in surfboarding. Here you will have your surfboard channeled forward in the lagoon by dolphins while aboard the surfboard. This is a 30 minutes activity, after which you are allowed to play, hug and kiss your marine friends who are too willing to oblige.
Scuba Dive
If you are a very confident swimmer, then it fits you right. You will be able to swim along with these beautiful mammals in deeper water. You will be pulled deep into the water by your friends to have a look into their life in deeper water. Not suitable for faint hearts, the good and confident swimmers mostly enjoy this activity. Since you go deep inside the water, only certified scuba divers can do this activity. Aquaventure provides all gears along with the ticket.
Timing and Location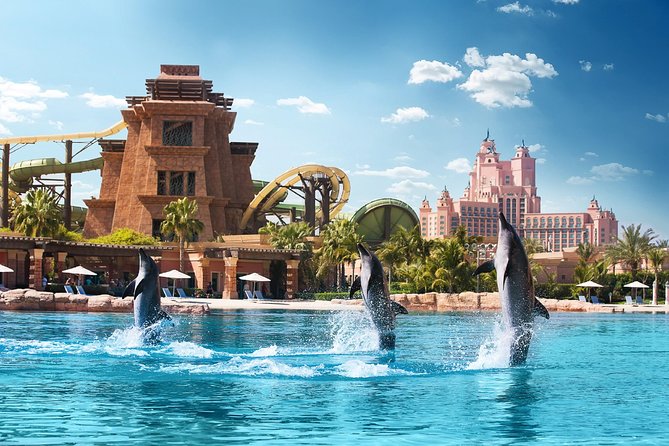 Timing – All days, 9:30 A.M. to 5.30 P.M. (From Sundays to Saturdays)
Location – Inside Aquaventure Park. When you buy a ticket to Aquaventure, your experience of Dolphins Bay is included in the same ticket, and you don't need to buy a separate ticket.
Reach Atlantic in Palm Jumeriah by the monorail that you may catch from the entrance to Palm Jumeirah. The monorail experience is unique as it affords you the beautiful Palm Jumeirah from the top. The same monorail goes underground before reaching the Atlantic at Palm Jumeirah.
You should keep one full day for Aquaventure and Dolphins Bay activities.