If you are looking for a beautiful and exotic beach in Dubai, look no further than Jumeirah Beach. This world-famous beach stands among the most popular tourist destinations in the city. 
With its stunning sandy beaches and crystal-clear waters, Jumeirah Beach is the perfect place to soak up some rays or take a refreshing swim.
This blog will share a complete travel guide to Jumeirah Beach in Dubai. This guide will contain all the information from the best routes to things to do. So, let's get started!
Jumeirah Beach Overview
Jumeirah Beach Dubai is a man-made beach created using land reclamation. The white sand and clear blue waters are a perfect backdrop for a day of relaxation or recreation. Plenty of activities keep visitors entertained, including swimming, sunbathing, windsurfing, and kayaking.
The beach is also great for taking a walk or enjoying the stunning views. Thanks to its popularity, Jumeirah Beach is well-equipped with amenities like restaurants, cafes, and shops. Several nearby hotels also make it easy to find accommodations to suit any budget.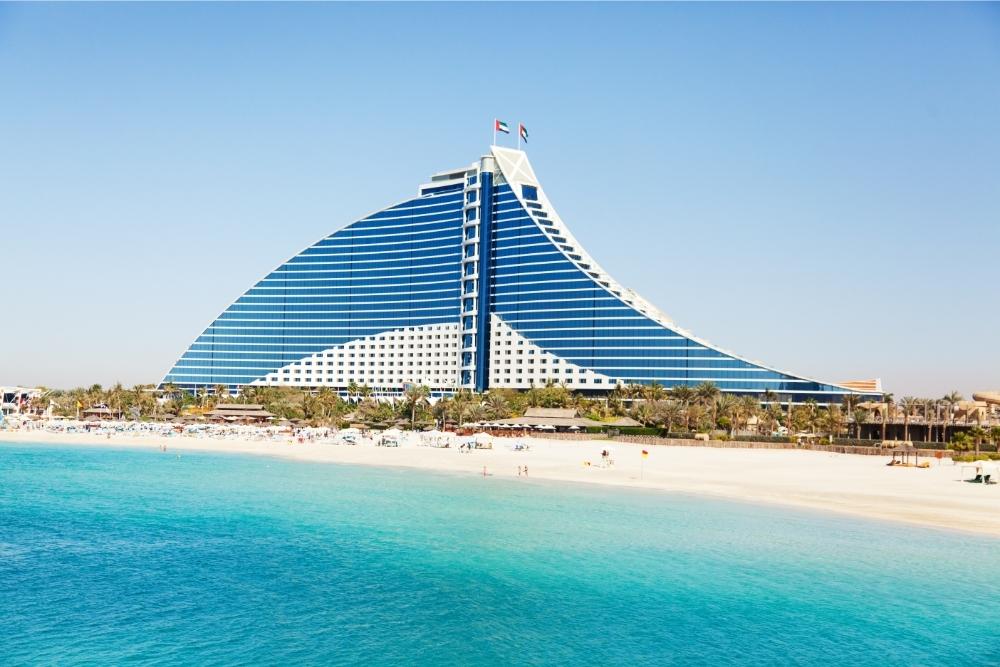 Along with the beach is a park with a children's play area, barbecue pits, and a walking track.
Apart from this, you can have a chance to enjoy the glorious food festival. It is one of the biggest food festivals in Dubai that takes place on Jumeirah Beach every year. This festival features a wide variety of cuisines from all over the world.
Whether you are looking for a fun-filled vacation or a relaxing getaway, Jumeirah Beach is sure to exceed your expectations.
Jumeirah Beach Location
Jumeirah Beach is located on the coast of Dubai in the United Arab Emirates. It stretches for about 5 kilometers, from the Jumeirah Open Beach to the Burj Al Arab. Additionally, it is situated close to other popular tourist destinations like Palm Jumeirah, Burj Khalifa, and Dubai Marina.
In short, it is in an ideal location for those who want to explore all Dubai offers.
How To Get To Jumeirah Beach?
There are several ways to get to Jumeirah Beach. Once you are at the Dubai Airport, there is just a 15 km separation between you and Jumeirah Beach. So, is the best transportation means you can use to reach your destination:
By Taxi
Taxis are readily available at the airport and are a great option if you are traveling with a group. The fare to Jumeirah Beach should be around AED 60-70.
By Bus
The RTA buses are a cheap and convenient option for getting around Dubai. You can take the bus from the airport to Jumeirah Beach. The fare is only AED 2.5, and the journey takes approximately 45 minutes.
By Metro
The Dubai Metro is a quick and easy way to get around the city. Metro buses run from the airport to the beach. Reaching Jumeirah Beach by metro takes about 25 minutes and costs only AED 10.
We have put together a list of the best things to do in Jumeirah Beach to make the most of your time in Dubai.
Things To Do In Jumeirah Beach
Swimming
Jumeirah Beach is the perfect place to take a dip in Dubai. The water is warm and crystal-clear, making it ideal for swimming. While the beach is open to the public, certain areas are designated for swimming only.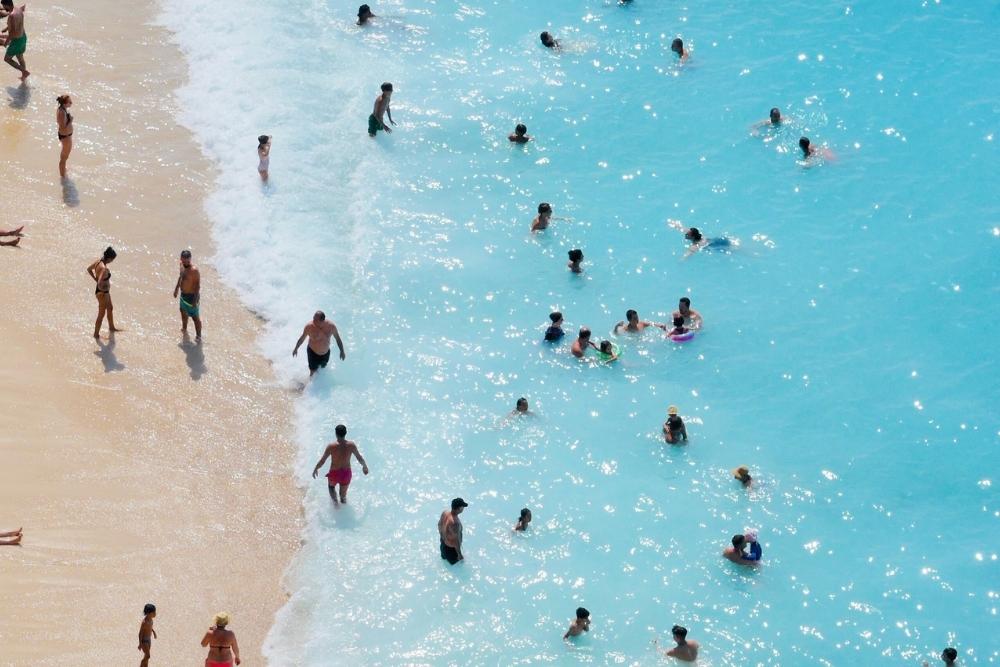 Tourists are welcome to swim in these areas, but they should be aware of the lifesaving flags that indicate safe swimming areas. In addition, it is important to follow all posted signs and regulations to ensure a safe and enjoyable experience for everyone.
Sunbathing
If swimming is not your thing, you can always soak up the sun on Jumeirah Beach. The white sand and clear blue skies make for the perfect beach day. Plenty of sun loungers and umbrellas are available for rent so you can relax comfortably. Be sure to apply sunscreen frequently, as the Dubai sun can be intense.
Jet Skiing
Jumeirah Beach is the perfect place to try jet skiing for those looking for adventure. Several companies offer jet ski rentals, typically located near public beaches. Jet skiing is a fantastic option to explore the coastline and taste the Dubai lifestyle.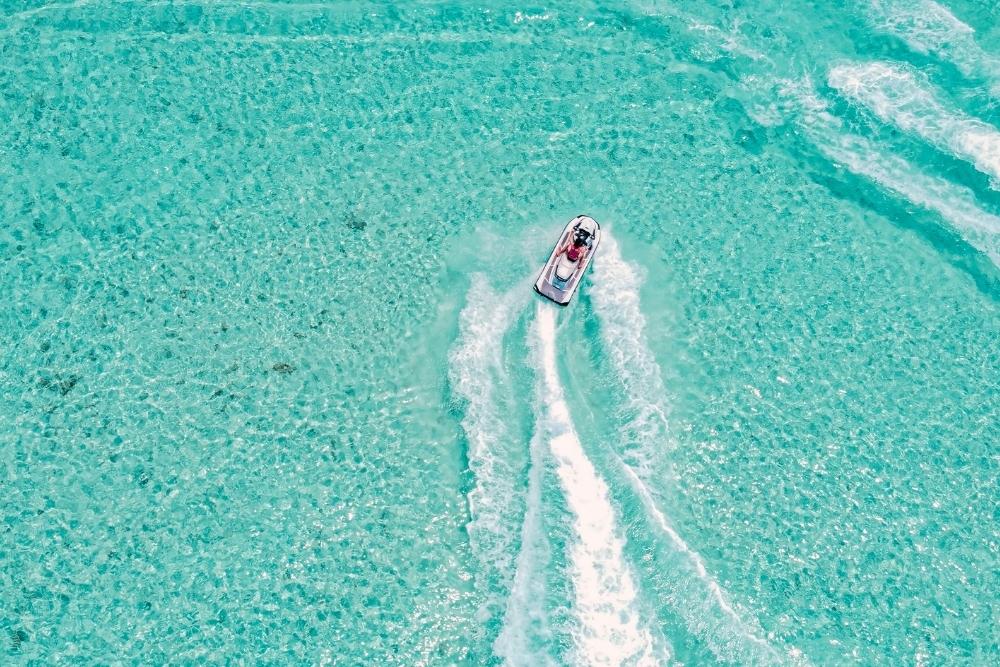 Boat Tour
Another great way to explore the coastline is by taking a boat tour. These tours typically depart from the Jumeirah Beach Hotel and take you on a tour of the nearby islands. You will see some of the famous landmarks of Dubai, such as the Burj Al Arab and the Palm Jumeirah.
In addition, you will get to experience the city's world-famous skyline from a unique perspective.
Park Visit
If you are looking for a break from the beach, you can always visit one of the nearby parks. There are several parks within walking distance of Jumeirah Beach, and they offer a variety of activities for all ages. So, visiting these parks, especially the one with a children's play area, is something you should not forget.
Best Restaurants Near Jumeirah Beach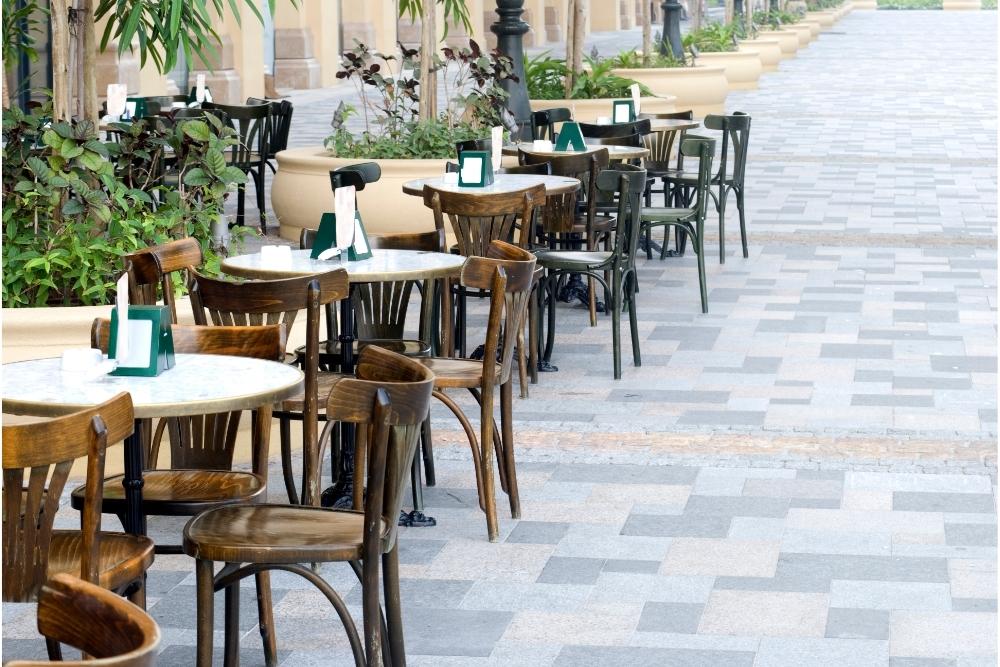 You will not spend an entire day at the beach without eating. If you are looking for some of the best restaurants nearby, be sure to check the following:
Latitude
Latitude is located in the Jumeirah Beach Hotel and offers stunning ocean views. The menu features a variety of international dishes, including seafood, steak, and pasta. In addition, the restaurant has an extensive wine list, making it the perfect Jumeirah Beach hotel to enjoy a romantic dinner.
Shores
This restaurant is located in the Shoreline Apartments and offers a laid-back atmosphere. The menu features a variety of seafood dishes, burgers, and salads. Besides these eatables, you get a wide selection of beers and cocktails.
Naya
Naya is located in the Jumeirah Dar Al Masyaf Hotel and offers views of the Burj Al Arab. The menu features a variety of Indian and international dishes, which means you can enjoy a curry or kebab. Additionally, the restaurant has an extensive wine list, making it an excellent place to enjoy a glass of wine with your meal.
Best Shopping Centers Near Jumeirah Beach
After a long day at the beach, you may want to do some shopping. If so, be sure to visit the following shopping centers:
Dubai Mall
The Dubai Mall is one of the world's largest and most famous shopping malls and offers a wide variety of shops and restaurants. In addition, the mall is home to the Dubai Aquarium, one of the world's largest aquariums.
The Mall Jumeirah
The mall features many stores, from high-end designer brands to more affordable chain stores. In addition to its retail offerings, The Mall Jumeirah also includes a food court, a cinema, and several restaurants. Visitors can also take advantage of the mall's convenient location, just a short walk from the beach.
Mercato Shopping Mall
Mercato Shopping Mall offers a wide range of shops and restaurants, cinemas, and supermarkets. With its convenient location and ample parking, Mercato is the perfect place to shop. 
The mall also has many special events and promotions throughout the year, making it an even more attractive shopping destination.
Frequently Asked Questions
Q: How far is Jumeirah Beach from Dubai Mall?
Jumeirah Beach is located approximately four miles from Dubai Mall, making it convenient to take a break from shopping. Whether you want to take a dip or enjoy the scenery, Jumeirah Beach is worth visiting.
Q: Is Jumeirah Beach free to visit?
One of the main benefits of Jumeirah Beach is that it is free to visit. Unlike many other beaches in Dubai, there is no entrance fee or membership required.
Q: Is Jumeirah Beach Man made?
Many visitors don't realize that Jumeirah Beach is man-made. The entire coastline of Dubai has been artificially created. Over the past few decades, billions of tons of sand have been dredged up from the bottom of the Persian Gulf and used to create new beaches, expand existing ones, and build artificial islands.
Final Words
Jumeirah Beach is one of the most popular beaches in Dubai. Located in the city's heart, Jumeirah Beach offers stunning skyline views, plus a wide range of shops and restaurants. In addition, the beach is free to visit, making it the perfect place to enjoy a day in the sun.
Whether you are looking to relax on the sand or take a dip in the ocean, Jumeirah Beach is worth a visit. So, plan your visit today and enjoy this world-famous tourist destination! Check out the Best Beaches in Dubai on our site.