Bollywood Park offers a unique experience for tourists visiting Dubai. The theme park is dedicated to the Indian film industry and includes rides, attractions, and shows based on popular Bollywood movies. With so much to see and do at Bollywood Park, it can be challenging to know where to start.
This amusement park is dedicated to Hindi cinema and offers something exceptional for fans. There's plenty to do and see here, so plan your visit accordingly.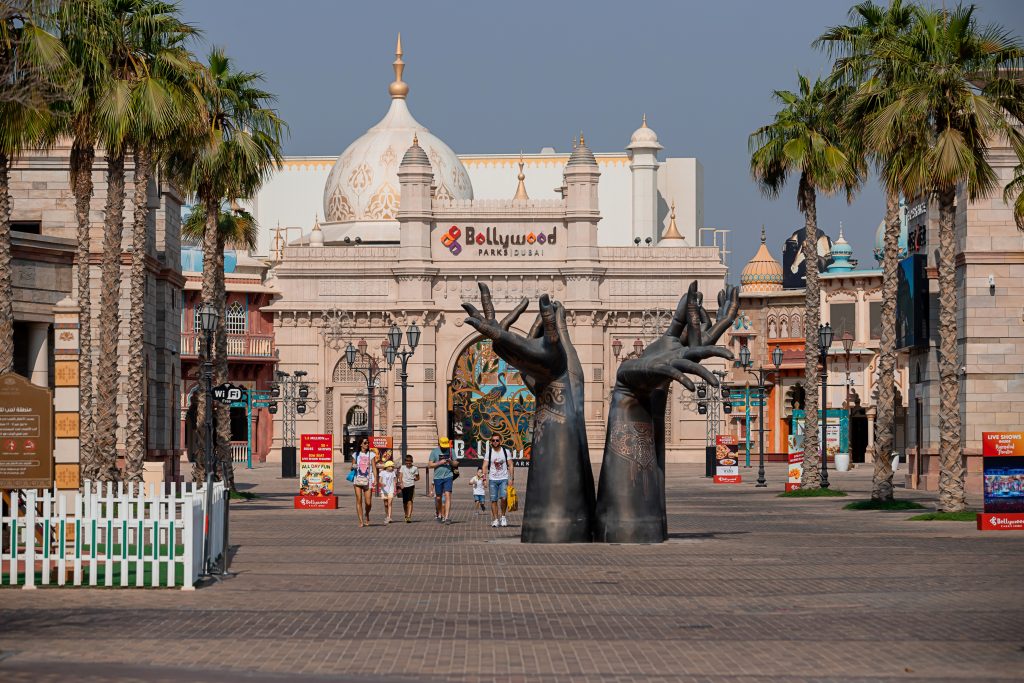 So if you're visiting Dubai, add Bollywood Park to your list of things to do!
What are the best things to do at Bollywood Park Dubai?
Here are some of the best things to experience at this exciting attraction:
Rides:
There are a variety of thrilling rides to experience at Bollywood Park, from rollercoasters to carousels. Check out the park map, so you don't miss any pageantry and excitement.
Shows:
In addition to the rides, Bollywood Park also offers a variety of shows featuring music, dance, and comedy. These shows are a great way to get a taste of the Indian film industry and will surely be a hit with the whole family.
Attractions:
In addition to the rides and shows, Bollywood Park also features several attractions that offer a closer look at the Indian film industry. These attractions include a museum, a film studio tour, and a Bollywood-themed shopping area.
Restaurants in Bollywood Park Dubai
In addition to these exciting experiences, Bollywood Park is also home to several delicious restaurants.
If you're looking for a quick bite, check out Bollywood Bites. This counter-service restaurant offers a variety of Indian-inspired dishes, including curry chicken wraps and veggie burgers. Bollywood Bites is the perfect place to grab a quick meal between rides and attractions.
For a more sit-down dining experience, visit Spice Kitchen. This restaurant serves traditional Indian cuisine, such as tandoori chicken and lamb korma. Spice Kitchen is the perfect place to enjoy a leisurely meal while enjoying the sights and sounds of Bollywood Park.
No matter your dining preferences, Bollywood Park has a restaurant that will suit your needs. Check out these popular eateries during your next visit to the Park!
Bollywood Park Zones:
The Park has five zones: Bollywood Boulevard, Mumbai Chowk, Rustic Ravines, Royalty Road, and Bollywood Film Studios. Each zone has its unique attractions and rides based on popular Bollywood movies.
Bollywood Boulevard:
It is the main entrance to the Park and features several shops and restaurants inspired by Bollywood films.
Mumbai Chowk:
Mumbai Chowk is a marketplace where visitors can purchase traditional Indian snacks and souvenirs. Rustic Ravines:
Rustic Ravines is a more scenic area of the Park with waterfalls and greenery.
Royalty Road:
Royal Road is a luxury area inspired by Bollywood films with opulent hotels and restaurants.
The Bollywood Film Studios Tour:
The Bollywood film Studios is the largest zone and features rides, shows, and attractions based on popular Bollywood movies. This tour gives visitors a behind-the-scenes look at how Bollywood movies are made.
Bollywood Park Dubai rides:
From adrenaline-pumping rollercoasters to family-friendly rides, there is something for everyone at this exciting theme park.
Some of the most popular rides at Bollywood Park Dubai include:
The Bollywood Express:
A thrilling rollercoaster ride that takes visitors on a journey through Bollywood's biggest blockbusters.
Dabbang:
Dabbang is an immersive 4D experience that puts riders in the middle of the action of one of Bollywood's most famous films.
Raftaar:
A high-speed water ride takes guests on a hair-raising tour through the streets of Mumbai.
Bollywood Boulevard:
Boulevard is a fun and festive parade that celebrates the best of Bollywood, featuring floats, dancers, and live music.
The Bollywood Carousel:
It is a traditional Indian carousel ride with Bollywood-themed cars.
The Flying Jet:
The Flying Jet is a thrill ride inspired by the Bollywood movie of the same name.
Bollywood Park timings: What Bollywood Park offers?
Bollywood Park Dubai is open from Sunday to Wednesday from 10:00 am until 10:00 pm and on Thursday, Friday, and Saturday from 10:00 am until midnight. The Park is located in Dubai's Media City and can be easily reached by public transport or taxi.
When planning your visit to Bollywood Park Dubai, it is important to note that the Park is closed on Mondays. Tuesday is a special Bollywood-themed day at the Park as Bollywood Park offers discounts on rides and attractions for guests dressed in traditional Indian clothing. Wednesday is ladies' day, with special offers and discounts for female guests. Thursday is family day, with reduced prices for families visiting the Park. Friday and Saturday are the busiest days at Bollywood Park Dubai, so it is advisable to arrive early to avoid crowds.
It is worth purchasing a pass in advance if you want to make the most of your visit to Bollywood Park Dubai. Passes are available for one day or multiple days and give you access to all of the rides and attractions at the Park. With a pass, you can also take advantage of fast-track entry to popular rides, meaning you won't have to wait in line.
Passes for Bollywood Park Dubai can be purchased online or at the park entrance. Prices start from AED 95 for a one-day pass, and discounts are available for children, students, and seniors. Annual passes are also available, starting from AED 1,195.
Visit the official website for more information on Bollywood Park Dubai, including a complete list of rides and attractions.
Can I bring my food inside Bollywood Park?
Simply put, you are not allowed to take food or any drinks with you except the baby food, or if you are taking any particular diet, you can take it. Otherwise, everything would be available for you at Bollywood Park.
When visitors enter the Park, they are supposed to bag check. If the individual staff finds food in your bag, they will take it from you. If you still want to take your diet food, you can bring the food in a non-glass container. Inside the Park, you will find many food outlets, dining kiosks, and a variety of palatable cuisines, desserts, and snacks to satisfy your hunger. Almost all Indian foods are located in one place here.
How to get to Bollywood Park Dubai?
Bollywood Park Dubai is located on Sheikh Zayed Road, opposite Palm Jabel Ali.
To get to the Park, you can take your vehicle or public transport facility. If you are traveling by public transport, take the red line metro south and get to the Jabel Ali metro station. From the metro station, you can hire a taxi which will take you to the Park.
If you are traveling by car, you will travel from Downtown Dubai towards the South of Sheikh Zayed Road. Once you cross the Dubai Marina and Jabel Ali, you will go on the left side of the road and will finally reach your destination.
Is Bollywood Park worth visiting?
Bollywood Park can be a fantastic place if you love Indian films. This theme Park is a unique park based on the most iconic scenes of the Bollywood film industry. You will see 4D theatres and experience how it feels to be like a superhero. There is no denying the fact that this Bollywood park is a fun place and worth visiting.
How much time does it take to explore Bollywood Park Dubai?
Generally, it will take you a full day to explore Bollywood Park. As far as the entertainment schedule is concerned, it keeps changing daily.
The certain attractions of the Park, the rides, shows, and outlets may not be available during your visit. The changes in the Park are generally updated on its website. Hence, you can check the website for updated changes and plan your visit keeping in view the updates given on the Park's site.
Frequently Asked Questions (FAQs)
Q: How can I buy tickets to Bollywood Park?
You can purchase Bollywood Park tickets online through the Park's website. Alternatively, you can buy tickets at the park entrance on the day of your visit.
Q: What should I wear to Bollywood Park?
A: There is no dress code at Bollywood Park, but it is recommended that you wear comfortable clothing and shoes.
Q: Is Bollywood Park indoor or outdoor?
Bollywood Park Dubai is both indoor and outdoor. However, the outdoors is more popular as you can take photographs and see beautiful external views. The indoor is good for rides and exploring the cinematic heroes of the Bollywood film industry.
The Final Thoughts
Bollywood Park is a must-visit for any tourist visiting Dubai. Bollywood Parks Dubai is a must-visit for any tourist visiting Dubai. Bollywood Parks Dubai has everything from rides and shows to tours and shopping. So don't hesitate to buy your tickets today and experience the magic of Bollywood in Dubai! Dubai has many other great theme parks to offer as well!