Dubai comes to everyone's mind whenever they are planning a holiday trip. It is natural because of the city's stunning towers, attractive skyline, beautiful museums and serene beaches. Apart from the dazzling cityscape, the city is hailed for its deserts. For the same reason, desert safari allures every tourist who comes to Dubai. It is a journey to the bygone days of the city and its landscape.

The desert looks amazing at dawn as well as dusk. A desert safari is not just a ride to the deserts. It includes a variety of adventure activities, shisha smoking, henna tattooing and live performances.
The trip will begin with dune bashing. Dune bashing is as exciting as the name denotes. You will be taken in a car and the driver will hit the dunes at varying speeds.

Hold your breath and enjoy the roller coaster ride. An SUV is used to tackle the dunes and the car will be equipped with protective gear for safety. Dune bashing is the most thrilling activity in a desert safari. Everyone will enjoy it regardless of their age.

After dune bashing, you will be taken to the campsite which resembles ancient Bedouin camps. Have unlimited tea, coffee or soft drinks along with snacks. Live performances will gift you an eventful evening. Belly dance, Tanoura dance and fire show are the main attractions.

Belly dance is a popular dance form in the Middle East in which the dancer will perform movements with her hips. The dance is complemented by spectacular costumes. She will make interesting patterns with her costume to allure the audience. This is a golden chance to see the traditional belly dance.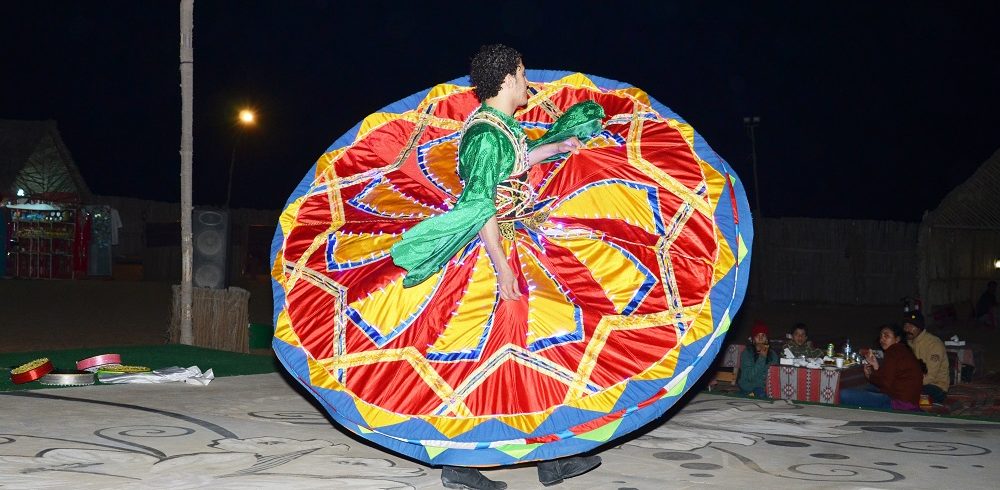 Whirling is a cakewalk for a Tanoura dancer. It resembles a Sufi dance and is performed by a man. He will spin throughout the dance and demonstrate different tricks to turn your heads. The spinning is a wonderful view because of his colourful skirt. The costume also has LED lights illuminated at some point in the dance. Tanoura is an Egyptian folk dance that is definitely worth a watch.

Get ready to be enthralled by the fire show. See how the skilled performers literally play with fire. Fire show includes fire dancing, fire breathing and fire twirling.

Experience the camel ride, which was the only means of transportation in deserts in the olden times. Take pictures with the Falcons. There are professional photographers to take your photos with the mesmerizing desert sunset in the background. Those who love to try solo sport amid the dunes can do sandboarding.

The day ends with a scrumptious barbeque buffet dinner. Try different traditional Arabic and Continental dishes.

Desert safari in Dubai has all the ingredients that will fill your hearts. It will be an outstanding experience for the couples, adventure lovers, aesthetes and foodies. For all these reasons, desert safari has remained and will continue to remain the top tourist attraction in Dubai.