Dubai desert safari is a must for every tourist who has decided to visit the emirate. This is something you shouldn't miss as it is an experience of a lifetime. It is a memory that you would love to share with your friends and family back home.
When you visit the modern-day Dubai, it might seem to you like a futuristic space-age city where everything seem to be picture perfect. However, when you visit the vast stretches of the Arabian Desert, it will definitely take your trip to another level. No visit to the city is complete until you see the landscapes of Dubai.
A safari followed by an evening barbecue at the desert campsite is considered to be one of the most popular trip excursions here. Most of these adventurous trips usually begin with a pick up from your hotel or residence.
Life is thrilling when it has some adventures. People who are always in search of novel and freaking experiences are in love with life than anyone else. Are you a thrill-seeker? Then, the word adventure itself would make you excited. Just think about having a fun day in a long stretch of golden sand where a lot of thrilling activities are waiting for you.
Choose a trip to the desert if you want to break the monotony of usual days. Just like the deserts have no boundaries, there is no limits for the amusement you can have. Away from the city, crowd and noise, have some stirring moments.

Dune bashing- Tackling sand dunes
Dune bashing is the most important highlight of a desert safari. An expert driver will tackle the sand dunes in a speeding SUV. You will whoop with delight as you travel along the nature's rollercoaster. Enjoy the sliding, skidding and spinning movements of the car. The driver's skills will leave you awestruck as you sway between fear and excitement.
Believe it, this will be thrilling than any of the man-made rides. See the giant waves of sand that your car leaves behind. Buckle up for the crazy drive.
Sandboarding- The best solo sport
It is time to explore the desert by yourself. The sport tests your balance and coordination as you strap both feet to a board and go down a dune acquiring more speed. Take a sand board and glide over the dunes. It is certainly the best solo sport that you can try on desert. There is no need of special training for sandboarding. It is as easy as pie.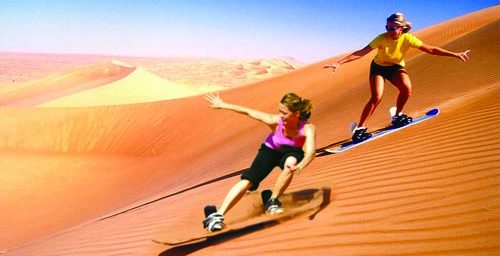 Just stand on the board and try moving over a short distance until you get balance. Don't be scared of falling down. You will be resting on the soft sand. Desert is the best place to try these rough sports. So, practice for some time and there you go.
Camel ride- Moving back in time
Seeing these gentle creatures is a bliss in desert safari. Do you know that camels are known as 'ships of the deserts'? It was the only means of transportation in deserts. Get on a camel and explore the tranquil deserts. You would muse on the bygone days in the desert when people had only camels to travel. Though the movement of the camel might fret you in the beginning, soon you will enjoy its pace.
Quad biking- Fun in the wheels
This one is exclusively for the bike lovers. Drive a bike through the ever-changing dunes. Scale the dunes with speed and power. It will be a remarkable experience in the life of people who are passionate about bikes. You don't need a driving license to do this. Just the love for bikes would suffice. Vroom, vroom! Feel the sand spinning under the wheels.
What to wear
There is no hard and fast rules. Wear anything in which you are perfectly comfortable. Needless to say, your dress will be filled up with lots and lots of sand by the end of the day. And, that's undoubtedly the fun in a desert safari. Keep it in mind so that you don't ruin your expensive party wears.
If you are travelling with a safari tour company, you will have everything sorted from the perfect boarding and skiing location to gears and basic instructions. In case you prefer to take on this challenge on your own, you will need to gear up with special sand board and skis. And yes, don't confuse them with their snow counterparts.
For the safest and coolest adventure experiences, you can choose an exciting desert safari tour that includes all activities in your bucket list including dune bashing, sandboarding, quad biking and camel ride.
You can also have refreshments and delicious food served between the activities to keep your energy levels pumping. You will be accompanied by a professional guide who can show you some perfect spots for the activities. Adventure is a way to keep your mind young and vibrant always. So, keep up your spirits and explore these interesting activities at the serene and beautiful landscape in Dubai.
The drivers also give a plenty of halts so that you can capture the beautiful landscapes using your smart devices. Most tours that you will find in the desert safari will start around 3 pm and you will reach the vast stretches of the Arabian desert in an air-conditioned vehicle in about 45 minutes.
After the exhilarating session of bumping and bashing in the desert safari, you will also be given the chance to enjoy quad bike riding in the sand. When darkness descends, you will make your way to the Bedouin tent or camp site where you will be served with Arabian coffee and sticky dates as a refreshment.
You will enjoy a number of activities like camel ride, belly dancing, Tanoura folk dance, music and the like, before you sit down for a mouth-savoring barbecue buffet. The traditional tents in the camp sites that will be given to you during the desert safari Dubai deals will be equipped with carpets and pillows that will provide extreme comfort.
When you choose to indulge yourself in the pleasures of the desert safari in Dubai, you will also be able to enjoy the Arabian look and feel by wearing traditional costumes and clicking photographs. After a vacation like that, you'll definitely wonder why you'd never done it before.