Nature is a gift to this world, and to save this nature in its best form is what humans can do as a thank-you gesture. Dubai is among those states blessed with natural land, and they have protected it in the best way possible so that not only birds and wildlife have a vast place to live but also nature lovers can experience it from a near distance. Ras Al Khor is one of the wildlife sanctuaries to visit in Dubai.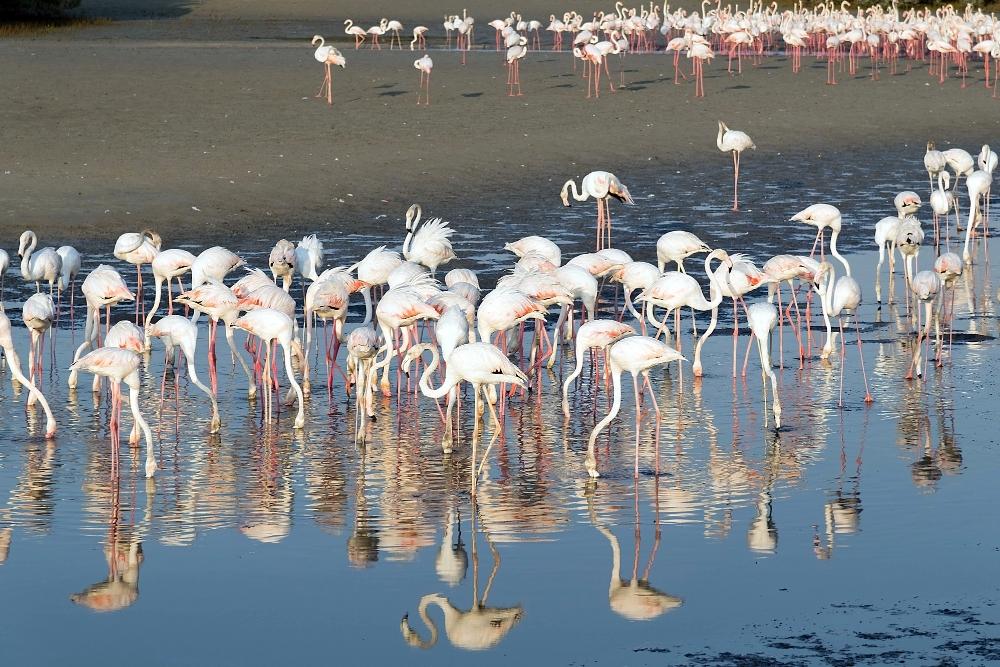 Ras Al Khor
Ras Al Khor is a wetland in Dubai. The sanctuary was built here in the year 985. On March 1st, 1998, the Dubai government announced this place as a bird-protected area. Every year a large flock of migratory waterbirds stops at Ras Al Khor Wildlife Sanctuary on Dubai Creek.
Ras Al Khor is close to Dubai City. It is built with the help of lagoons, salt flats, mangroves, and mudflats, making it different from other sanctuaries. This sanctuary is spread over an area of 6.2 square kilometers. This ecosystem carries both Fauna and Flora.
Wildlife in Ras Al Khor
Ras Al Khor is an excellent habitat for mammals. It is the breeding place for many crustaceans, reptiles, and fishes. The pink flamingoes attract this place in winter. Other species that have regular visits to Ras Al Khor are
Reef herons
Osprey
Indian Silverbill
Ruddy turnstone
Snowy Plover
Western Heron
Purple Sunbird
Black-winged Stilt
Common Kingfisher
Mallard
Greater Flamingo
Spotted Eagle
And many others.
Attractive wildlife for visitors in Ras Al Khor
Ras Al Khor is well known for the wildlife that visits those places more often. Some of them are:
Flamingos
The pink flamingos make this place more beautiful than it usually looks. These long-necked and pink-beaked birds migrate from cooler regions to the Ras Al Khor Wildlife Sanctuary. These birds comfort themselves in this natural resort here.
Ethiopian Hedgehog
This hedgehog is a cute and small animal that enjoys its time with other wildlife.
Mozambique Tilapia
These are common to watch here in this sanctuary. They are commonly dependent on algae and spend their life flourishing in waters.
Blue Swimming Crab
This crab has got an uncontrollable nature. This swimming crab is mighty and swims fast. The Blue Crab is attractive because of its unique shape and color.
Tigerfish
The tigerfish in Ras Al Khor Wildlife Sanctuary has got an adventurous nature. Seeing this fish swimming in the lake with other wildlife is a treat.
Ferruginous Duck
Seeing the duck wandering in this sanctuary wildlife reserve with its cute ducklings leaves the visitors awestruck.
Fringe-Toed Lizard
These lizards have fringe-like scales on their toes, called fringe-toed Lizards. These lizards enjoy their time with the other creatures in Ras Al Khor wildlife sanctuary.
Blue-headed Agama
This blue-headed reptile is the must-watch creature of Ras Al Khor Sanctuary Wildlife.
Mangroves
Apart from the reptiles, fishes, crabs, and birds, a mass area of Ras Al Khor is covered with mangrove trees. These carbon-rich trees are also known as gum. They provide shade to the wildlife and allow them to make their homes on them. These mangroves are a nesting ground for fishes, crabs, prawns, bristle worms, mollusks, and other tiny and big creatures living here.
Visitors Facilities
Nature lovers visiting this Ras Al Khor Sanctuary Wildlife can easily explore the environment of these animals in three hideouts built for this purpose. These hideouts are named as
Mangrove Hide
Flamingo Hide
Lagoon Hide
Visitors from these hideouts can explore the fun activities done by these migratory birds. Two shelters are built on the Sanctuary border for visitors. These sanctuaries are equipped with sharp binoculars. Visitors entertain themselves by seeing different birds using the perfect vision of these binoculars. Visitors can also feed and fly these birds, including great egrets, reef herons, grey herons, black-winged stilts, and cormorants, with other species. They are usually here in the winter season.
The main highlight of this wildlife reserve is Flamingos; to focus on them, the Western hideout (Flamingo Hideout) is the best place. Greater Elusive Flamingoes rest near the western hideout and are fed here by the park rangers. Visitors also enjoy seeing these birds involving themselves with other birds such as Eagles, Snipe, Pintails, Teal, Ringed Plovers, and Kingfishers. Also, these flamingos enjoy the delicious taste of queen fish and milkfish swimming in the waters. The same hideout shows the tremendous spotted eagles among birds above the Zabeel fishponds.
The Southern Hideout (Mangroves Hideout) entertains visitors with lush green mangrove woodland on the sanctuary's southern border.
Moreover, seeing the birds diving in the water, catching fish, and returning makes visitors love this area. April to July remarks the dates when wading birds such as Broad-billed Sandpipers and Pacific Golden Plovers go and stop at the Mangrove Hide.
The peak summer is when this Mangrove Hideout receives more than 400 birds. Greater spotted Eagles, and other birds are seen here wandering between October and April. Among the other birds to be seen here, many rare and unique species are found here, some of which include Red-Crested Pochard, Great Crested Grebe, Lesser Spotted Eagle, Demoiselle Crane, and The Pied Kingfisher.
Ras Al Khor Wildlife Sanctuary Timings
This Wildlife resort's timings are dependent on Winter and Summer seasons. Timing for both of the seasons are:
Summer (April – September): 06:00 AM – 06:00 PM
Winter (October – March): 07:30 AM – 05:30 PM
Ras Al Khor Wildlife Sanctuary Best Time to Visit
The Flamingo Feeding Time is one of the best times to visit Ras Al Khor Wildlife Sanctuary. These flamingoes came here daily for a feed from 10:00 AM to 04:00 PM. As these are migratory birds, visitors can enjoy them in the winter season.
To enjoy the Mangroves, Hide the most is when to visit them when it is at low tide. These low tides help Mangroves in staying above the water. The Flamingo Hide is nearer to Mangrove Hide, and tourists can easily reach there by foot or car.
Ras Al Khor Wildlife Sanctuary Ticket Price
Ras Al Khor Wildlife Sanctuary tickets are free of cost, whether it could be for children or adults. Anyone can enter this adventurous wildlife site without any entry fees.
Travelers and tourists can enter this site without permission by carrying the Ras al Khor wildlife sanctuary tickets. Same with the group of fewer than five individuals as they don't require any permit letter to enter this resort. But in the case of academic institutions tours, media persons, other organizations, and groups of more than five members, permission must be required from www.dm.gov.ae. These permissions must be taken at least three days before the tour date as the organizers need to work on these permissions, costing them around two days.
Ras Al Khor Wildlife Sanctuary Parking
Ras Al Khor Wildlife Sanctuary has no nearby metro stations. Visitors can use taxis and their cars to get there. A large car parking area is reserved to avoid inconvenience and provide the guests with the best facilities. Visitors can also use the Ras al Khor wildlife sanctuary map for guidance. However, car parking is also free of cost.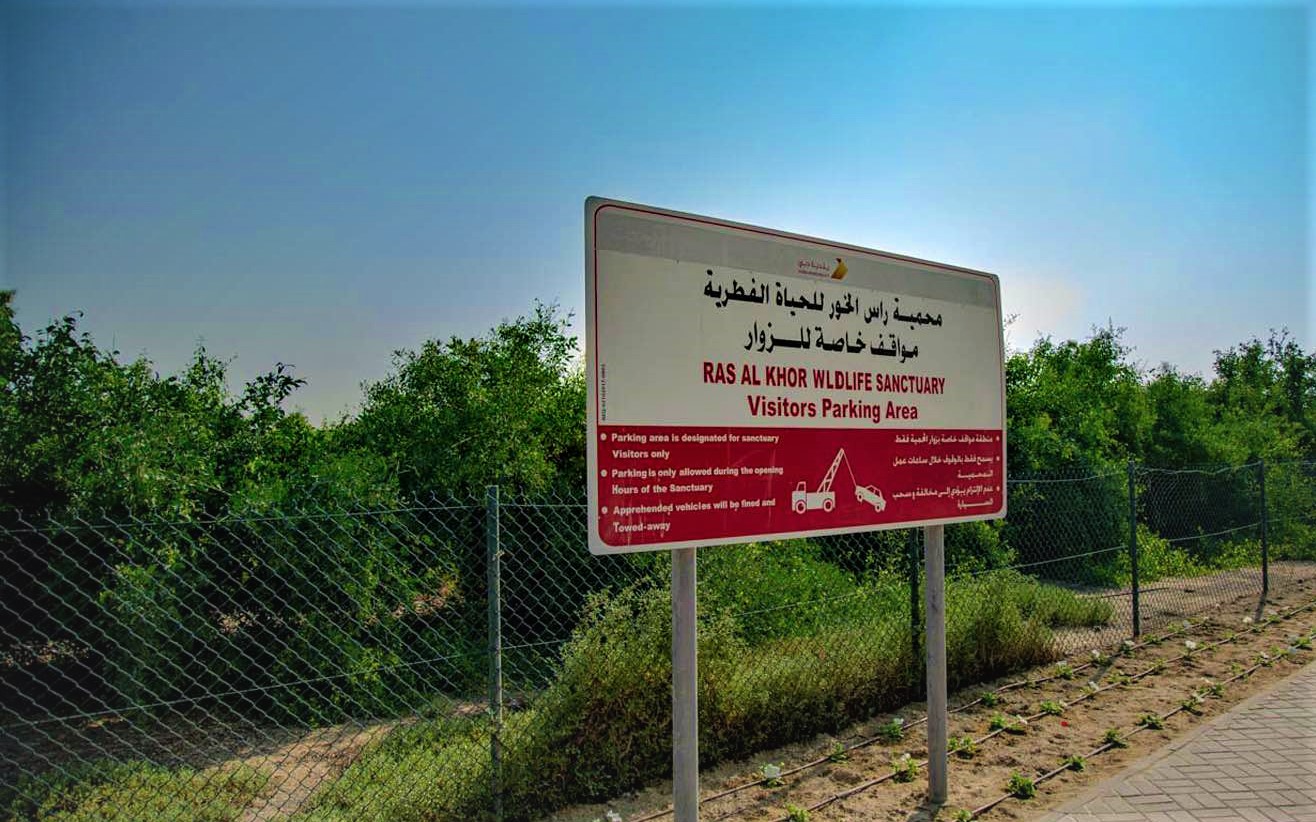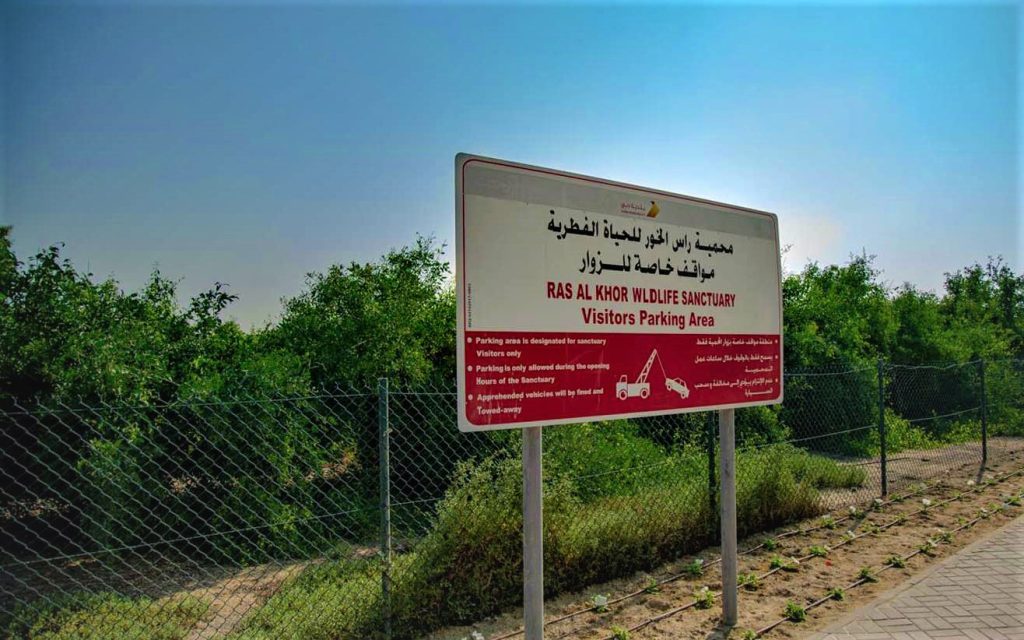 How to get to Ras Al Khor Wildlife Sanctuary?
One essential question visitors face is How to reach Ras Al Khor Wildlife Sanctuary? As discussed above, there is no Dubai Metro Station nearby, so the best way to get there is by using your car if you are a resident of Dubai. Otherwise, the tourists can also reach Ras Al Khor Wildlife Sanctuary with the help of a taxi. Car rental also is a good option available here. Many visitors touring in bulk together hire private bus services for a comfortable journey.
No metro is available, but several buses pass the Ras Al Khor Wildlife Sanctuary. These buses are 63E, X23, 64, 55, and 61.
Important Reminders
Here are some things not to forget while visiting The Ras Al Khor Wildlife Sanctuary:
Ras Al Khor is a quiet zone, so no noise is allowed
Phones are not allowed in this sanctuary
Pets are strictly prohibited from entering this area
Any kind of food and drink is also not permissible.
Smoking is prohibited within the boundaries of Ras Al Khor Wildlife Sanctuary.
No littering is allowed here.
No hunting if animals are allowed.
Things to take with you
Accompany yourself with these things before visiting The Ras Al Khor Wildlife Sanctuary to gain a memorable life experience:
Binoculars for viewing more clearly
Camera to capture the forever favorite moments
A Bird Guide to experience livelihood in the best way possible.
Summary
Ras Al Khor Wildlife Sanctuary is a wonderland for nature lovers. For the people who are observers of birds and different wildlife creatures. The natural beauty this place holds and attracts nature lovers is irreplaceable with any other destination and tourist point.