Dubai is famous for the adventure zone it carries. It holds wildlife animals sanctuary and zoos, artificial objects museums, dancing fountains, theme parks, musical concerts, and the world's most significant and entertaining exhibitions and festivals. This place is a wonderland for tourists and heaven for its people. Apart from all the museums, festivals, exhibitions, and celebrations, the love of this state with its natural beauty is on another level. Dubai is taking extraordinary steps in making and maintaining the parks to show their worth. "Dubai Creek Park" is one of the significant developments in this field.
Creek Park Dubai:
Dubai Creek Park was built around 30 years ago, in 1994. This beautiful park covers 96 hectares of land, making it the second largest in Dubai after Mushrif Park. This famous park is well known for the activities held here that always attract visitors the most. This park has also given access through boats and helicopters, as three helipads are built there. This 106 million AED also has the facility of a first aid room. Besides these, this park has several play areas for the children and botanical gardens.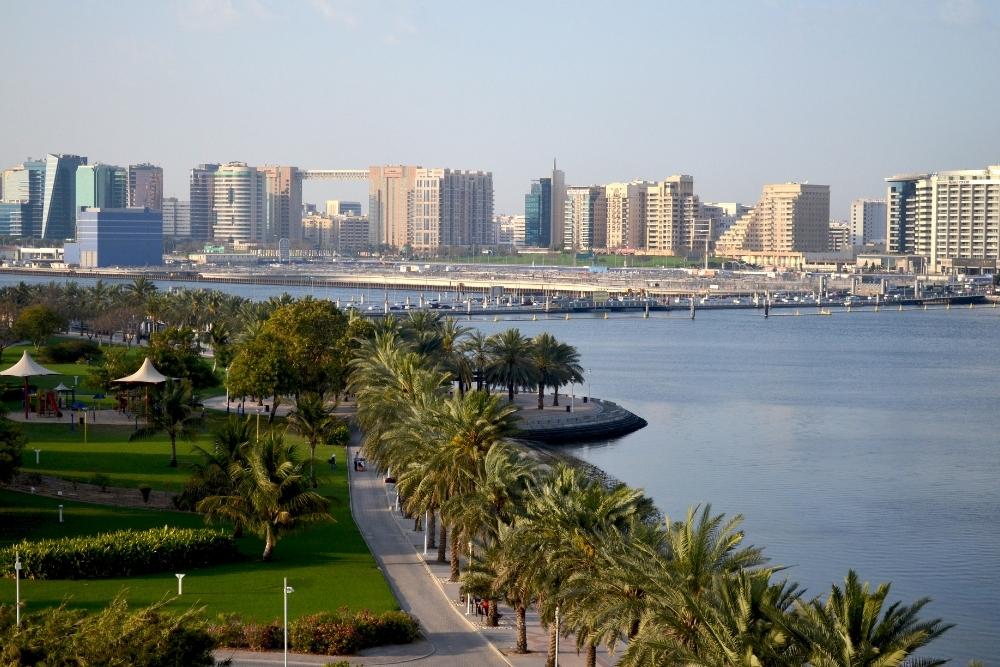 Location of Dubai Creek Park:
This iconic Park of Dubai is located in Umm Hurair 2 – just on the edge of Creek. The location is in the heart of the old City between Maktoum and Garhoud Bridges. This park is also very close to Deira and Bur Dubai. A 10-15 minute ride from Bur Dubai can also take you here.
Dubai Creek Park Gates:
This park has five entrance points. Creek Park Gate 1, Gate 2, and Gate 3 are located on the main street from which tourists can quickly enter, while the other two are on one side of the Al Maktoum and Al Garhod Bridges.
Many visitors of this park find it convenient to enter from Gate 2, while Dubai Creek Park Gate 4 welcomes the visitors who use the metro to the park.
Creek Park Dubai Ticket Price:
This fantastic piece of land has five entrance gates, with the entrance fee taken per head being AED 5.
Dubai Creek Park Timing:
Dubai Creek Park Timings are as follows:
From Sunday to Wednesday: 08:00 AM to 11:00 PM
From Thursday to Saturday: 08:00 AM to 12:00 PM
On any Public Holiday: 08:00 AM to 12:00 PM
Attractions at Dubai Creek Park:
There are many things to introduce yourself to and experience at Creek Park Dubai. The Dolphin Show, Cable Car Rides, Children's play area, and picnic point; hence too many things to be done in just one place. Let's have a look at some of them: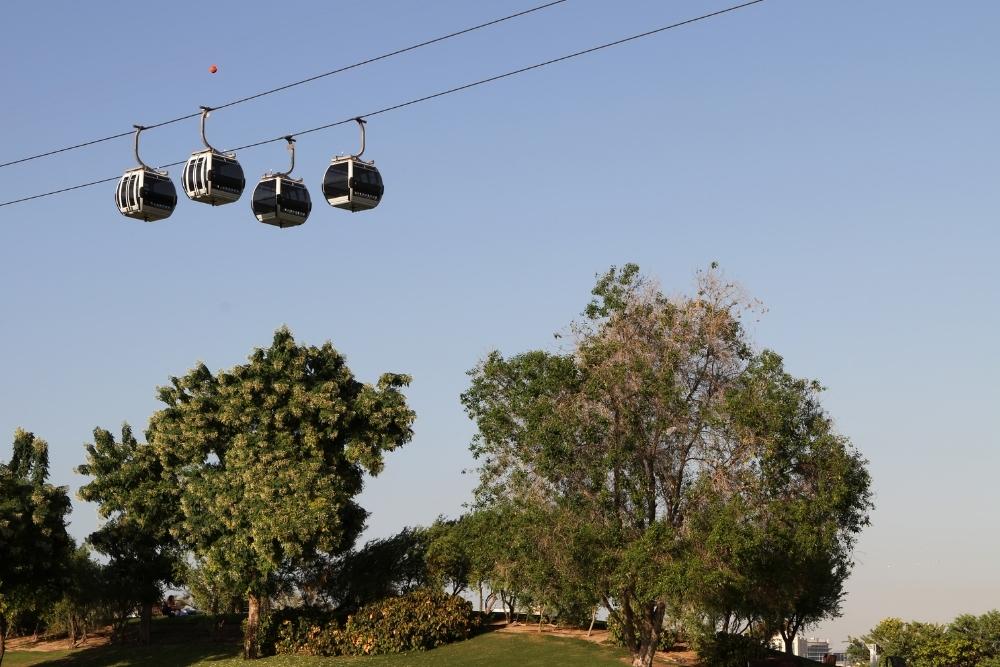 Dubai Dolphinarium:
Creek Park Dubai Dolphin Show is a must-watch when visiting this park. It is the best experience you can get here. These trained bottlenose dolphins steal the show and heart of the guests with their activities. Seals also entertain the guests in some of the shows. They jumped through juggles and hoops and became a source of pleasure for the show attendees.
The Dolphinarium also has a 5D and 7D theatre. The visitors to this Dolphinarium also take knowledge about the dolphin. Sometimes, they can even swim and share the water with the dolphins. The mirror maze and trampoline room engaged the people coming here. Also, they have an area with 20 different bird species to make the best memory of your visit.
The Creek Park Dubai Dolphin Show also hosts birthday parties, as this spot is one of the most famous spots among young kids. School students are always invited to enjoy this show.
Children's City:
Are you wanted to teach the children through entertainment? Children's City is the best spot in Creek Park with this facility. This indoor infotainment center helps the kids in learning different things with the help of hands-on activities.
Not only activity-based learning, but this center also serves as a planetarium for interested children. Nature lover kids can enjoy their time in the Nature Center here. The earth science and technology gallery makes its way into the science and tech lovers—meanwhile play area the toddlers under the age of 6. Al Ajyal Theatre is also built to provide the best company to children and adults.
BBQ Spots:
BBQ lovers will surely love this place as this park has multiple BBQ stations to enjoy with friends and families. Dubai Creek Park BBQ spots are also famous among the best BBQ spots in the entire of Dubai. These BBQ stations are surrounded by two large athletic fields that have their beauty.
Mini Golf:
The 18-hole golf course waits for golf lovers to come and enjoy their time. This widespread golf course is also one of the main reasons why this park is on the pick list of the residents.
Bike Renting:
Having lush green fields with a biking facility is just a wonderland to be in. Creek Park Dubai lets you rent a bike to enjoy the beautiful grass and blooming flowers all over the area. A small bicycle is enough for two persons, while four can enjoy a ride on the big bike for just AED 30 per hour.
Cable Car Riding:
Have you got a daring mind? Dubai Creek Park cable car riding is just made for you, then. The 30-meter high-going ride makes you look at the park with a bird's eye view. This 30-minute ride allows guests to enjoy the skyscrapers and skyline of Old Dubai on Shaikh Zayed Road. Cable Car covers around 2.3 km of the Creek Park for AED 10 per kid and AED 25 per adult.
Shopping Area:
Dubai Creek Part holds a significant area with different gold shops. These shops attract jewelry lovers to buy something as a souvenir to remember. Many people buy something of gold from here to keep it as a memory of the best day.
Restaurants:
Dubai Creek has an excellent restaurant, accompanied by many snack outlets with various food items as refreshments. The café and shawarma stalls here are favorites for their taste. These refreshments relax the people after their tiring day in the park.
Dubai Creek Harbor:
Dubai Creek Harbor isn't any harbor, but it is a city launched for development in 2006. This City is around a six million square meter area at The Lagoons. The property under the eye of "Emaar Properties" is near Ras Al Khor Wildlife Sanctuary.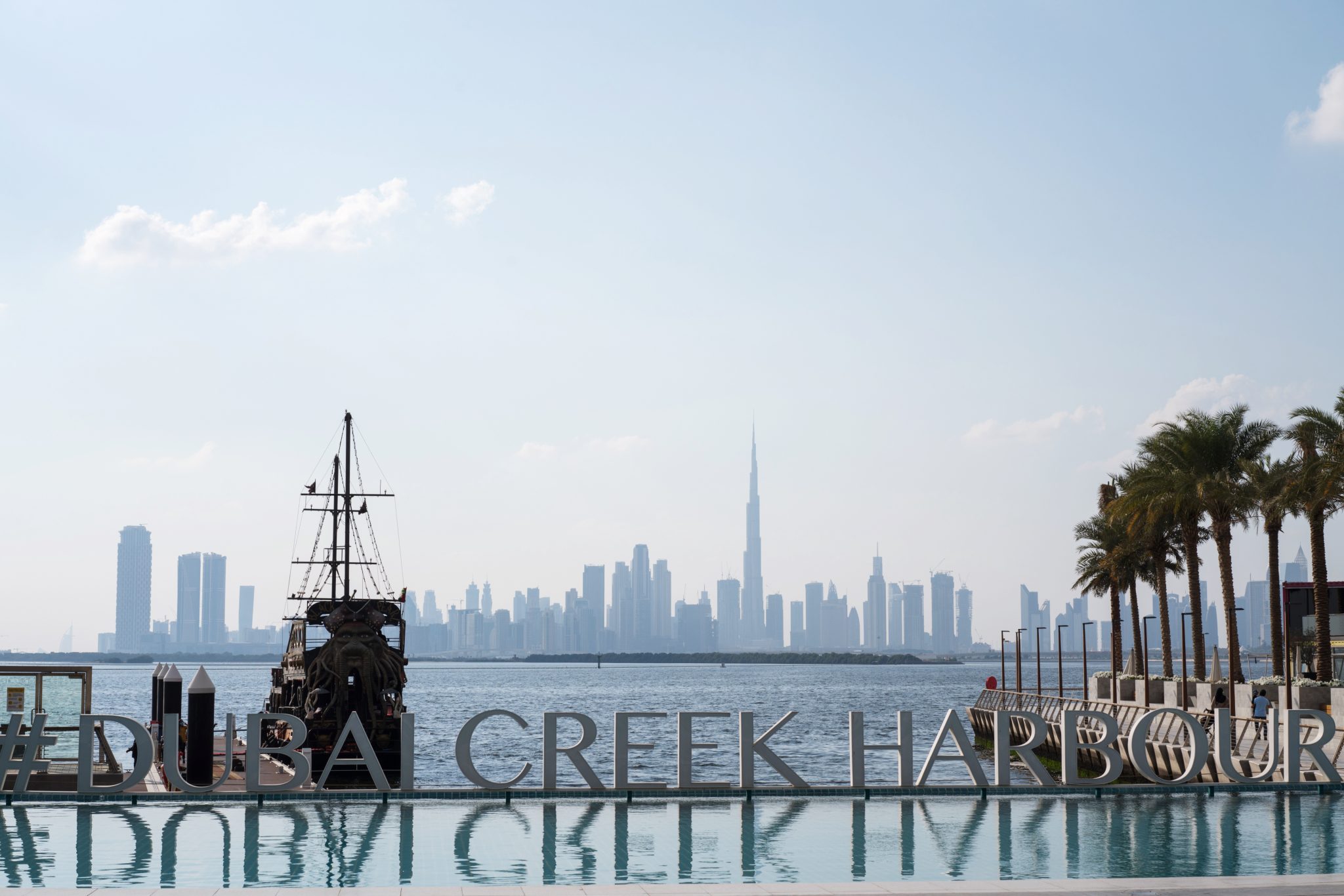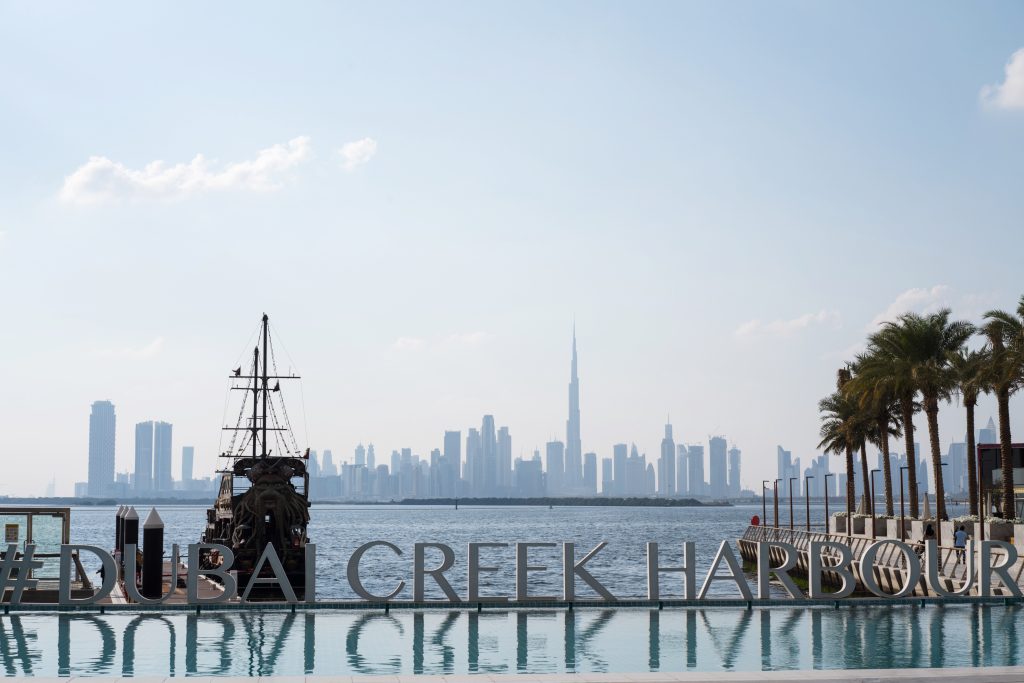 Dubai Creek Harbor Park:
Dubai Creek Harbor Park has many more exciting spots to explore and wonder about. Some of them are:
Flower Tree:
Different local flowers are merged to form this beautiful and aesthetic tree at Dubai Harbor Park. This flowering tree is an artistic creation in front of the Creek Marina Waterfront.
Joy Tree:
This is a sizeable tree-like sculpture created at Creek Mania Parking Entrance. This sculpture is made with stainless steel balloons that provide pleasure and joy whenever you look at them and find your reflection.
Musical Shadows:
A complete unique pavement in front of Creek Marina waterfront. This pavement sounds music whenever any shadow of the people walking there falls on it.
Dubai Creek Harbor Park Timings:
The Dubai Creek Harbor Park is open from 10:00 AM to 07:00 PM, seven days a week. However, the best months for visiting this park would be in the winter seasons, from November to March. At this time of the month, the temperature is at its best, making it easier for people to enjoy this beauty wholeheartedly.
Park Hyatt Dubai:
Park Hyatt Dubai Creek is a world-class hotel holding superb facilities near Dubai Creek. This hotel is famous for its location, popular for its infinity pool with a private sandy beach, and well-known for the beautiful rooms of the hotel. Guests are also offered the best parking services along with the valet.
This park serves its delicious guest foods in front of the area's breathtaking views. The variety of options available for the guests on the food menu, whether breakfast or lunch, dinner or dessert, coffee or tea, always makes their hearts fall in love with this place and its tasty eateries.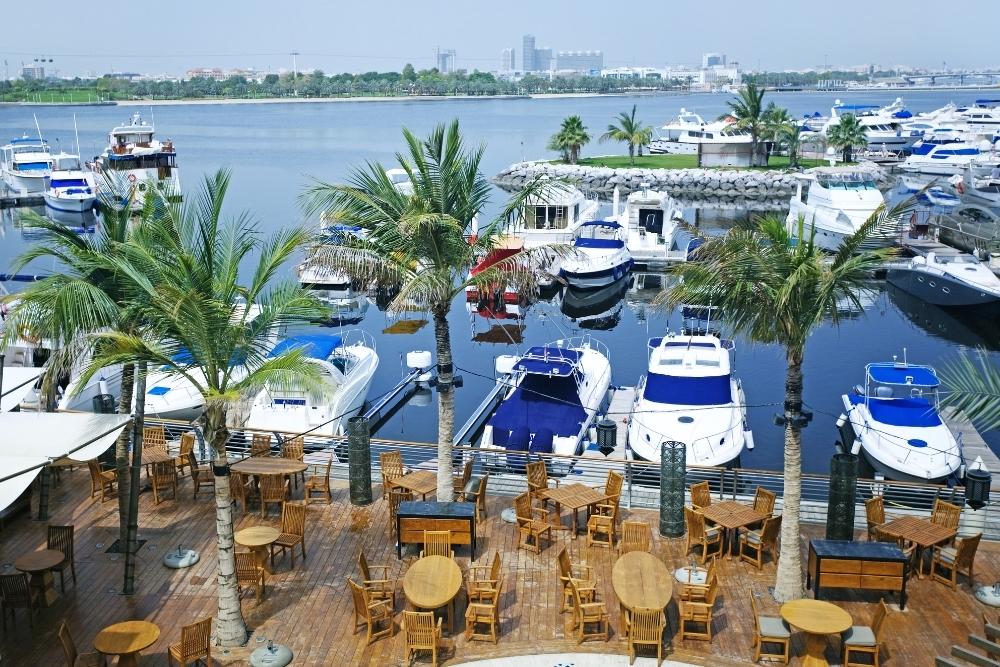 Park Hyatt offers a beautiful golf course with an 18-hole championship and yachts to carry the people from the hotel to another spot. Visitors are also welcomed with the relaxing spa treatments, including massages and facials.
This luxurious hotel is just 2 km from the Dubai International Airport. Burj Khalifa and Dubai Mall neighbor Park Hyatt with a 15-minute drive, while Dubai Marina can be reached in 30 minutes by car from Park Hyatt Hotel.
Dubai Creek Park Summary:
Dubai maintains mother nature in the best possible form, making them a beautiful tourist spot. Whether it be Dubai Creek Park or Dubai Creek Harbor, the state-of-the-art work here is splendidly done. Moreover, with its 5-star facilities, Park Hyatt Dubai makes the first and the best impression of Dubai hospitality. Indeed, this will provoke a positive image of Dubai in front of the whole world. If interested, check out our blog on The Quranic Park in Khawaneej, Dubai.