Wild Wadi is not the biggest waterpark in Dubai. But it is quite large. And only second in the matter of the total area. In fact, it is right behind the Aquaventure water theme park if you only take size into account. And if you try to judge between them to find out a clear winner, it is going to be a tough job.
There are a few things that make Wild Wadi stand out among all the other water theme parks in Dubai. Be it Aquaventure, or Laguna. Wild Wadi was the first-ever water park in Dubai. Surrounded by iconic Burj al Arab, Jumeirah beach hotel, and Madinat Jumeirah, Wild Wadi is truly an interesting place to visit.
The first-ever water theme park in Dubai
Wild wadi came into being not long after the opening of the Burj al Arab hotel — a one of a kind hotel in the world that some calls the only seven-star hotel in the world. At the time, it took everyone by awe for its facilities and ride options. Jumeirah Sceirah was the most notable among all of them. If you want to know why, read on! Even after two decades, Wild Wadi is still a thoroughly entertaining experience. Constant maintenance and improvements have kept it relevant to this day.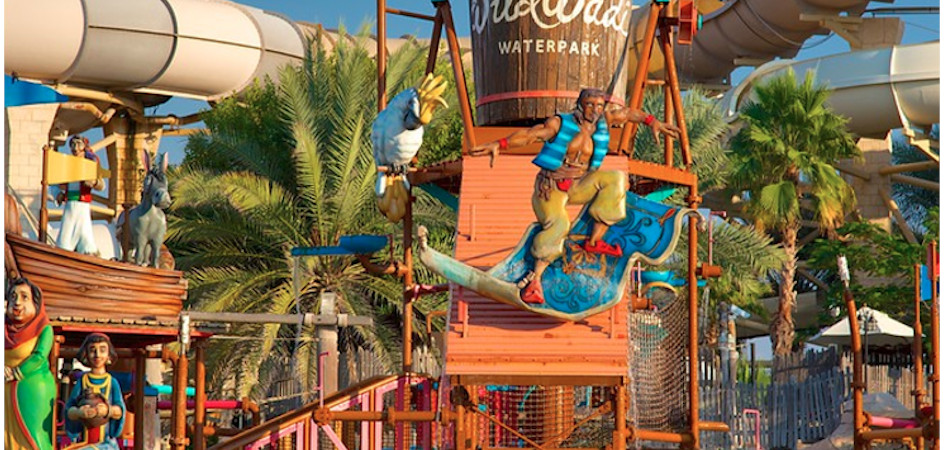 Best rides in Wild Wadi Waterpark
Jumeirah Sceirah
This ride is the centerpiece of Wild Wadi Park. Moreover, it is a destination for all adventure lovers in Dubai. The ride starts from the top of a 32-meter tower in the middle of the wild wadi park. You will see the big larger than life glass capsule when you climb to the top of the Jumeirah Sceirah tower.
There is another thing that makes the ride even better. When you step into the ride, the operator will close the glass door in front of you. And you will wait in anticipation. Then all of a sudden, the trap door opens beneath you, and you fall through a 120-meter-long water tunnel at a whopping 80 km/hr speed.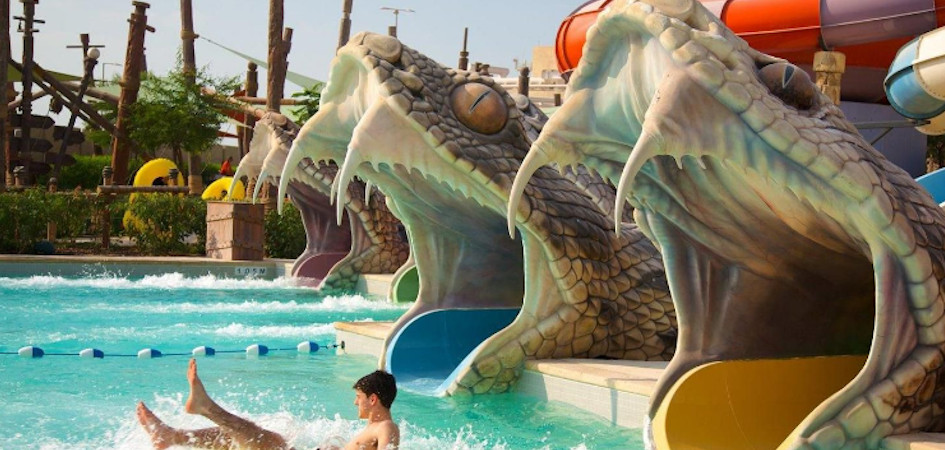 Although Jumeirah Sceirah has been a part of the park even back in 1999, it underwent a major revamp a few years ago. So, when you ride Jumeirah Sceirah today, it is really the second and the improved version of the ride that you are seeing.
Tantrum Alley
Another waterslide in the park. But this one is more than just any waterslide and combines a variety of adrenaline-pumping sections to make your ride in an unforgettable one. In this ride that has two long sections of waterslides, there are three tornadoes.
The three tornadoes that come one after the other makes sure that nobody will go without screaming. You can get a good look at the Jumeirah beach road as you are on the top of this ride. Probably that is not the thing you might notice as you are getting whipped around in this unpredictable ride. But still.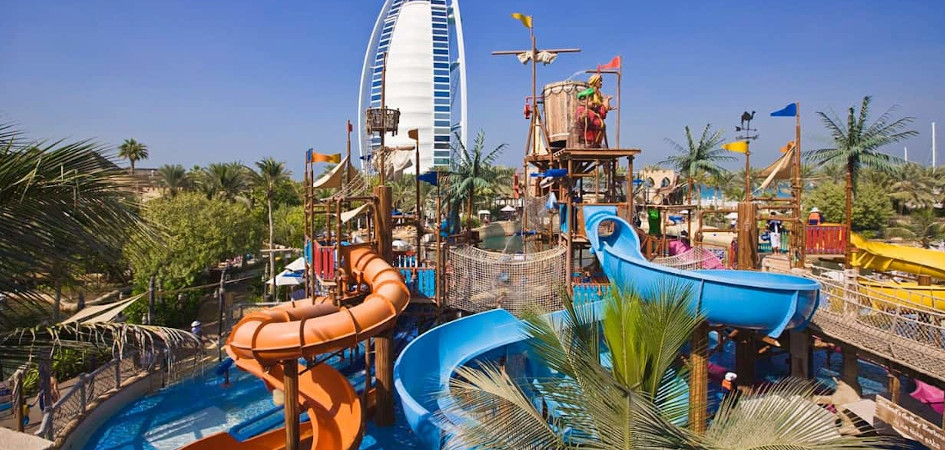 After all the testing tornadoes, you will take a loud plunge into the pool at the end of this ride. But this ride is more suitable for groups. There have to be at least two people for you to go on this ride. And the maximum allowed number of people is four. And one has to be above 1.1 meters to ride.
Burj Surj
Another ride that's the absolute favourite of the families. The Burj Surj is a ride for four people, but there is no harm in carrying three people either. There are quite a few swirls and twists along the way when you move down this waterslide.
This slide has enough to make anyone hold their breaths. The amazing ride through the water slide will end with a loud splash in the pool.
Master blasters
How would you like it if you take a roller coaster into a waterslide? That's what the Master Blaster is. Unlike a regular water slide which only carries you down the stream, there are high powered water jets in this ride that lets you have a gravity-defying experience. There are areas in the ride that even take you fifteen metres up the stream.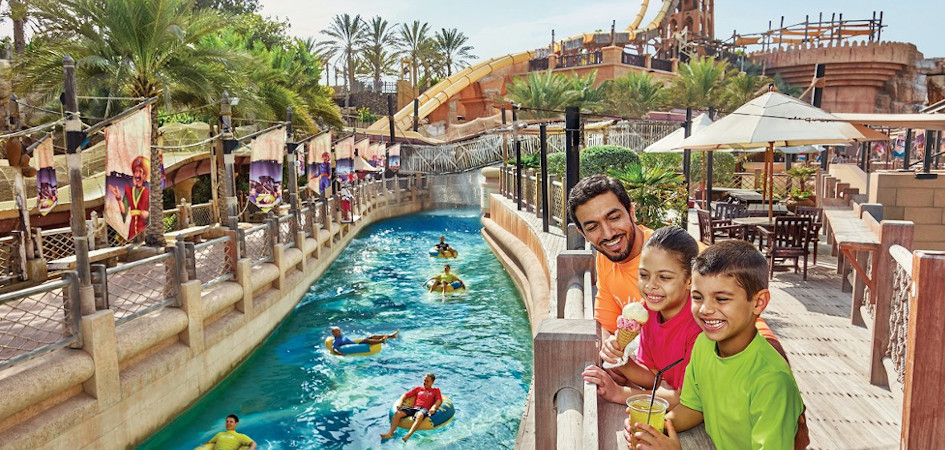 This interesting ride is not a single ride, though. In fact, the Master Blaster is a collection of eight rides, each of them offering a different riding experience to you. But there are height and weight restrictions for people who ride on it. People who are more than 120kg or are below 1.1 meters cannot ride master blasters.
Juha's journey
This ride is named after the character, which is the central theme of this theme park. While Wild Wadi as a whole is focused around the adventures of Juha, this ride is especially so. But do not expect any nerve-wracking adventures in Juhas Journey. Rather, this is a lazy river that is around 360 meters long.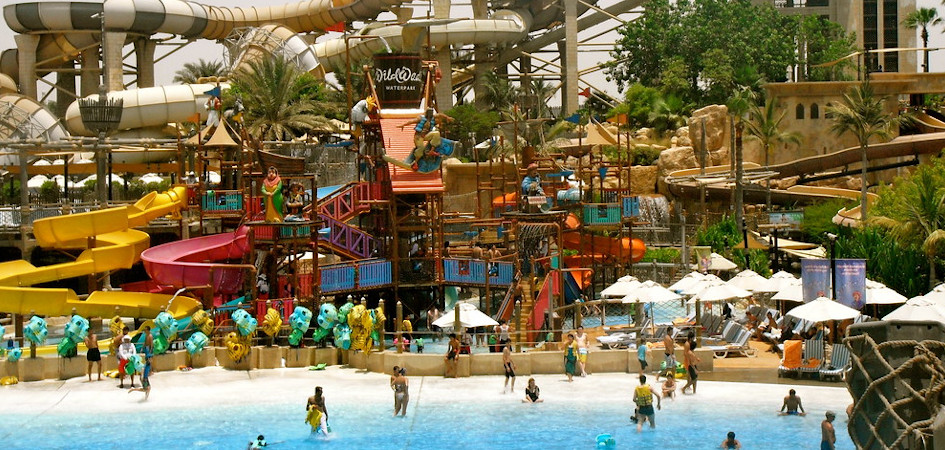 This is probably the ride you want to be on in between all the thrilling and exciting ones. Lie on a float and move along with the gentle tides. And to make it even better, there are no height or age restrictions on this ride. But parents should keep an eye on their young ones all the time and should make sure they have their life jackets on.
But it is not all just bland. There are a few small waterfalls along the way to surprise you. Once you have sunbathed enough in the water, you can resume the adrenaline streak in other rides.
Breakers bay
This is the ride where you can spend as much time as you want. Immerse yourself in the Breakers Bay, which is the largest wave pool in Dubai. Most of the time, the waves in this pool are gentle and predictable. But better watch out for those occasional spurts of powerful waves that will take you by surprise. This pool is only for those who are taller than 1.1 meters, and parental supervision is essential for the kids.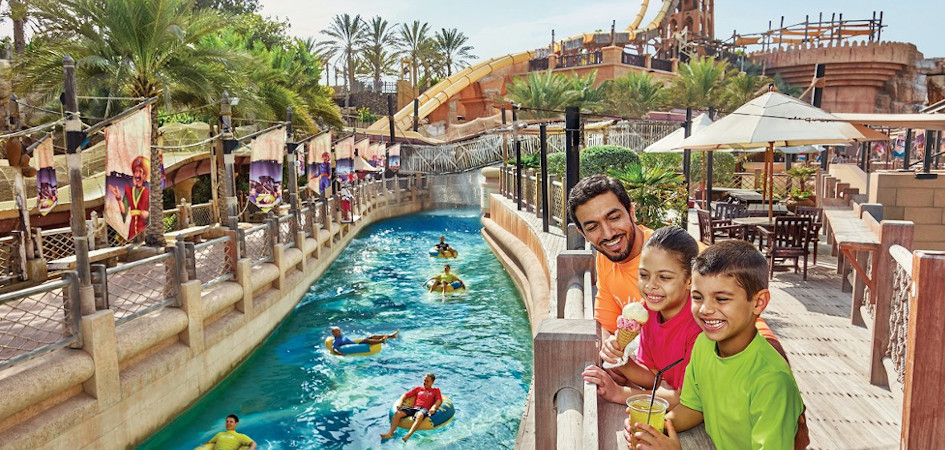 Attractions to visit near Wild Wadi Water Park
One thing that makes Wild Wadi the favourite waterpark of the residents in Dubai and also the tourists flocking from abroad is its proximity to other tourist attractions. There are literally tens and hundreds of landmarks and attractions surrounding the wild wadi water park. Thanks to its prime location near the main city.
It will be very difficult to list all the attractions near the wild wadi waterpark. But here are the most notable among all of them.
Burj Al Arab
This is the iconic luxury hotel that represented Dubai for quite a long time. Although there's nothing such as a seven-star hotel, some people do say that about the Burj Al Arab for its over the top luxury. Some portions of the hotel's interior are covered in pure gold. There are many luxury restaurants and spas in the hotel.
Burj al Arab was built as a replacement for the first five-star hotel in Dubai, which was the Chicago beach hotel. At first, the new hotel too was to be named the same. But a few months before its opening, the ruler of Dubai chose the name as Burj Al Arab to be iconic of the region's culture and heritage.
For a long time, the Burj al Arab hotel symbolized the prosperity of Dubai. But now, that role is mostly taken over by the Burj Khalifa.
Jumeirah beach hotel
Jumeirah beach hotel existed before the Burj al Arab. In fact, the sail-shaped Burj al Arab and the wave-shaped Jumeirah beach hotel are just perfectly built next to each other. If you want to enjoy the view of the Arabian Gulf when you stay in Dubai, this hotel should be at the top of your list.
The Jumeirah beach hotel also has direct access to the Wild Wadi Park. And to make it even better, guests of this hotel can enjoy unlimited visits to the water theme park. Something beneficial if you are planning to include the visit to wild wadi to your itinerary. You also get to access the private beach if you are to stay in this hotel.
When the Chicago beach hotel was demolished, the Jumeirah beach hotel was already standing tall next to it. Although not as much as the Burj Al Arab, this hotel too, is a symbol of luxury in Dubai.
Souk Madinat Jumeirah
Unlike the above two attractions that are right next to the waterpark, Souk Madinat Jumeirah is seven kilometers away from the Wild Wadi Park. And there is another thing that might surprise you. You can visit this beautiful place for free. Yes, without paying absolutely nothing.
Souk Madinat Jumeirah was modeled after the traditional building in Dubai. It will closely resemble the historical buildings you would see in the old part of Dubai. And similar to those old souks, this too is a shopping destination. But in that regard, this is a modern destination. You will find dozens of branded stores and entertainment options here.
Originally, this place was known as the Chicago beach village. Those who worked for the Chicago construction company had their houses here.