The name Dubai has become a synonym for shopping. All who come to this remarkable city fancy buying some great stuff for themselves and their loved ones. Well, what can make you so happy than going home with a lot of shopping bags?
Shopping in Dubai is something that both the tourists and residents equally love. The traditional souks, shopping malls, shopping festivals and the entire cities dedicated to shopping are just a few of the surprises that await.
Let's have a look at the best places to go shopping in Dubai.
Dubai shopping malls
There are numerous shopping malls in Dubai, and many more get added to the city every now and then. From the usual shopping malls to out-of-the-box outdoor shopping experiences, Dubai has it all.
Dubai Mall
Joy doubles if you are shopping at one of the largest shopping malls in Dubai. Prepare to get confused as you have so many options at this massive place. There is no better place to find all your favorite international brands under one roof.
You can find the coveted luxury brands at Fashion Avenue, which redefines the shopping experience with an extravaganza at its best. Once you are done with shopping, spend some time marveling at the decorations and elegant lighting done at the fashion district.
The Souk at Dubai Mall will take you back in time and opens up the doors to some amazing jewelry, traditional Arabic dresses, and handicraft. While Fashion Avenue is all about the ultramodern trend, the Souk gives the nostalgic vibe unique to Emirati culture. Kids are never gonna be a problem for you as they have a lot of places to spend time. Dubai Aquarium, Ice Rink, and Kidzania are the specially designed attractions to lure the tiny tots.
Mall of the Emirates
There are more than enough reasons to visit the world's first shopping resort. Mall of the Emirates is undoubtedly a heaven for shopaholics. Find everything from fashion, jewelry, and cosmetics to electronics at Mall of the Emirates. There are more than 630 brands, which means you will never run out of choice. After shopping, chill with your loved ones at the indoor ski resort called Ski Dubai or have fun at Magic Planet that offers several rides, games, and other activities.
City Walk Dubai
Do you know why Dubai remains the favorite tourist attraction through time? It's because of the innovative plans that give something new for visitors every year. If walking through the shopping malls has become too usual for you, what about rambling through a city dedicated to shopping? This is the main idea behind the innovative concept called City Walk Dubai.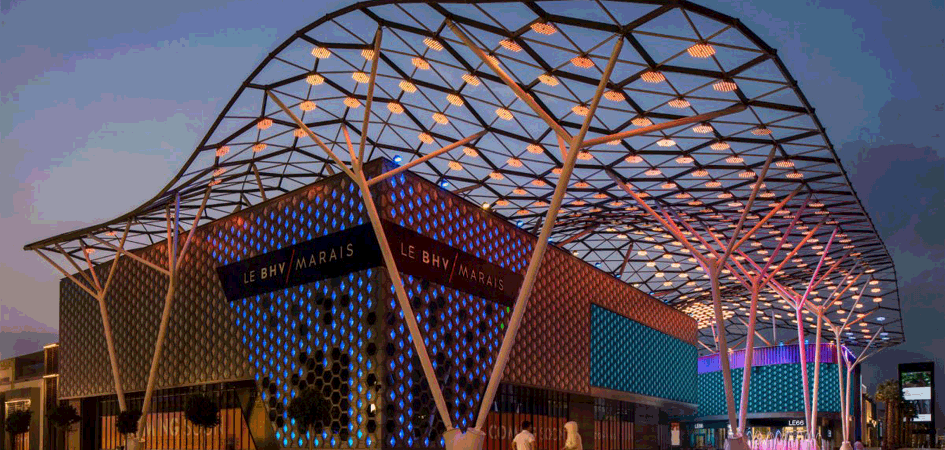 City Walk resembles the London streets and is renowned for its aesthetic infrastructure. The twinkling lights, wall arts, and infinity pools will welcome you to the chic street designed by Meraas. The indoor and outdoor shops, cafes, and entertainment spots ensure that you will have an eventful weekend here.
Top-notch international fashion and accessories, gifts, homeware, and fresh blooms are just some of the stuff that City Walk offers. When you are hungry, have a bite at the cafes or go for a gourmet meal at any of the restaurants.
Outlet Village
While glitters and modern architecture attracts your glances at shopping malls, things are a bit different at the Outlet Village. The beige-colored buildings give a totally different feel, and its design is inspired by the medieval hill town, San Gimignano, at Tuscany in Italy.
The main specialty of Outlet Village is their unbeatable offers, and you can save a lot if you're a good bargainer. If you think shopping malls in Dubai are very expensive, head to Outlet Village. Even their tagline is 'The more you shop, the more you save'.
Boxpark
Being made of shipping containers, the design of Boxpark is unique in every sense. It is a colorful and yet another attractive concept of outdoor shopping. The fashion freaks can find all latest styles of varied brands here. It is also the ideal place to buy special gifts for your beloved. The brightly colored shops have trendy boutiques, stores dedicated to homeware and also concept dining spots.
The traditional souks
Souks are nothing but the predecessors of shopping malls. In old Dubai, souks were the main places for shopping. They were maintained as such for all good reasons. Even now, they are admired by the tourists as well as residents for the huge collection and affordable prices. The two souks that are famous in Dubai are Gold Souk and Spice Souk. Perfume Souk is also a great place for those who are crazy about fragrances.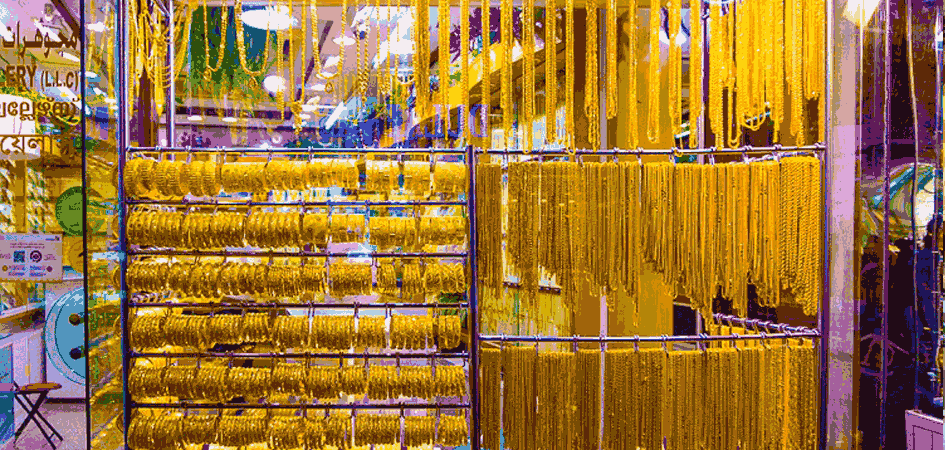 Gold Souk
Gold Souk is the best place to buy gold at a good price. The extensive collection of silver, gold, and diamond jewelry makes it the favorite choice of women. Buying gold from Gold Souk is a bit tricky as your bargaining skill determines the price. People also go here for window-shopping as they can admire the different pieces of jewelry in traditional and modern designs. It is located in Deira, which is a part of the city called Old Dubai.
Spice Souk
Different hues and pungent aromas will welcome you at Spice Souk. As you walk through the shops, the sellers can give you some intriguing ideas to spice up your food. You will wonder that you had known only a few spices, and there is a lot more to experiment in the kitchen.
Happy news for the tea lovers is that numerous fragrant teas from around the globe are available in this market. You can also buy saffron, oils, and nuts here. Traditional Arabic spices can also be found. Haggle with the vendors if you are buying large quantities, and you can save a lot.
Perfume Souk
The perfume souk in Deira is for the people who love pleasing aromas. In fact, perfumes are an essential part of Arab culture, and you will naturally become a perfume lover if you visit here. There are hundreds of stalls with unique Arab scents to tantalize your nostrils.
Try the different fragrances and find the one that suit you. From the mild scents to the potent aromas, perfume souk has it all. The perfume sellers can even make a personalized scent for your skin type if you like it that way. Stand out in the crowd with your own fragrance.
Dubai shopping festival
Dubai Shopping Festival or fondly called as 'DSF' is the most-loved event for all those who go for a shopping spree. DSF is the ultimate shopping experience in Dubai that wows tourists from around the world every year. It is held annually in the cooler months, and the sale will take place at different venues across the city. Being a blend of entertainment, fireworks, and prizes, DSF is the world's largest shopping festival by all means.
Grab the best deals, shop till you drop and enjoy with your loved ones. Fashion, accessories, electronics, and everything that you fancy will have amazing deals. Some exclusive offers for a brand would be set at a specific shopping mall and announced just before 24 hours as a surprise. This year, Dubai Shopping Festival is from December 26 to February 1, 2020.
Shopping in Dubai gets more fascinating and thrilling as year passes. More novel shopping experiences are being introduced in the city to seduce all the shopaholics out there. When you plan a visit to Dubai, keep these places in your list as you go shopping.