Time is the most valuable thing in life. When you devote your time to someone, it shows that he/she is important to you. So, the best and easiest way to express your love is by finding some time only for your beloved. Simply giving time won't win the game, make plans along with that.
How about a romantic dinner with him? If that seems like a great idea, find romantic restaurants in Dubai. You can also have dinner with your significant other in an exceptional outdoor setting like the sea or a desert.
Whichever be your choice, make sure that you choose the ideal setting for your love. See a list of the most romantic places for dinner in Dubai.
Al Mahara- Treat her like a queen
Al Mahara restaurant is the perfect choice for the couple who prioritizes experience than money. Don't settle for less when it is for your better half. Al Mahara at Burj Al Arab promises the royal dining experience for the guests. Moreover, it is a great pick if your partner has a soft spot for seafood.
Dining at Al Mahara is like having food under the sea with a school of fish swimming around you. And, remember that you are going to a restaurant helmed by the Michelin-starred British chef Nathan Outlaw.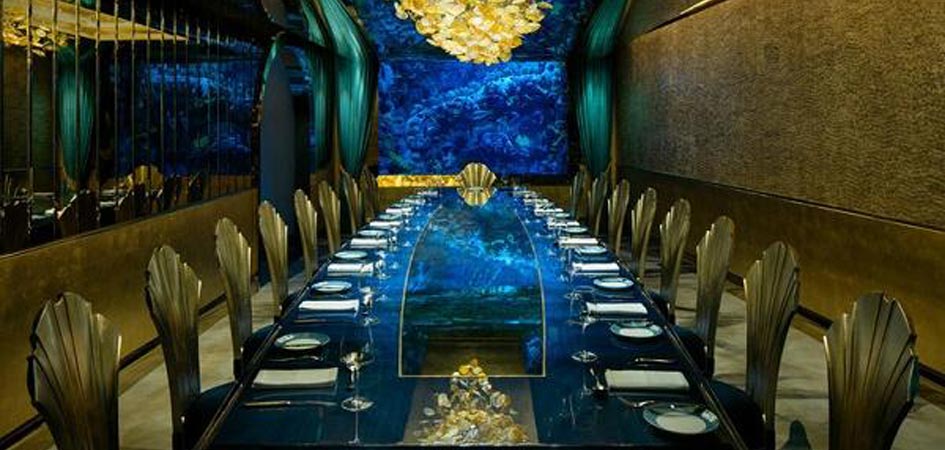 A massive aquarium in the dining room gives the mesmerizing feel of being at the ocean. When you are ordering dinner at Al Mahara, you can choose from either the tasting menu or a la carte menu. The cuisine is mainly of Northern Europe.
Given the royal treatment and food, it will cost an arm and a leg for sure. The enthusiastic customers can get a brochure from the restaurant to gain insights into the types of fish in the aquarium and how they are taken care of.
Tips to know
Location: First floor, Burj Al Arab
Timing of dinner: Sat-Wed 6 pm – 10.30 pm, Thurs-Fri 7.30 pm-11 pm
Request a table near the fish tank while reserving
Wear semi-formals as they have a strict dress code
Pierchic Dubai- Joy of over-the-water dining
Pierchic Dubai is yet another seafood restaurant that offers to dine at an exceptional alfresco setting. Both of you will enjoy the utmost privacy while relishing the food at Al Qasr hotel's private pier. You are all surrounded by the aquamarine water of the Arabian Gulf, and the stunning Burj Al Arab stands nearby.
Mediterranean cuisine has anything and everything to sate your appetite. A la carte menu allows you to choose a favorite dish from the varied options. If you are proposing your love, this is the best venue. Take your other half through the long pier, and you will finally reach the hotel. This is undeniably one of the most dramatic and soulful venues in Dubai.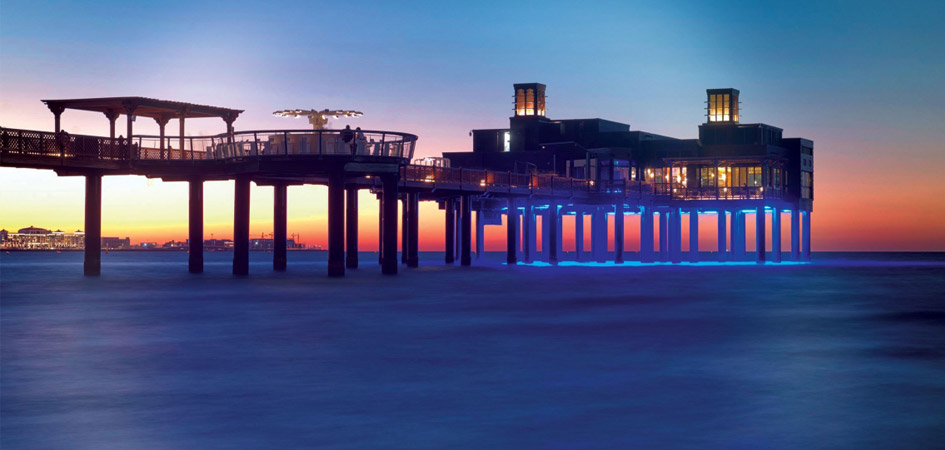 The spellbinding views of the sea, Burj Al Arab, the wooden décor of the restaurant and award-winning food will certainly steal your heart. Dishes are prepared with the fresh catch of World oceans delivered to the restaurant on a daily basis. The Lobster Thermidor is a must-try dish in the main course.
The restaurant offers a blend of excellent food, scenic views and warm service. Sunset menu is a splendid option for couples. It consists of three courses, a side dish and a glass of bubbly. You can have food in the backdrop of the sunset that leaves the golden and red tints on the sky and ocean. It is available Saturday to Thursday from 6 pm – 7 pm.
Tips to know
        Timing of dinner: 6.30 pm – 11 pm
        Price range is between AED 110- 735
Dhow cruise Marina- Savor every bite at Marina
If you have tried the waterfront restaurants and feel there's nothing new, why not try a different option? Sometimes, you may get tired of taking selfies with the same background. Then, go for a Dhow cruise in Marina to see and capture ever-changing views. This will be a novel experience for both of you as you relish food on a floating restaurant.

These traditional wooden boats are a popular outdoor activity in Dubai. Savor every bite while you glide over the tranquil waters of Marina Canal. The dinner buffet has Continental and traditional Arabic dishes along with desserts. A variety of vegetarian and non-vegetarian dishes ensure that the tastes of all people are satisfied.
There are two decks in the boat — air-conditioned lower deck and open-air upper deck. Book a table on your preferred deck and spend quality time with your mate. Dhow cruise is not just about sightseeing and food. There will be live performances to enliven the night, including Tanoura, an Egyptian folk dance.
Those who want an exclusive journey can hire the whole cruise for a romantic private dinner in Dubai.
Tips to know
        Two-hour cruise starts at 8.30 pm and ends at 10.30 pm
        Pickup and drop off is available on request
At.mosphere- Dine at the sky
Have food in the sky! Well, this is not an overstatement since you are going for dinner at the tallest building in the world. It lies on the 122nd floor of Burj Khalifa and offers breathtaking views of the skyline and Arabian Gulf. Have dinner while enjoying an exciting performance of a DJ from Tuesday to Saturday from 9 pm- 1 am.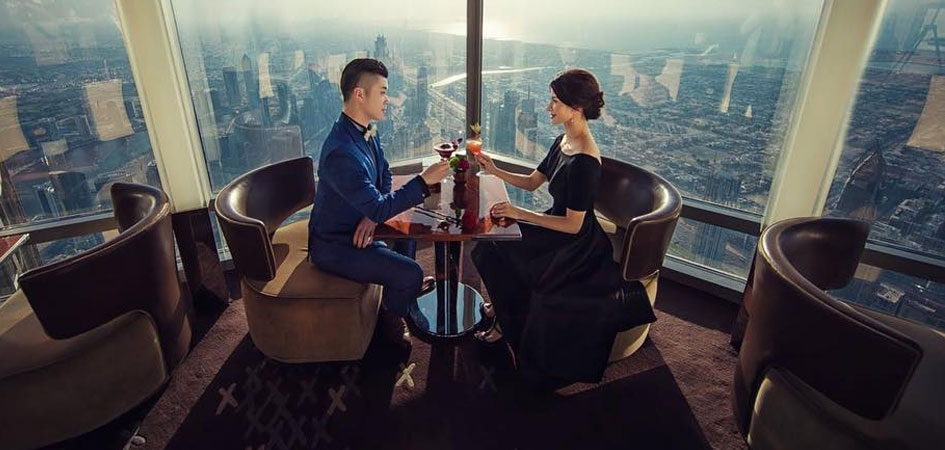 The menu features the finest International cuisines with seasonal ingredients. You can find new dishes which will delight your palettes with a burst of flavors. Plan the dinner on Friday as the menu for 'Smokey Night,' as Friday night is named here, including a variety of beverages along with chef's signature smoked cold cuts. It is available every Friday from 9.30 pm till midnight.
Mint Leaf of London- Go-to destination for Indian food
Foodies will never have to dream about their indigenous delicacies if they are in Dubai. All of cuisines in the world can be easily found here as the city marks a blend of varied cultures. Mint Leaf in Dubai is the ultimate destination for Indian cuisine. Here, you will find authentic Indian dishes with a touch of contemporary flavors which are absolutely a culinary delight.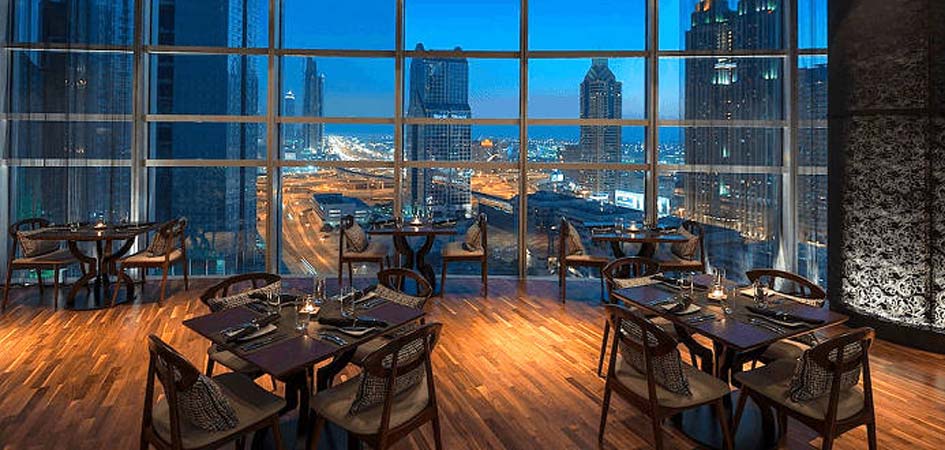 The dim lighting, wooden interiors, and the jaw-dropping views of Dubai cityscape with Burj Khalifa make it a go-to destination for love birds. Find all kinds of dishes, from seafood to exotic meats along with a wider variety of finely mixed beverages. Mint Leaf has three wonderful divisions— the restaurant, bar, and the lounge.
The bar offers refreshing cocktails and has it at the outdoor terrace in the backdrop of Downtown Dubai. After the dinner, head to the lounge for relaxing and grooving to the music played by a DJ. You can't imagine a better to end your day.
Tips to know
Location: 15th floor of the South Tower of Emirates Financial Towers
Timing: Mon, Thurs & Fri 12 noon – 02.00am
Tues, Wed, Sat & Sun 12noon – 1.00am