Khor Fakkan is a small city in Sharjah. It is a little gem on the sea of Oman and known for its fertile land, the only natural deep seaport and of course the very famous Hajar Mountains. I will take you for a tour to khorfakkan from Dubai and back.
Start early morning from Dubai in my 4 x 4 wheel and going towards the northeast. Take the E311 and then turn to Sharjah Airport and continue driving until you reach.
Traveling to Khorfakkan
The new road made by the Sharjah Government is absolutely a beauty. While it cuts down the travel to half from Dubai (from 90 minutes to an astonishing 40 minutes), it is much safer too as there are no heavy trucks or trailers. The road that starts from Sharjah section of Emirates Road (E311 or Bypass road, it is 89 kilometres long and comes with 5 tunnels. Each tunnel through the rugged Hajar Mountains is cutting your distance and making driving a pleasure. The longest tunnel is 2.5 kilometres long is the longest land-based tunnel the Middle East. The sand-swept road leading to Khorfakkan gives you a no-hold-barred option to drive straight into Khor Fakkan from Dubai, however, you may stop by one of the many cafes alongside the road. The two-lane-each-side the road is smooth like a tarmac so close your eyes, if you are driven to Khor Fakkan, and enjoy the silence. We bet you will be wide awake, the moment your car hits the Hajar Mountain stretch as suddenly the wind would smell and feel saltier. Many people believe that the Hajar Mountain range is one of the oldest mountain ranges in the world. They are not very tall but very rugged and crusted.
These mountains will accompany all along the Khorfakkan sea and sometimes inside too!
Ar Rufasah Dam Khorfakkan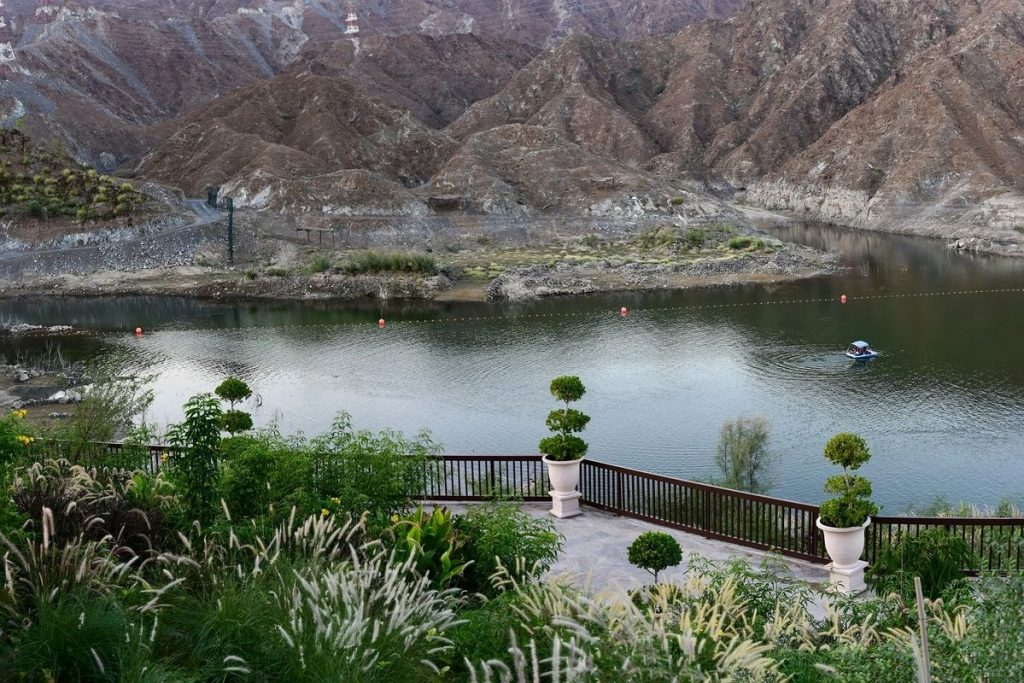 There is a beautiful dam that is hidden away from the usual tourist attractions. This dam is so attractive, serene and calming that you won't feel like leaving it. In winter when the monsoon here is active, the Ar Rufasah dam is full of blue water and this huge dam fills your heart and soul. To see a dam right in the desert it is very unique. Not many visitors come here, hence you should take time to be with yourself here. Take pictures, enjoy the lush greenery around here and give yourself quality me-time. During the evening sunset and morning sunrise, the dam, the water, the sky, and the sun; all these elements create a visual orchestra!
Khor Fakkan Beach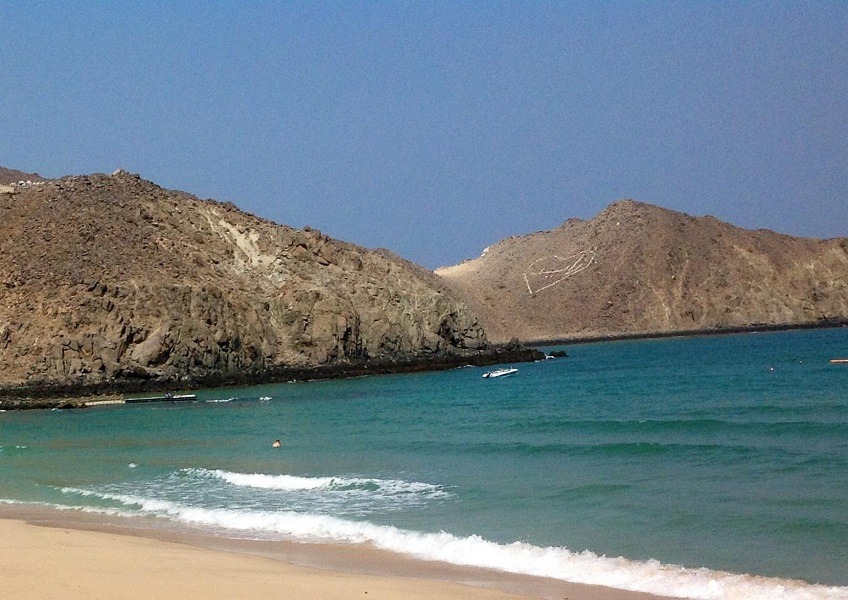 Khor Fakkan Beach is undoubtedly the most beautiful beach in UAE. It is very silent, very clear and very serene. With a backdrop of imposing The Hajar Mountains, this beach gives you the best experience, especially because you travel from s far away. This beach is good for even just sit and experience the serenity of silence with the sea very calm.
A gorgeous hamlet, surrounded by mountains, coral reefs, and crystal clear-water. Life thrives here; a beautiful amalgamation of golden sun-looked sand and blue sea-water. To some, this might sound like a description of heaven; a thing one will find only in Holy Scriptures or artwork in cathedrals. However, in reality, it exists on the mortal plane and it is none other than the UAE's own Khorfakkan beach.
The fluffy clouds stare down upon the beach, forming various patterns that are natural at the same time they are beautiful and mesmerizing; the sky nature's canvas. Khorfakkan beach, unlike various other beaches in and around UAE, does not allow itself to be dirtied with man's works of a cement and concrete, but allows itself to be beautified with meadows and gardens. Providing books for children to read and a the same time giving plenty of waves for risk-taking surfers, this beach is the perfect balance between relaxation and fun that can make for the perfect holiday getaway spot.
Situated in the emirate of Sharjah, though surrounded by Fujairah, Khorfakkan itself is a popular tourist destination, though its beach, naturally, is the most popular. Many people find beaches appealing because of the sometimes vibrant natural marine life, and this is the case of Khorfakkan beach, with its waters being inhabited by various aquatic life-forms. Located in the vicinity are various islands labeled as to their specialty; for example, Shark Island.
Activities in Khorfakkan Beach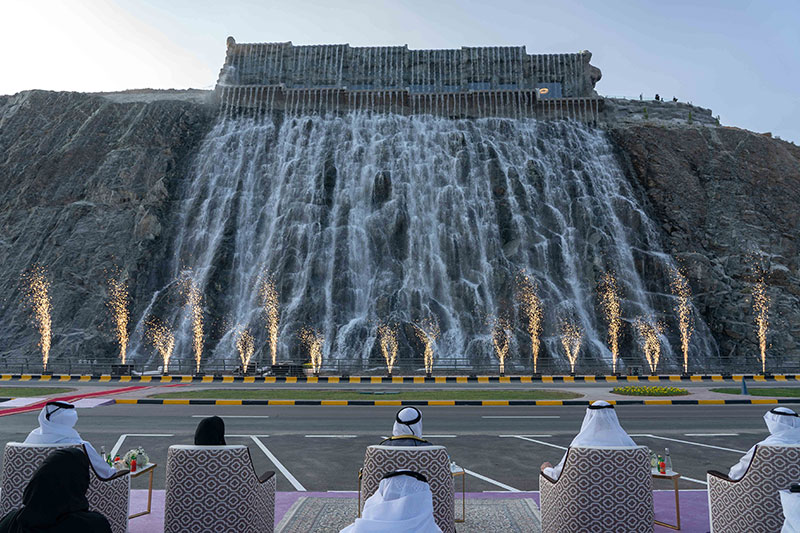 The activities offered by Khorfakkan beach and its natural inhabitants are numerable and various. From viewing marine life to lying down and hearing the soft rumble of the waves hit the beach cost to having a book in your hand whilst taking a sip out of virgin mojito, it is a truly enriching experience to visit the Khorfakkan beach. The activities are as follows;
Shark island- Though the name might spark a surge of fear in some people, it is arbitrary to run away since there have been zero shark attacks in Khorfakkan Beach. You will be able to witness some sharks, especially black-tip reef sharks, mostly during the months of November stretching to April. If you so choose to go snorkeling here, an activity quite popular in Khorfakkan Beach, you may see the odd fish or turtle. It is wise you mind your own business.
Khorfakkan beach is a full day engagement. The ideal thing would be to pack the bar-be-que stuff, a nice tent, a few mats and loads of pals for the fun. Read, run, swim, drench yourself, play or just see the life pass by through the blue waters of the sea. Even doing nothing makes sense.
Dibba Island– A stereotypical poster boy for the amazing and often visually aesthetic marine life found on Khorfakkan Beach, Dibba Island is a usually visited area by eager marine enthusiasts and snorkelers due to its astounding range of marine wildlife. A simple dive can take your eyes and mind to new heights. This island in particular is home to a variety of aquatic dwellers such as turtles, jaw-fish, batfish, clownfish and a variety of soft and boulder corals.
Coral Gardens– We have to learn that marine life is not all about the fast sailfish, the fearsome sharks, the visually pleasing clownfish, the ginormous whales, the loyal sardines, the intelligent dolphins and the eight-limbed octopus. It's also about the beautiful coral reefs that give the water its beauty, and Khorfakkan Beach is no stranger to this concept. Guitar Sharks and crocodile fish can be found lurking the waters near the reefs. In Khorfakkan Coral Garden you will crocodile fish and guitarfish.
Shark Island – Shark Island is a misnomer. You get zero sharks here and if you expect thrills of "Jaws" that you are far from the truth. Shark Island
There are a lot of activities possible on the beach. Parasailing, kite surfing, snorkeling, etc are favorite. It is also great to undertake a dhow cruise. If you are interested in this you might like to explore the things to do in Dubai.
Friday Market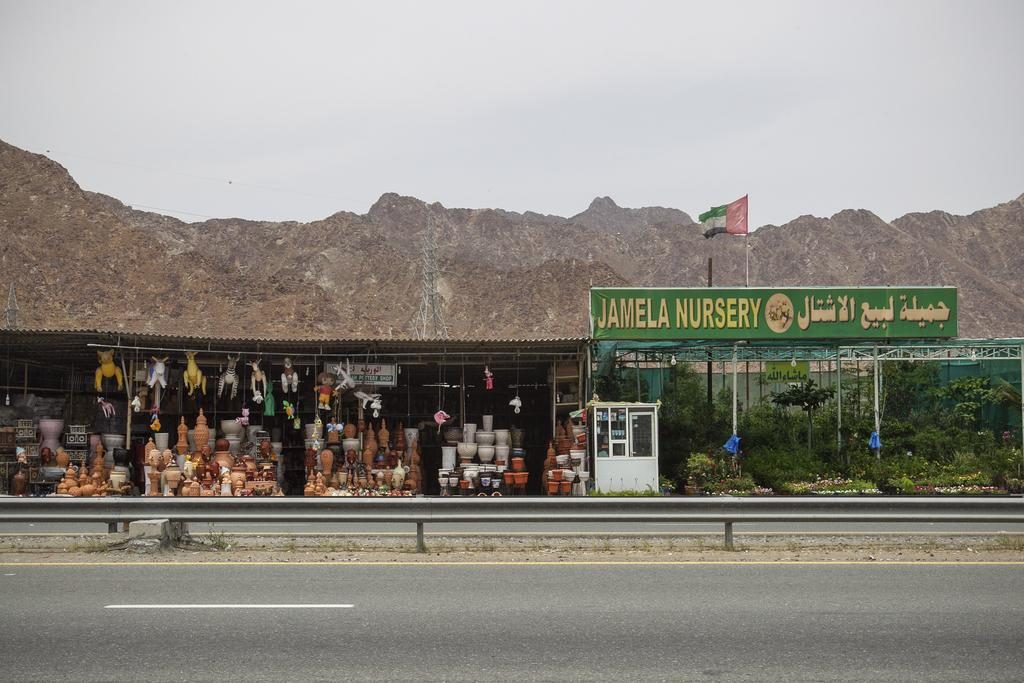 3 things that you will definitely like to buy or tempted to buy from this market are a) Fruits, b) Earthen Potteries and c) Carpets. Friday Market is a misnomer. Many tourists ask me about it. They are surprised that a market can be open only on Friday? The answer is a big NO! It is an everyday market. If you know how to use the camera then start clicking as the shop laden with different colors of fruits and clay potteries arranged neatly, gives you your perfect vacation shot. The shopkeepers know it hence they are always grinning and photo ready.
Bargaining is a MUST. Shopkeepers enjoy it. A great conversation, haggling for your carpet and then have a nice cuppa tea. Practically every vehicle stops here to buy the seasonal fruits.
There are some restaurants that will sell you various types of sandwiches and of course the ubiquitous tea. Some of these restaurants will give you egg wrap in Indian pan-fried bread and is quite yummy. The break at Friday Market is very good.
One small piece of advice. If you are a tourist, always take counsel from your driver and they are most helpful.
Khor Fakkan Trip and Timings
Khorfakkan MUST be in your itinerary when you visit UAE. It is a full-day visit. Start early, if you are in Dubai and beat the traffic to reach the Emirates Road and drive towards Sharjah and Al Dhaid. Catch glimpses of Camels on your way. After 20 minutes of the drive, the road bends to the swanky new road called Khor Fakkan Road. A 45-minute drive and you are on the beach.
Enjoy the beach activities including the best coral view. Khor Fakkan beach is a gift for adventure lovers. Snorkeling, kite surfing, and diving would give you plenty of reasons to get some delicious food. Binge the local Emirati food/ Indian food etc. from the restaurants. Return to do a bit of reading under the relaxed beach umbrella. We strongly wait to see the golden sunset of Khor Fakkan. The sun bids goodbye to the majestic mountains as well as the sea and the beautiful marine life before slowly sinking into the horizon leaving soft golden hue.