Far away from the hustle and bustle of the busy city life, you come here at the top of the tallest mountain range to find real peace, silence, and a panoramic view of the garden city, i.e. Al Ain. This is Jabel Hafit, which at 3000 feet is the tallest mountain. A part of the Hajar Mountain range, Jabel Hafit separates Omani city Al Buiraimi and UAE at Al Ain. It lies in the East of Abu Dhabi and located in the Tawam district, part of Al Ain.
Jebel Hafit means "Empty Mountain" which has great historical importance. Beehive-shaped burial grounds have been excavated from Jebel Hafit mountains. These are showcased in the Al Ain Museum. These are considered belonging to the Bronze Age, (3500 BC to 3000 BC). This period is called a Hafit period. Many potteries, etc. have also been excavated from here.
Jebel Hafit Mountain is one of the biggest tourist attractions due to many other things also. It is home to UAE's only hot springs from where hot geyser water sprouts out of stone. Then there is beautiful Green at the foothills of Jebel Hafit called the Green Mubazzarah.
Jebel Hafit is also home to some very exotic animals who hide in its burrows, deep and dark. Red Fox, Feral Cats, and Rock Hyrax are some of them. These are very shy creatures and you will be very lucky to spot one during a trip to Jebel Hafit. There also snakes and Arabian Leopard found on the mountains of Jebel Hafit.
At present, it is a UNESCO site and the whole mountain is part of Jebel Hafit National Park.
Arriving and Stay at Jebel Hafit, Al Ain
Jebel Hafit mountain drive from Dubai is almost 130 kilometers from Dubai and is equally the same distance from Abu Dhabi. It takes around 2 hours to drive from these two big brothers of the UAE. The road trip is super due to the fantastic roads that the government has built. There is a lot of 'Greening' of the road through roadside planting of shrubs, palm trees, etc.
Note: It is always advisable to check your tires and Gasoline/ water level before starting to climb the Jebel Hafit Mountain. This is because the climb is very steep and you may not get the second option in between for gasoline. You simply get stuck until help arrives. It is better either see the sunrise or see the sunset. If you want to see the sunrise then start very early and reach by 4 am during summer and 5.30 am in winter.
The actual road that leads to the top is 11.4 kilometers long and is a 3 lane highway. It is rated as 1 of the top 10 best mountain roads in the world. The road has 2 lanes for going up and 1 for coming down. You MUST drive carefully and wide awake as there is a constant roar of fast motorbikes crisscrossing you, very fast cars, and their speed may even startle you. One reason why you should be wide awake is that the road does not have a divider and there can be a chance of an accident if you don't pay attention.
At the peak, there a big flat patch where you can park your car and enjoy the beautiful view of Al Ain. At night the view is spectacular due to the glow of lights. The place is often very windy at that height. Although the land is fully barricaded by a steel net, there are some open areas. You should be careful about these areas. There is a small café here. Order you Karak chai and Indian style coffee to enjoy the silence and serenity, all in one. The peak can become noisy as many travelers play music and do extempore dancing here.
Jebel Hafit's snaking road meanders through many curves to reach the top. The first thing that will hit you is the view of Al Ain City and beyond. From one side you can see Oman and the other side UAE. Jebel Hafit is part of a very old mountain range hence it is barren and flat. Millions of years of standing against the salty and disruptive wind have stripped it of its plants etc. Nothing can survive here and is the testament of the life cycle of everything in this world.
Hotel Mercure in Jebel Hafit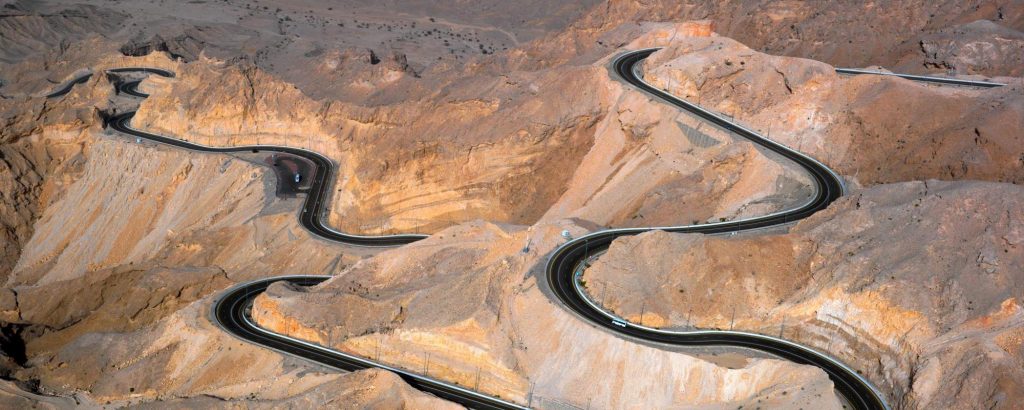 There is a very good hotel on Jebel Hafit for you to stay or just to go for refreshments. This is called the Hotel Mercure. Open the corkscrews to a lovely evening atop the limestone behemoth and enjoy the cool comforts that this 4-star hotel resort has to offer. From the hotel, the night view of the perfectly lit mountain road, and the far-off Garden city, Al Ain is the perfect way to appreciate the way this site has been developed and preserved.
The Green Mubazzarah and Hot Springs of Jebel Hafit
Al-Ain is the actual birthplace of Sheikh Zayed Al Nahayan, father of the nation and late ruler of Abu Dhabi, of which it is a part. The rules, until today, take great care of this city. The whole Al Ain City is actually one huge garden with lush green trees, blooming flowers, and landscaped squares. If you are driving through Al Ain, it will be a nerve soothing impact on you.
The same passion for greenery is evident even at the foothills of Jebel Hafit. There were only natural hot springs here, from which hot sprouts of water would splash out. There was desert all around. Then the Al Ain municipality decided to beautify it and convert it into a tourist paradise. The area is now called the Green Mubazzarah, green fields, sit-out areas, showers after you have your prancing around the hot water geysers. There are a lot of hotels also.
The Green Mubazzarah also has a children's play area with slides and other activities.
Green Mubazzarah is the best place in Jebel Hafit to have a picnic.  It is refreshing and soul-satisfying.
Your whole trip from Al Ain to Jebel Hafit and then down to the Green Mubazzarah is going to be a full-day affair.
One very important thing to note that is the floor of the hot water stream is very slippery. When you step into the stream, the hot natural water feels very energizing. It has therapeutic qualities. However, you must take the utmost care while standing or walking through the stream as many minor accidents have been reported. Put your feet firmly and where possible, hold on to something. Instruct your kids to do the same. Also, the water may scald very young ones as their skin is very insensitive.
Jebel Hafit – When to go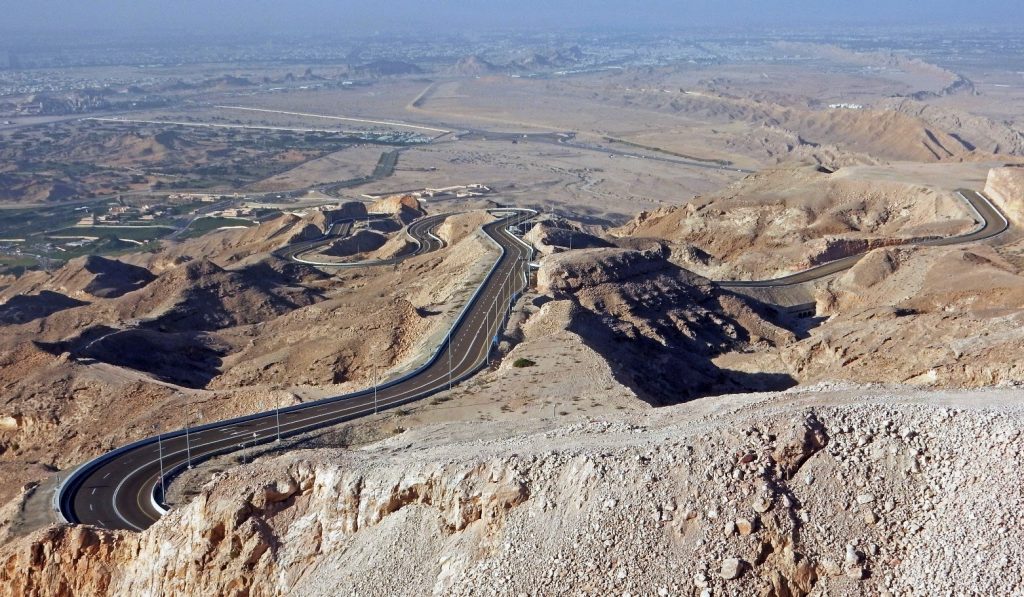 The best time of the year is October to March. These are the cooler month and if you choose December, January, or February, then you must be ready to be in a crowd as it becomes very crowded with teeming cyclists, motorbikes, mountain walkers, and of course tourists from all over the world. You must plan in advance in order to avoid disappointments. In peak season there could be traffic jams also, especially while going up.
Off-peak months April to July would be having lesser traffic but could become hot. It would be advisable to carry plenty of sun lotion, hats that protect you from the direct hit of sunrays, and plenty of water to keep up your hydration level.
Dining, staying, and Activities
There are plenty of dining options for every nationality. Dining may cost you anything between Aed 30 to Aed 300 per person, depending upon where you go to eat. Hotel Mercure may be a good option. Here the lunch and dinner would be mostly continental and Arabic, Arabic and of course Italian. The Le Belvedere serves Italian food with an Emirate twist. You can cool off with Orient Café's various coolants, especially in summers.
Below, in Green Mubazzarah, you will get many including Coriander for Indian food, Flavours, Traders' Vic, Tanjore, Pizzaro, TGI Fridays, and Gazebo, etc. This is a very limited list and you may go and explore more. Al-Ain is not a very big city but the options to dine are really huge. There are malls like Bawadi Mall and Jimi Mall as well as Al Ain mall close by and you can do a bit of shopping as well as enjoy a variety of sumptuous food in their food court.
Top Five Activities to do
Go Shopping after you are back from Jebel Ali for some gifts for family and friends back home
Visit Al Jimi Fort as well as Sheikh Zayed Palace Museum
Visit the iconic Al Ain Zoo, feed Giraffes, and enjoy the buggy ride to watch the most different animals in the whole the Middle East
Take your kids to Hili Fun City so that they can enjoy various rides
We could make this into a more exhaustive Top 10 but we know you need to get back, hence we chose the best of 5 actions. There is a balance between what kids would enjoy and something for you too.
We would definitely recommend you to enjoy the garden city, its fresh air, its almost traffic-free roads, and the efforts that the municipality is making to live to the vision of Sheikh Zayed Al Nahyan, the late rule of Abu Dhabi, who was a great environmentalist.