There are a lot of music fountains in UAE. However, there is none like the Dubai Fountain. UAE has a unique romance with water in general, and you will find a lot of squares where water is an essential element of landscaping. This love for water has inspired Emaar to build something huge, innovative, and inspiring. Something that would complement the world's biggest mall and the world's tallest Tower. That is how Dubai Fountain happened.
Dubai Fountain is one of the most loved, visited, and beautiful "watermarks" in the world. With a backdrop of Burj Khalifa, this fountain system is located on the manmade Burj Khalifa Lake that expands to 2 hectares (30 acres) at the center of Dubai Downtown master development.
The making of Dubai Fountain
A California company, WET Design, was commissioned to design and build this remarkable lake with a fountain system by Burj Khalifa developer, Emaar Properties. Interestingly the same company had previously designed and built the fountains at the Bellagio Hotel Lake in Las Vegas.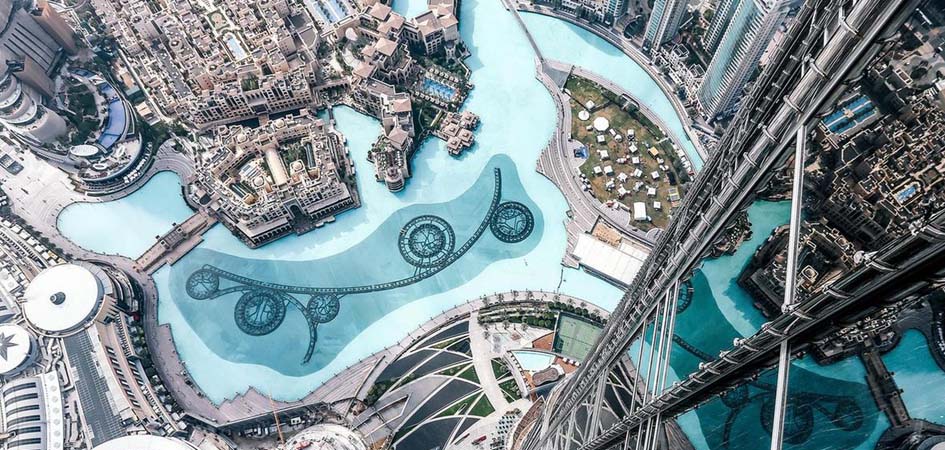 Dubai Fountain is illuminated by 6,600 lights and 50 colored projectors. Dubai Fountain is 275 m (902 ft) long, and the biggest of the fountains shoot water up to 500 ft (152.4 m) into the air. The fountain system sways to the tune of a range of classical to contemporary Arabic and world music.

The fountain system at Burj Khalifa was built at the cost of AED 800 million (USD $218 million).

The master developer ran a competition in 2008 in UAE to name the fountain that would be part of the manmade lake to be built in between Burj Khalifa and Dubai Mall. Thus the name Dubai Fountain was chosen by Emaar and approved by His Highness Sheikh Mohammed Bin Rashid Al Maktoum, the ruler of Dubai and Prime Minister of United Arab Emirates.

Dubai Fountain was officially opened on May 8, 2009, the same day when Dubai Mall was opened.

The Dubai Mall fountain, as it is also known, consists of 5 circles and two arcs in which the waterjets are organized. In 2010 an element of fire was added as part of the 2011 New Year celebration and later discontinued.

The central light beam of the Dubai Fountain can be seen from 20 miles away.
Dubai Fountain Show
The Dubai Fountain show started on May 8, 2009, and since then, it has swayed to hundreds of set pieces in front of millions of adoring fans who throng every day and wait with bated breath on the banks of the lake. The mesmerizing show happens once in every hour and lasts 30 minutes.

There is a general show every day, and there are special shows on certain occasions. These occasions have both music and lighting to a very specific theme. Emaar, the master developer of Dubai Fountain, decides and directs Wet design the do special shows. Most popular of these are UAE National Day, December 31 and Eid Al Adha, etc.

Dubai Mall Fountain boasts of a lake ride so that you can have an up, close, and personal experience during the showtime. The experience can be described by the only word, i.e., "Magical"! The fountain at Burj Khalifa adds a different dimension that is musical, harmonically aesthetic, illuminated, and supercharge.

The magical fountain of Dubai Mall lacks no superlatives. The Burj Khalifa Fountain is said to be the world's largest choreographed fountain system ever made by man.

Dubai Fountain is an art made with 22000 gallons of water, 6600 lights, and 50 colored projectors. This is an art that moves, dances to the music of the choreographer. The water that is shot up comes down, creating another dimension of sound and music.

The Dubai Fountain show starts with a tribute to Sheikh Muhammed, and then it slowly picks up the tempo along with the music. From initial small droplets to a blast of water jetting up on the sky to the oohs-aahs of approving visitors, who enjoy every sway of the fountain.

Best place to watch the Dubai Fountain Show

Dubai Mall visitors can see the Dubai Fountain show from inside the mall itself. The blast of water that gets released creates a huge aura of mist and droplets and giving a rainbow edge to the fountain.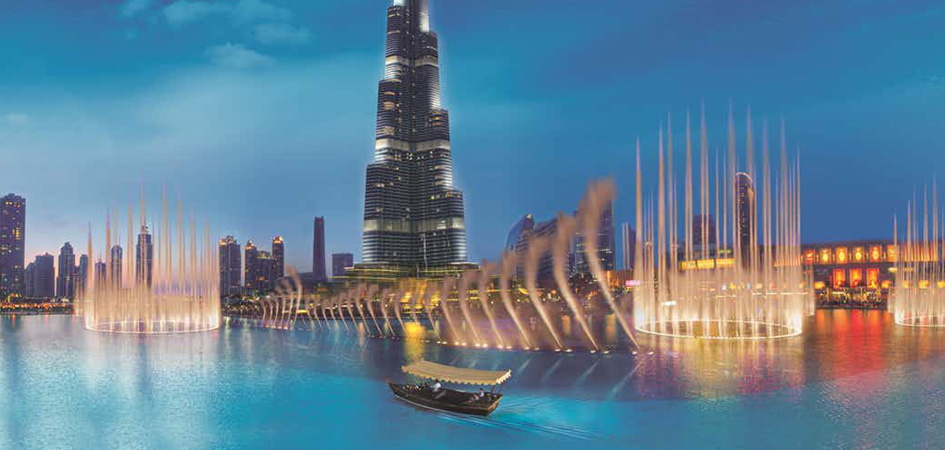 The musical fountain show id fully free to watch, and it can be seen from many places from Downtown. However, the best vantage is possible from the Dubai Mall Promenade (just outside the Mall). As this area becomes crowded just before the Dubai Fountain show starts, it is advisable to be there much before and book yourself a free 'best-for-selfie' spot. It is advisable to reach at least 30 minutes before the show starts so that you catch the fountain, music, and the aura around it without being pushed around by the crowd.

However, the Souk Al Bahar walkway is usually less congested and offer a better viewing experience.

There is a paid option also available for those who would like to have a more intimate experience. You may pay Aed 20/= and get onto the Dubai Fountain Boardwalk, a floating viewing ramp, is built over the lake and takes you almost 10 meters to the Musical Fountain, Dubai.

For those, who like to enjoy this art by water, on water, and from water, you may take Abra that would cost you around Aed68.25 (At the time of writing this piece on Dubai Fountain). The Abra ride on the canal starts before the start of the Dubai Fountain, and it gives you an immersive experience.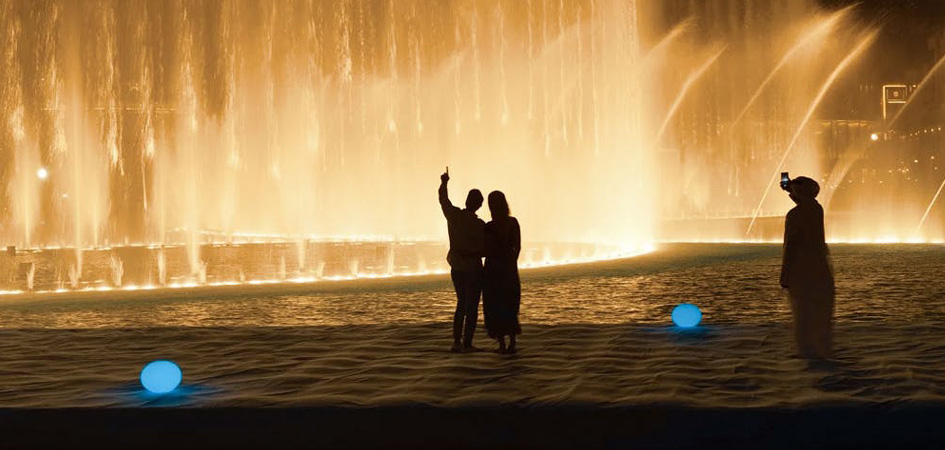 Another way to watch Dubai Fountain is to book yourself and your friends/ family a table in one of the fine dining restaurants that line Dubai Fountain as well inside the Dubai Mall. You will have an undisturbed and clear view.

Restaurants near Dubai Fountain
Dubai Mall – Wafi Gourmet, TGI Fridays, Joe's Café, and Carluccio, Texas Roadhouse, Entrecote café de Paris, Tribes Carnivore
Taj, Dubai (5 start hotel) near Dubai Fountain – Bombay Brasserie and Miss Tess
Souk Al Bahar – Bice Mare, Baker and Spice, and Claw
Steigenberger Hotel – Bayside Restaurant and Terrace, Backyard (A street Art inspired Café)
The Min Leaf of London – Indian fusion food, 15th Floor on South Tower-DIFC offers a fantastic view of Dubai Fountain from its floor to ceiling windows
Al Grissino – The bar of Al Grissino, located on the 15th floor on South Tower, DIFC offers excellent viewing of Dubai Fountain
Palace Downtown – Asedo, Ewaan, and Thipatra
Burj Al Khalifa – At.mosphere located a 122 level given you a once a lifetime experience
There are many hotels that have a fantastic view of Dubai Fountain if you are lucky to have one facing the fountain. Most of these hotels are 5-star hotels.

Hotels near Dubai Fountain

Roda Al Murooj
The Address, Dubai Mall
Ramada Downtown
The Palace Downtown
Damac Maison Mall
Taj Dubai
Steigenberger Hotel
Armani Hotel
Manzil Hotel, Downtown
Rove Downtown Dubai
DoubleTree by Hilton
Apart from these, there are scores of hotels that are located in Downtown or Sheikh Zayed Road from where you can reach Dubai Fountain in no time. These include Dusit Thani,

Dubai Fountain Show Timings

Dubai Fountain, the world's largest choreographed fountain, is open on all days, and the show begins in the afternoon. Then there are evening shows also. They are as follows;

Saturday to Thursday – 1:00 PM and 1:30 PM
Friday afternoon shows 1:30 PM and 2:00 PM
Evening Shows start at 6:00 PM and continues up to 11:00 PM. There is one show every 30 minutes.

During the Eid celebrations, the Dubai Fountain has shows that start at 2 pm. The other timings are during this period are, 1st and 2nd Day of Eid Al Adha: Afternoon Shows: 2:00, 3:00, 4:00, 5:00 PM (one show in every hour). • Evening shows for the Dubai Fountain are 6:00pm until 12:00 midnight (shows in every 30 mins). On Arafat Day: 7:30 pm until 11:00 pm (shows every 30 mins).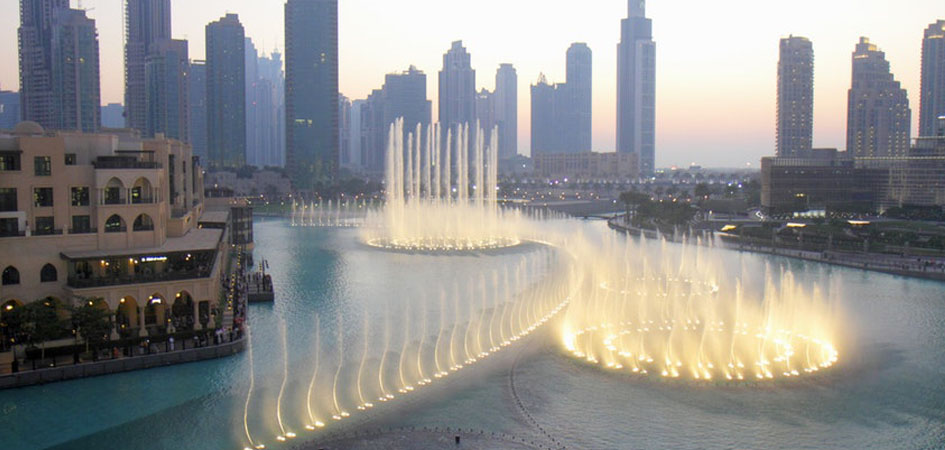 How to get there

The world's largest manmade Fountain system is located in the Downtown of Dubai. Dubai Fountain is very easy for each. There is Red Line Metro that you may board and get down at "Dubai Mall" Metro station. From there, you may take a brisk walk through the Skywalk (Overhead ramp that links Dubai Mall to Dubai Metro Station) would take you 15 minutes to reach.
Instead of walking, you may take F13 that would take you from the metro station to Dubai Fountain in 5 minutes flat. The whole walking area is live with many kiosks etc. Bus No. X22 will take you from Business Bay metro station to Dubai Fountain in 7 minutes.

You may flag down a taxi and reach Dubai Fountain from anywhere in Dubai.
There are a number of tour operators who make special tours to Downtown and Dubai City. They make sure that you reach Dubai Fountain in time to see that spectacle.