As Dubai is like a world of wonders, so UAE residents are always looking forward to new attractions and events which make life exciting here. The newest and last adventure park in the UAE is CLYMB Abu Dhabi. Strangely enough to know why behind it! It's easy; you can take it to the next level, or perhaps to the extreme level, however you want to. This fully indoor attraction in Abu Dhabi's absolute leisure hub on Yas Island has the largest skydiving airport and the highest wall of its kind.
CLYMB Abu Dhabi is an indoor attraction on Yas Island, where visitors can experience skydiving indoors as never before. CLYMB has several world records in real UAE style. This attraction of Abu Dhabi is home to the biggest interior skydive and the largest wall in the world. The location is the perfect place for thrillers of all ages and levels of skill. Thus, CLYMB Abu Dhabi is the place to be whether you want to climb, fly, or do both.
About Clymb Abu Dhabi
The largest indoor skydiving chamber in Clymb and the highest indoor wall in the country, all under one roof. It offers residents and travelers from around the world an unforgettable and adventurous experience. This entirely indoor building has a flight chamber of 10 meters which is about 32 feet in width and with a height of 82 feet. Clym Abu Dhabi's fly instructors ensure that you have a fun and secure experience for a wide variety of explorers whether you are a first-time 'flyer' younger than 3 or an experienced skydiver.
Clymb offers visitors with all levels of skills immersive climbing experiences. Beginners can choose from a variety of wall choices according to their needs and climb levels. While the Summyt, the world's tallest indoor climbs wall, can reach up to the height of 141 feet. It is a more experienced climber that can push their limits. You would like this destination if you want to spend a day on free-falling and scaling the wall. Other services include retail stores, private function space, and restaurants that satisfy even the most stupendous eaters.
Clymb Abu Dhabi Layout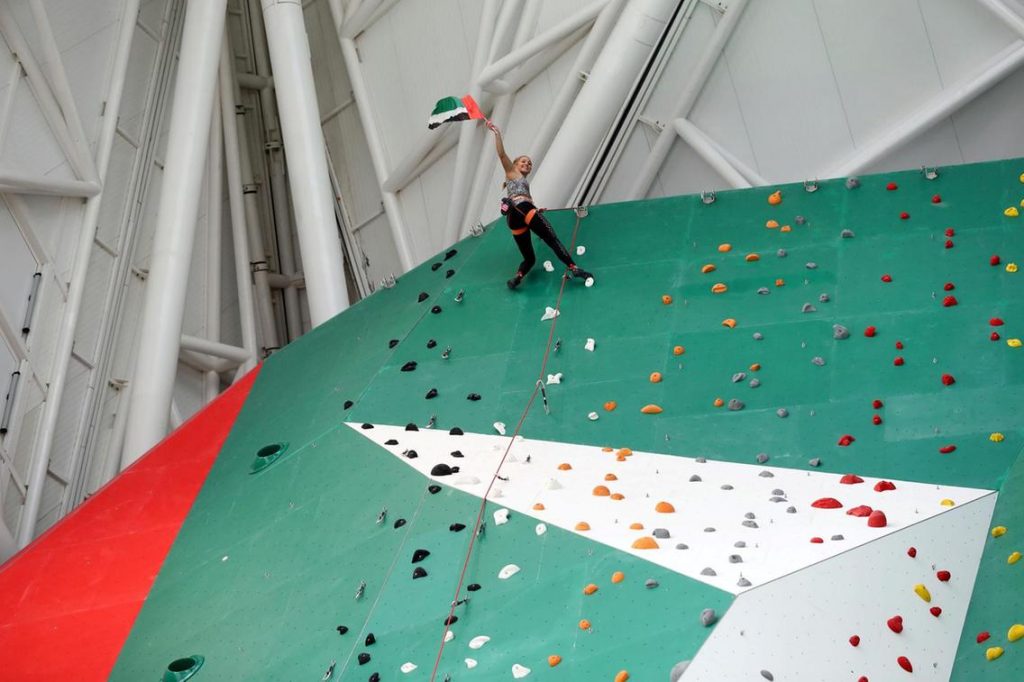 CLYMB Abu Dhabi was founded on November 29, 2019, and offers guests a unique experience that brings them to record highs. These two attractions can be used by tourists of all ages, with highly qualified instructors who use security tips and procedures to take visitors before implementing flying and climbing techniques. CLYMB Abu Dhabi is suited for beginners as well as professionals, in addition to the larger interior skydive flight chamber, with five climbing walls of varying degrees in height and issue.
Clymb Dubai is home to five walls of climbing and The Summyt is the highest wall in the world. The 43-meter-long flag is the ideal option for professionals and experienced climbers. Indoor skydiving and climbing facilities and two on-site food and drink outlets at CLYMB Abu Dhabi were also offered to guests and offered a nice day out to all family members. Visitors may also watch others tackle the SUMMYT and observe others from free viewing platforms flying through the wind tunnel. Both titles are added to the list of record attractions on Yas Island by CLYMB Abu Dhabi.
Safety Measures in covid-19 Pandemic
In Clymb Abu Dhabi, With the compulsory online reservation in mind to ensure a 30% capability, heat screen cameras, safety markers at all installations and outlets, a changed capacity in facilities, and a modified dining and shopping experience, CLYMB Abu Dhabi has taken security measures throughout facilities. In these safety steps, guests are advised to always wear face masks, sanitize the hands regularly, and choose contactless hands at every outlet. Guest service staff will assist and answer questions in the entire room.
Attractions at Clymb Abu Dhabi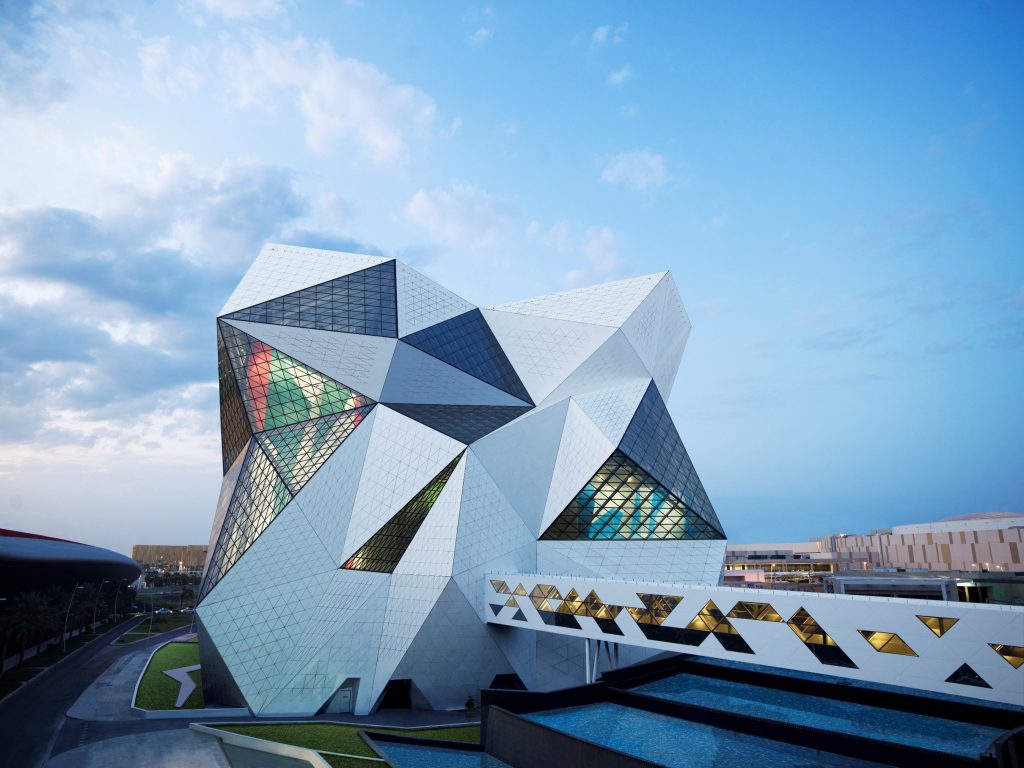 Everyone who does not visit here needs to know what is inside Clymb Abu Dhabi? CLYMB Abu Dhabi stands out for its complex geometric architecture similar to a giant crystal. It reflects the tough but awesome mountain scenery of the area. It is very interesting. Yas Island has some of Abu Dhabi's famous sights, including the Abu Dhabi Ferrari World, Yas Waterworld, and the Abu Dhabi Warner Bros, to their credit. And CLYMB Abu Dhabi was opened to strengthen Yas Island as an internationally acclaimed destination for sports aficionados, including families and children. A/c access links the facilities to the Ferrari World Abu Dhabi and Yas Mall with ease.
Location
The retail shop offers those who want to bring home more than just memories, pictures, and also videos, as well as t-shirts and water bowls with Clymb branding. In the meantime, visitors who are looking for food and drink may choose from. The Base Camp Bites overlooks the Summyt, while the Cafe Altitude overlooks the skydive indoor flight chamber. On Yas Island, the futuristic building is linked to Yas Mall. The center also offers parking for the visitors to park their cars and other transport. Regarding the Clymb Abu Dhabi timings, during the period 12 to 5 pm, Clymb Abu Dhabi remains open. Many people also want to know how much is the entrance fee at Clymb Abu Dhabi? It is not fix because it depends on different packages available for visitors.
How to Reach There?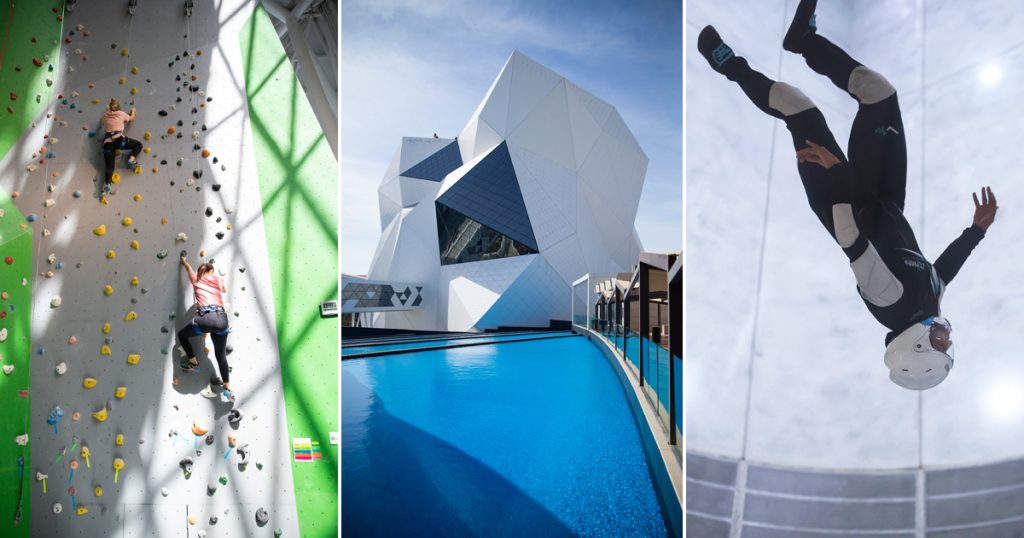 To know about Clymb Abu Dhabi, two different routes exist. One is the E10 Highway that is Al Raha Beach Highway. Take the Maqta Bridge and pass through Raha Mall towards Dubai. The sign Yas Island West will take you to the slipway. Look for signs to Yas Leisure Drive, and Abu Dhabi, and CLYMB Abu Dhabi Ferrari World.
The second is Highway E12 that is Sheik Khalifa Bin Zayed. Take the Corniche Road in the direction of Mina Zayed Port and then the Sheik Khalifa Highway E12. Look for signs from here that will lead to Yas Leisure Drive and finally to Abu Dhabi Ferrari World and Abu Dhabi CLYMB. Take the 190 Bus Route, where you can arrive by bus.
You can take a drive on to Sheik Zayed Road, which takes you to Abu Dhabi, from your hotel or location in Dubai. Look for signs for Yas Leisure Drive and, eventually, Ferrari World Abu Dhabi and CLYMB Abu Dhabi while driving on the slipway to Yas Island. If you plan here by bus, make your way to Bur Dubai's Al Ghubaiba Bus Station and then take the 190 bus route to Yas Island.
Things to do at Clymb Abu Dhabi
In Abu Dhabi, everyone will enjoy many indoor sports. But the question is that what should you expect at CLYMB Abu Dhabi with kids. CLYMB on Yas Island has plenty for you if you are looking for excitement and adventure. At CLYMB Abu Dhabi, here's all the stuff to do.
Indoor Skyclimbing at Clymb Abu Dhabi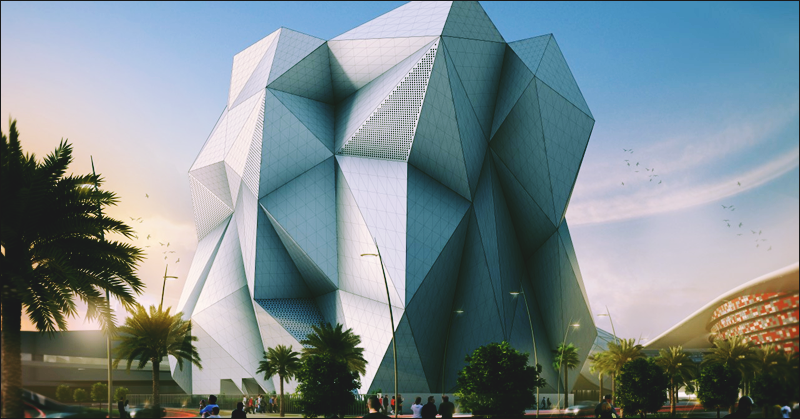 This chamber of the CLYMB flight offers a splendid indoor skydiving experience like no other, which is 32 feet wide and 104 feet high. Instead of regular four, it also employs 16 strong fans, so you get to newer levels. CLYMB Abu Dhabi provides flyers with pre-flight prep, equipment rental, and individual instruction packages for the first time.
You are surprised if you think this is an ordinary indoor adventure of skydiving inside a narrow air tunnel. Yes, along with all the stamps on a skydiving indoor track, it offers you a unique opportunity, at about 9.7 meters in width and 32 meters in height, to take advantage of the world's highest and broadest indoor flight chamber. You seem to have enough space to go up and down the CLYMB Abu Dhabi Air Tunnel. It also features 16 high-end fans that stand out in a normal room from the regular four. Not to mention, you will take to a thrilling height in this indoor skydiving experience.
Some points should be in mind if you want indoor sky climbing. Make sure you reach the spot on time to start your skydiving at Clymb Abu Dhabi. Meet your friendly teacher who will give you safety instructions and important body control techniques. Wear your jumpsuit, helmet, goggles, and shoes, suit yourself for the experience. When you are ready to climb, you will be brought to the flight chamber for the indoor skydiving experience like never before.
Indoor Climbing at Clymb Abu Dhabi
Five crest walls of diverse levels and heights are also provided by the CLYMB Abu Dhabi. The highest inner climbing wall in the world. The SUMMYT is a registrational wall with 13 difficult routes to conquer, expertly like no other. The other walls provide for beginners, intermediate and advanced levels of experience. CLYMB Abu Dhabi provides beginners packages for testing with a coach, while seasoned mountaineers are free to challenge themselves! As part of the whole experience, climbers will also receive safety briefs, climbing equipment, and equipment control.
Some points should be in mind if you want indoor climbing. Make sure to have time to check in to get the experience started. Meet your climbing coach to help you determine your ability or your level of competence. Your teacher will then issue your safety guidelines and show you some techniques for climbing. Wear your belt, helmet, climbing shoes, and so on. You will be ready for an adventure next.